Hungary Begins Closing Its Border To Migrants Crossing From Serbia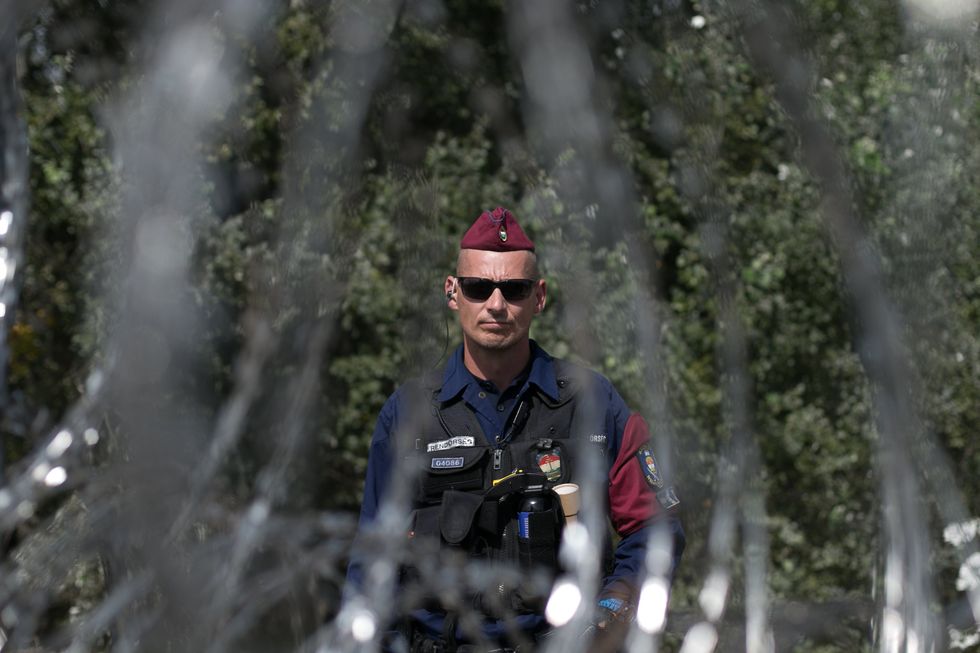 By Henry Chu, Los Angeles Times (TNS)
LONDON — Hungarian authorities began choking off entry into their country Tuesday in a bid to stanch the enormous flow of refugees and migrants that has threatened to overwhelm even those European countries willing to take them in.
Crossings along the Hungary-Serbia border were closed, and the Hungarian government declared a state of emergency in two southern counties, a move that beefs up the powers of security forces, including the army, to patrol the frontier and crack down on those trying to enter Hungary illegally.
Throngs of migrants just outside the border erupted in noisy protest, shouting their desire to press northward via Hungary to nations such as Germany and Sweden, which have opened their doors to asylum seekers. Hundreds of people have been waiting or camping out in miserable conditions along the frontier to continue journeys that began weeks or even months before from violence-torn homelands such as Syria and Iraq.
But heavy gates, a row of police officers and a barrier of razor wire that now spans much of the nearly 110-mile line between Hungary and Serbia kept back the crowds.
The border shutdown was one of a number of restrictive measures in Hungary that came into effect Tuesday as Europe tries — so far unsuccessfully — to get a grip on its biggest mass influx of people since World War II.
A new law passed by the government in Budapest also makes destroying the barrier and illegally entering the country a serious crime punishable by imprisonment. Authorities reportedly arrested 60 people on suspicion of such offenses Tuesday.
Hungary's harsh treatment of migrants — virtually none of whom intend to settle in Hungary itself — has drawn criticism from many of its neighbors. Tensions flared with Serbia, which warned that it could not deal with the bottleneck of people trying to enter Hungary.
An estimated 200,000 asylum seekers have crossed into Hungary this year. From there, they have hopped onto trains, paid smugglers to take them on board trucks and even trekked on foot to Austria, their gateway to hoped-for sanctuary in Germany or Scandinavia.
The surge of migrants has bitterly divided the European Union, whose members cannot agree on a response to the crisis. German Chancellor Angela Merkel on Tuesday called for an emergency summit of the leaders of all 28 nations next week.
Officials in Germany, France and other larger nations have demanded distribution of refugees according to mandatory quotas based on each country's size and economic strength. But several Central and Eastern European states, including Hungary and the Czech Republic, have rejected the idea, noting that they have no tradition of absorbing outsiders and saying explicitly that they do not want Muslims living among them.
At a contentious meeting Monday, interior ministers from all 28 EU nations could only agree on the resettlement of 40,000 people, an almost absurd figure in light of the fact that Germany by itself has already taken in that many refugees this month alone.
The German government says it's prepared to accept as many as 800,000 asylum seekers this year, or about 1 percent of its population. A senior official has suggested that the intake could hit 1 million, but Interior Minister Thomas de Maiziere told German television that the official forecast remained 800,000.
Berlin says it cannot, and should not, shoulder the entire burden alone.
De Maiziere said Tuesday he favored cutting EU funding to member nations that refused to share the task of sheltering those fleeing war and persecution.
Although a majority of Germans support their government's decision to take in refugees, the sheer speed at which they are arriving has sent officials scrambling to find housing and other resources. Austrian officials, too, warn that they may soon run out of places to accommodate asylum seekers pouring in by the thousands every day.
The influx has prompted Germany and other nations to institute spot checks and other controls at borders, abandoning the free and seamless movement of goods and people across internal borders that is one of the EU's most cherished principles.
Hungary's announcement of tightened controls along its border with Serbia appears to have set off a mad dash by many people desperate to cross into Hungary before the measures kicked in Tuesday.
Even if the moves succeed in sealing off Hungary, human rights organizations say that the migrant trail will simply be displaced, with people trying to cross into the EU via Croatia or Slovenia instead of Serbia.
Photo: A Hungarian police officer stands in front of the new wired fence at the Hungarian border crossing of Roeszke, closing all activity, on Tuesday, Sept. 15, 2015. Hungarian authorities have closed the temporary small border crossing point in Horgos, Serbia, and directed refugees to no-mans land between Serbian and Hungary. Daniel Leal-Olivas/i-Images/Zuma Press/TNS