Hurricane Joaquin Strengthens But Threat To United States Unclear
@reuters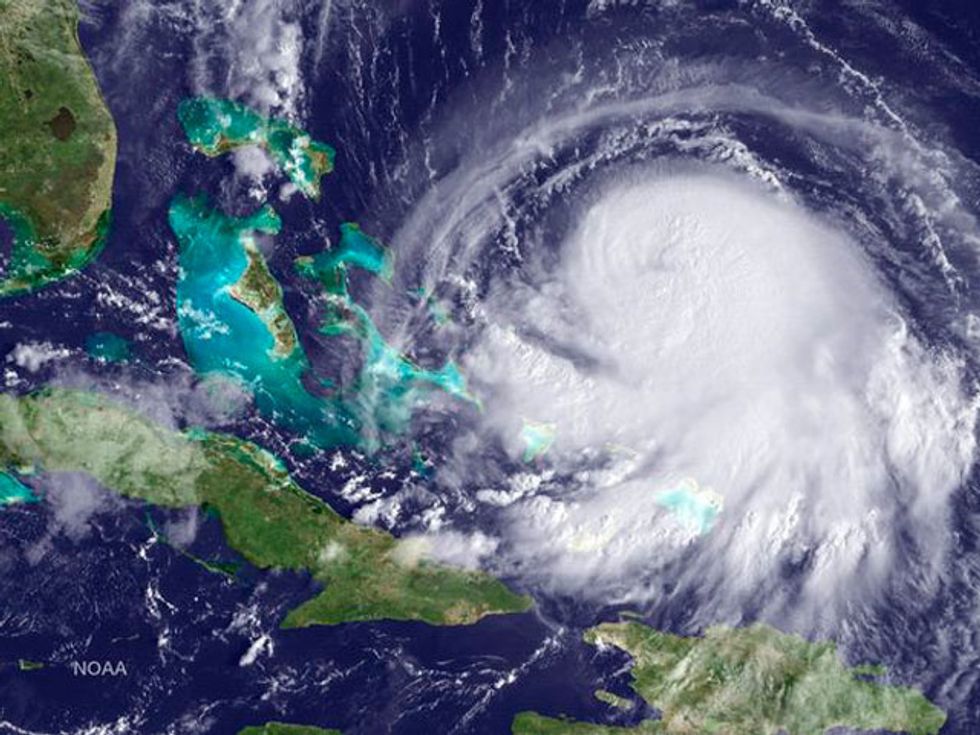 (Reuters) — Hurricane Joaquin strengthened in the Atlantic on Wednesday and could become a major storm, the U.S. National Hurricane Center said, although forecast models did not agree on whether it would make landfall in the United States.
The warnings came as the northeastern United States faced a pounding rainstorm that flooded streets and snarled travel from Washington to Boston.
Joaquin, the third hurricane of the 2015 Atlantic season, is a Category 1 on a scale of 1 through 5, with maximum sustained winds of 85 miles per hour (140 kph). It is about 175 miles (285 km) east-northeast of the central Bahamas and continues to strengthen, the center said.
The governors of New York and Connecticut, and emergency-management officials in New Jersey, states all hard hit by 2012's Superstorm Sandy and already facing heavy rains unrelated to Joaquin on Wednesday, warned residents to begin preparations for a possible severe storm.
"Our state has seen the damage that extreme weather can cause time and time again," said New York Governor Andrew Cuomo. "Take precautions for more heavy storms in the coming days."
Joaquin is expected to move near or over portions of the central Bahamas on Wednesday night and Thursday, the NHC said.
"Strengthening is forecast during the next 48 hours and Joaquin could become a major hurricane by Friday," it said.
A major hurricane is considered to be one with winds of at least 111 miles per hour (179 kph), the threshold for Category 3 of the five-step Saffir-Simpson scale, where Category 5 is the most severe.
A complicated atmospheric pattern has made Joaquin particularly difficult to track, according to Weather Channel forecasters, who said it was too soon to determine what impact Joaquin could have on the U.S. East Coast starting this weekend.
The last hurricane to make landfall in the continental United States was Arthur, which hit North Carolina as a Category 2 storm in July 2014, bringing high winds, driving rain and storm surges up the East Coast.
In October 2012, Sandy slammed into the New York metropolitan area, killing more than 120 people and causing some $70 billion in property damage, primarily in New York and New Jersey.
White House spokesman Joshua Earnest said the Federal Emergency Management Agency was monitoring the storm and preparing for a possible hit.
Joaquin could raise tides up to 5 feet (1.5 m) above normal, create dangerous waves and bring up to 20 inches (50 cm) of rain over San Salvador and Rum Cay in the Bahamas, the hurricane center said.
Joaquin-generated swells in the Bahamas will begin to affect parts of the U.S. southeastern coast by Thursday, according to the center. The swells are likely to cause life-threatening surf and rip current conditions, it said.
The central Bahamas and northwestern Bahamas are now under a hurricane warning, with hurricane watches in place for Bimini, the NHC said.
(Reporting by Scott Malone in Boston, Suzannah Gonzales in Chicago and Arpan Varghese in Bengaluru; Editing by Will Dunham and Eric Walsh)
Photo: Hurricane Joaquin is seen approaching the Bahamas in this NOAA GOES East satellite image taken at 09:15 ET (13:15 GMT) September 30, 2015. REUTERS/NOAA/Handout via Reuters