'I Am The Chosen One': Trump's Burgeoning Delusions Of Grandeur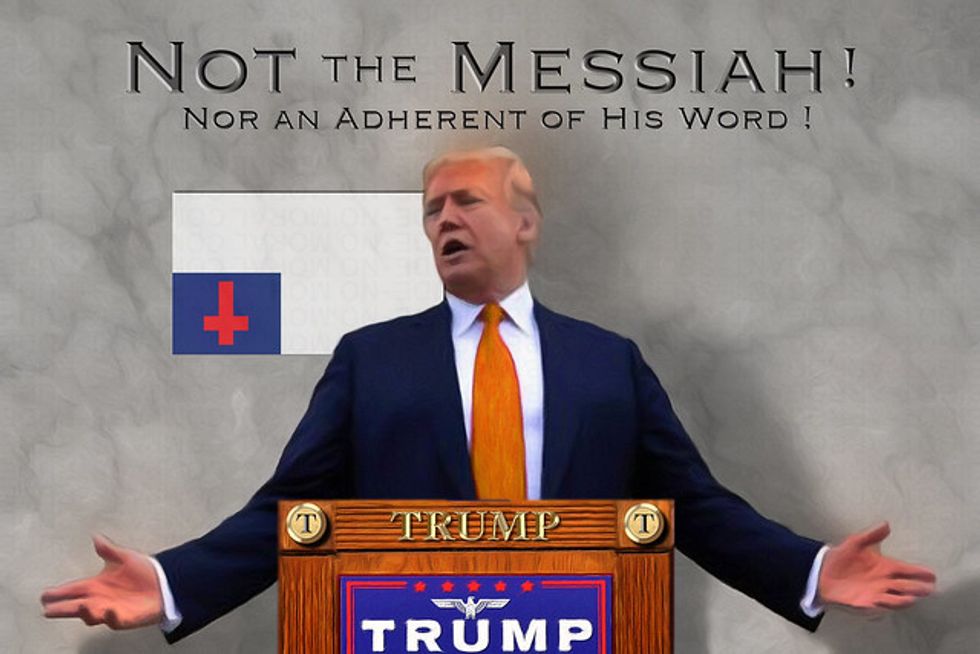 Reprinted with permission from Alternet
"I am the chosen one."

He's not just talking about trade.

He truly thinks he's the chosen one, and so does his die-hard base of 35% of Americans who will never leave him.

Impeach. #25thAmendmentNow. Giant Meteor.

I don't care. He just needs to go.pic.twitter.com/7gr25uWTJG

— Holly Figueroa O'Reilly (@AynRandPaulRyan) August 21, 2019
President Donald Trump is known for being absurd and off-the-wall, so there's no doubt his defenders will write off his latest declaration of, "I am the Chosen One," as just more playfulness from the commander-in-chief.
And on its own, the comment made Wednesday to reporters may indeed have been harmless. (Though conservative media, which accused President Barack Obama of having too high an opinion of himself, would have skewered the Democrat had he made such a claim while in office.)
But Trump's boast was just one more point in a line of evidence that Trump has truly disturbing delusions of grandeur.
The president's remark came as he discussed his ongoing and destructive trade war with China.
"Somebody had to do it," he said, turning his head toward the sky. "I am the Chosen One. Somebody had to do it! So I'm taking on China."
Earlier in the morning, Trump had tweeted:
"Thank you to Wayne Allyn Root for the very nice words. "President Trump is the greatest President for Jews and for Israel in the history of the world, not just America, he is the best President for Israel in the history of the world…and the Jewish people in Israel love him….

— Donald J. Trump (@realDonaldTrump) August 21, 2019
….like he's the King of Israel. They love him like he is the second coming of God…But American Jews don't know him or like him. They don't even know what they're doing or saying anymore. It makes no sense! But that's OK, if he keeps doing what he's doing, he's good for…..

— Donald J. Trump (@realDonaldTrump) August 21, 2019
It was a bizarre and off-kilter series of claims, attributed to a conservative conspiracy theorist known for spreading lies about Obama's birthplace, like Trump.
But the idea that Trump is some sort of nearly divine figure in Israel didn't just boost his ego — it inspired him to launch a truly vile anti-Semitic attack on American Jews. Having accused them vaguely of having either "a total lack of knowledge or great disloyalty," Trump clarified Wednesday that he believes Jews who vote for Democrats are "very disloyal to Israel." Of course, the idea that Jews have some sort of special inherent loyalty to Israel is an anti-Semitic myth, one that Republicans have and others have accused Rep. Ilhan Omar (D-MN) of promoting.
The view that Trump is somehow divinely touched is not confined to Trump or Root. Claims like these have frequently emerged from Trump's base of Evangelical support.
As The Guardian reported in 2018, a movie called The Trump Prophecy asserted that the president's election was "an act of God."
And after Trump was elected in 2016, evangelical Christian Franklin Graham wrote on Facebook:
Did God show up? In watching the news after the election, the secular media kept asking "How did this happen?" "What went wrong?" "How did we miss this?" Some are in shock. Political pundits are stunned. Many thought the Trump/Pence ticket didn't have a chance. None of them understand the God-factor.
How much does Trump actually believe all this? It's not clear. Though he says he is a Christian, he has shown minimal understanding of the Bible and seems to only embrace doctrine when it's politically convenient.
If Trump does have religious faith, though, it wouldn't be surprising that he would feature prominently as a main character in the mythos.
But whether he's playacting or a genuine believer, Trump's contention that he can fill the role of a savior is a truly dangerous one. It can lead him to blow up over minor slights, like the Danish prime minister's dismissal of his offer to buy Greenland. It can lead him to overconfidence, as he's demonstrating in his half-cocked trade war with China, barrelling forward without a plan even as a possible recession looms. It can lead to astounding boasts, as he declared in his 2016 speech at the Republican National Committee of the American political system: "I alone can fix it."