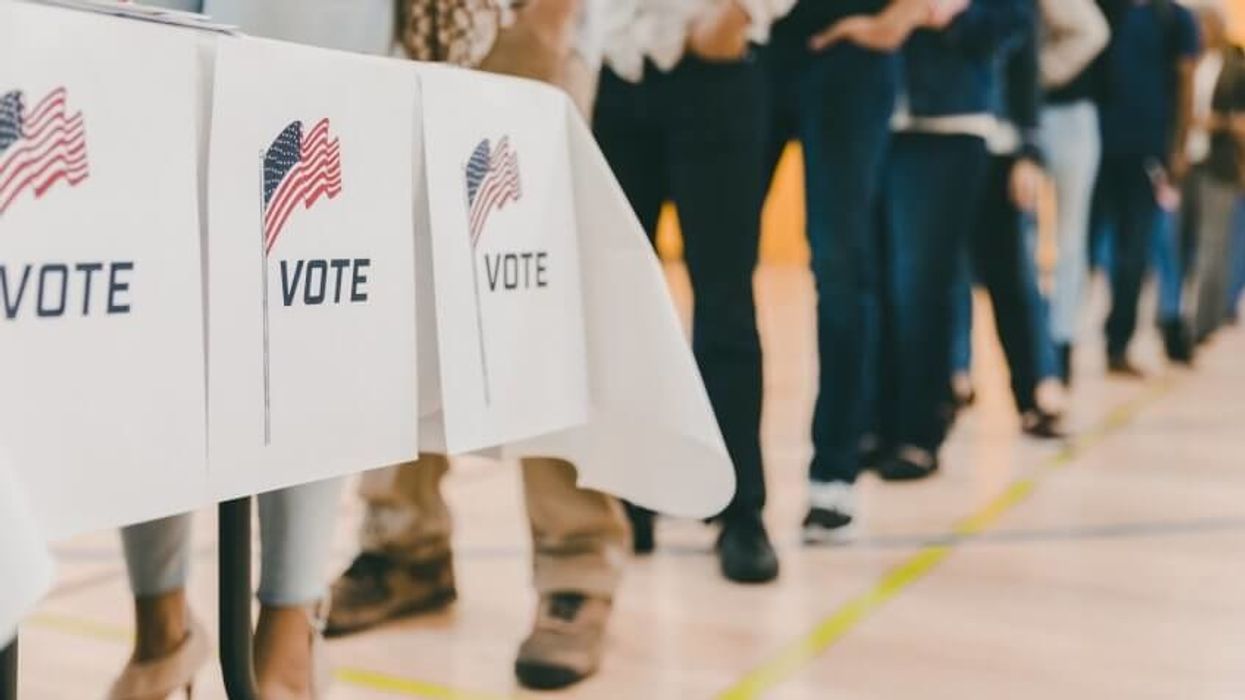 Photo by SDI Productions / iStock
They waited in the pouring rain on Wednesday, six feet apart and some of them without umbrellas, to cast their ballots in central Florida.
One masked man caught the attention of another voter, and his video account made it to the ABC News Facebook page.
"You see how important this election is," the man narrates as he zooms in on a solitary voter getting soaked. "You see this? Unfazed. Us? Oh, we've got our umbrella." He zooms in closer on the voter. "Unfazed," he says again. "That's how important it is."
---
A few days earlier, 94-year-old Mildred Madison traveled 300 miles to vote.
Months ago, she had left her home in Detroit to visit her son in Chicago. Family illness and COVID-19 have kept her there, but when her absentee ballot was late, she didn't want to take any chances. Her son drove her to Detroit so that she could vote in person.
"I wasn't going to miss this at all," she told the CBS TV affiliate in Detroit. "Vote because your life depends on it. It's not only for you but for your children and their children."
Immediately after, she got into the car for the 300-mile drive back to Chicago.
In the Montrose neighborhood of Houston, people showed up before sunrise on the first day of early voting to cast their ballots. As the Washington Post reported, 10,000 people an hour voted across Harris County. More than a half-million had voted by the end of the week. That's a 40 percent increase over the presidential race in 2016.
A 66-year-old daughter of Mexican immigrants, Goya Escalante, showed up before 8 AM. She told the Post she just didn't want to vote by mail this time. "I wanted the satisfaction of physically doing it. I want to feel America."
In that same story, 65-year-old Sherry Browning told the Post she woke up at 4 a.m. to stand with her cheerleader daughters in front of the polling place to cheer people on before the sun rose.
"If I die tomorrow," she said, "I did my duty."
This is a hard time in our country. More than 220,000 people have died of COVID-19, and we are seeing new surges in the number of cases in many regions, including the county where I reside in Ohio. People are scared, and they are exhausted by this pandemic.
One might think this could lead to an electorate that is too distracted by fear and grief to care about voting.
One couldn't be more wrong.
The U.S. Elections Project is run by Michael McDonald, a professor at the University of Florida and an expert on early voting. As of 5:30 p.m. EST on Oct. 22, he reports 47,664,552 Americans have cast their ballots. As many news organizations are reporting, this is an astonishing number, and if it continues on this track, we are on our way to a record voter turnout in this election.
And that's exactly what we need.
It's impossible to overstate the importance of making this election a landslide victory for former Vice President Joe Biden.
President Donald Trump has repeatedly telegraphed his unwillingness to accept the results of this election and tried to scare Americans into not trusting this election.
"Well, we're going to have to see what happens," the president of the United States said at a Sept. 23 news conference. "You know that I've been complaining very strongly about the ballots. And the ballots are a disaster ... We want to have — get rid of the ballots and you'll have a very trans- — we'll have a very peaceful — there won't be a transfer, frankly; there'll be a continuation. The ballots are out of control. You know it."
Lies, lies, lies.
Ten days earlier, at a COVID-19 super-spreader, otherwise known as a rally, Trump said: "We're going to win four more years in the White House. And then after that, we'll negotiate, right? Because we're probably — based on the way we were treated — we are probably entitled to another four after that."
Donald Trump is mocking us, fellow Americans, and dismissing our democracy as a joke.
But we have the punchline. It's called the vote.
By mail, drop-off or in-person, do it for that man waiting alone in the rain. Do it for Mildred Madison, who traveled 600 miles so that she could cast her vote in person. Do it for all those voters around the country arriving before sunrise to stand in lines of unprecedented length for early voting.
Do it to save America while we still can.
Connie Schultz is a Pulitzer Prize-winning columnist and professional in residence at Kent State University's school of journalism. She is the author of two non-fiction books, including "...and His Lovely Wife," which chronicled the successful race of her husband, Sherrod Brown, for the U.S. Senate. She is also the author of The New York Times bestselling novel, The Daughters of Erietown. To find out more about Connie Schultz (schultz.connie@gmail.com) and read her past columns, please visit the Creators Syndicate webpage at www.creators.com.