'If I Have To Be The John Walsh Of Gun Control': Victim's Father To Become Advocate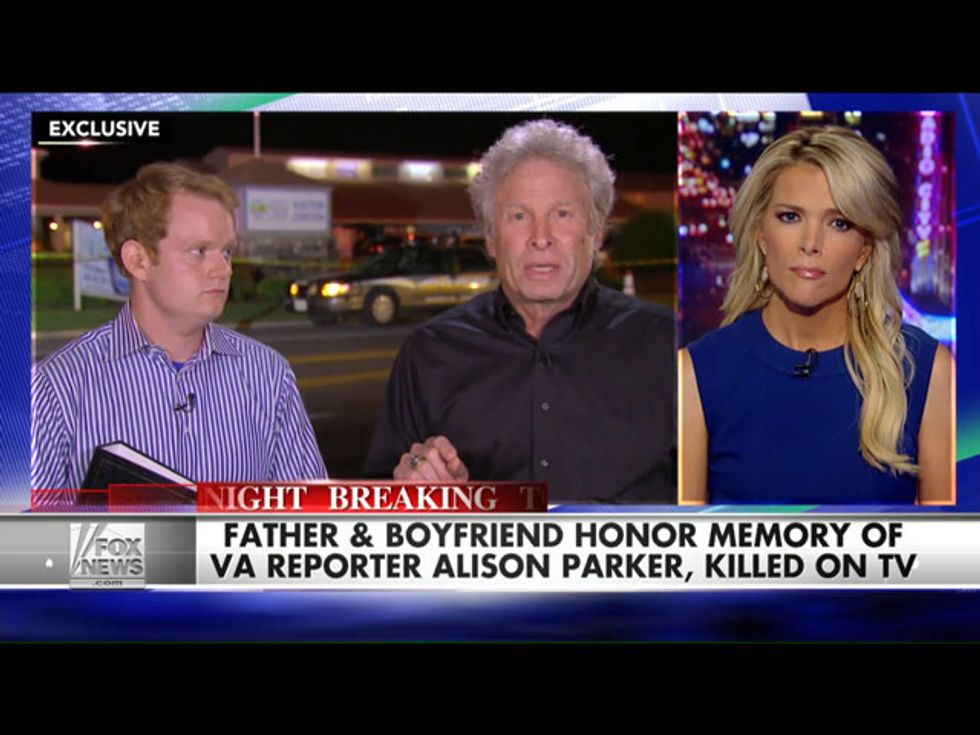 The father of a victim in Wednesday's murder of the local WDBJ7-TV crew in Virginia is quickly emerging as a new spokesman for gun control — saying that he's determined to see to it that these mass shootings don't keep happening.
"Alison was our bright, shining light, and it was cruelly extinguished by yet another crazy person with a gun," Andy Parker, whose 24-year old daughter Alison Parker was killed by a deranged ex-employee at the TV station, said in a statement on Wednesday. "She excelled at everything she did and was loved by everyone she touched. She loved us dearly, and we talked to her every single day. Not hearing her voice again crushes my soul."
That night, Parker and his late daughter's fiancé Chris Hurst appeared together on Fox News' The Kelly File — with host Megyn Kelly grateful and amazed that the two were even able to appear on television under such emotionally fraught circumstances.
While discussing his daughter's life, and that of her murdered co-worker Adam Ward, Parker proclaimed his new cause:
I'm not gonna let this issue drop. We have got to do something about crazy people getting guns. And the problem that you guys have is — and I know it's the news business — this is a big story, but next week it ain't gonna be a story anymore, and everybody's gonna forget it. But you mark my words, my mission in life — and I talked to the governor [Terry McAuliffe] today. He called me, and he said — and I told him, I said, 'I'm gonna do something, whatever it takes, to get gun legislation — to shame people, to shame legislators into doing something about closing loopholes in background checks, and making sure crazy people don't get guns.' And he said, 'You go, I'm right there with you.' So, you know, this is not the last you've heard of me. This is something that is Alison's legacy that I want to make happen.
Parker also appeared Monday morning on CNN's New Day show, and told Chris Cuomo:
Her life was cut short. She had so much potential, and it's senseless that her life and Adam's life were taken by a crazy person with a gun. And if I have to be the John Walsh of gun control — look, I'm for the Second Amendment, but there has to be a way to force politicians that are cowards and in the pockets of the NRA to come to grips, and make sense — have sensible laws so that crazy people can't get guns. It can't be that hard. And yet, politicians from the local level, to the state level, to the national level — they sidestep the issue, they kick the can down the road. This can't happen anymore.