If You're A Sexual Predator, GOP Is Your Party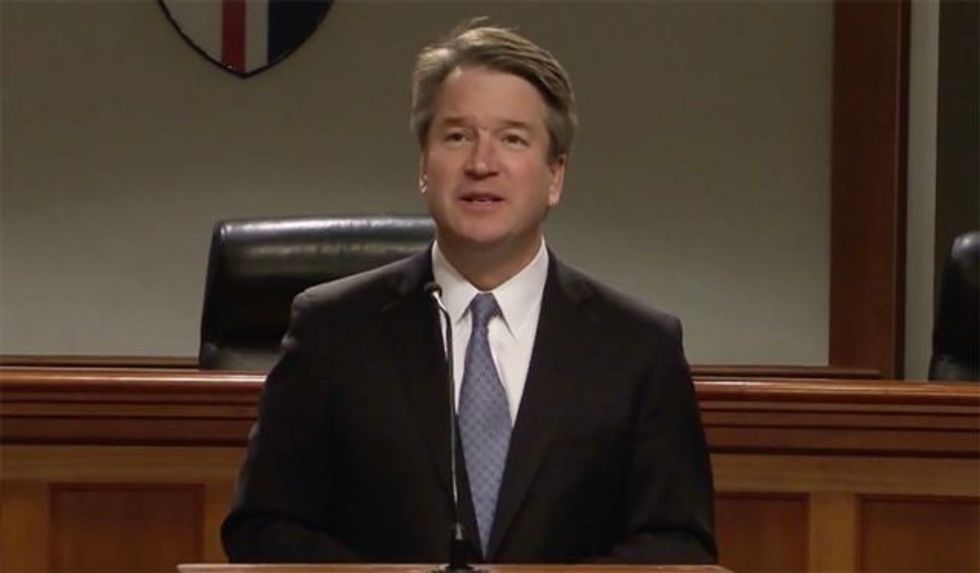 Reprinted with permission from Shareblue.
All but one Senate Republican voted Saturday to confirm credibly accused sexual predator Brett Kavanaugh to the Supreme Court, marking the GOP's embrace of sexual assault and victim shaming.
The vote to install Kavanaugh comes nearly two years after the election of admitted sexual predator Donald Trump, who was accused of sexual assault by more than a dozen women and heard on tape bragging about it.
Since then, Republicans have gone all in on pedophilia, defended the alleged widespread cover-up of sexual assault by a member of their own party, and dropped any pretense of caring about the fact that their party is led by a man who not only admitted to sexually assaulting women, but actually touted it.
With the near-unanimous vote to install Kavanaugh — a man accused of sexual assault by three different women — Republicans are reaffirming their commitment to elevating credibly accused sexual predators and silencing victims, this time by changing the composition of the Supreme Court for decades.
Of course, none of this comes as a surprise. Republicans have plenty of practice defending accused sexual predators, and their experience in this area was put to use as soon as the first allegations against Kavanaugh emerged.
Shortly after Dr. Christine Blasey Ford came forward and accused Kavanaugh of sexually assaulting her when they were both in high school, Republicans and their allies in right-wing media started trying to discredit her and justify putting a credibly accused sexual predator on the highest court in the nation.
While most of the party defended Kavanaugh against the allegations, some didn't even bother putting on a front. Instead, they argued that even if Kavanaugh is guilty of sexual assault, it shouldn't disqualify him from serving on the Supreme Court. After all, sexual assault doesn't disqualify a man from becoming president.
All along, knowing that they would be fighting a losing battle if they directly attacked Kavanaugh's accusers, Republicans chose instead to attack sexual assault victims en masse. When victims began speaking out and sharing their experiences with senators, Republicans accused them of harassment and bullying in a shameful attempt to silence them.
Trump, for his part, stood in front a packed rally and openly mocked Ford.
Republicans then rewarded him for his despicable behavior by voting nearly unanimously to confirm his Supreme Court nominee a week after Kavanaugh had a disgraceful meltdown on the Senate floor during which he accused the women who came forward with allegations of sexual assault of being part of a left-wing conspiracy theory involving "revenge on behalf of the Clintons."
When that defense didn't work, the White House was pressured into reopening Kavanaugh's background investigation in an effort to give cover to Republicans who wanted to vote for Kavanaugh but needed to justify doing so.
The only Republican who said she did not support Kavanaugh for the court was Sen. Lisa Murkowski, but even she felt the need to emphasize that Kavanaugh, despite allegations of assault, is a "good man" — just as GOP Sen. Orrin Hatch said after Ford came forward.
Murkowski didn't vote no, though. She voted present, allowing fellow Republican Sen. Steve Daines, who supports Kavanaugh, to stay in his home state of Montana for his daughter's wedding.
Another key swing vote, Sen. Susan Collins, stood on the floor for nearly an hour on Friday and defended her decision to stab women in the back by voting for an accused sexual predator who is hostile to abortion rights and reproductive rights in general.
Kavanaugh started this process as the most unpopular Supreme Court nominee in modern history. He ended it with even lower ratings — and for good reason. But Republican don't care about that. They wanted Kavanaugh on the court and nothing was going to stop them.
Republicans never cared about the sexual assault allegations against Kavanaugh, just like they never cared about the sexual assault allegations against Trump. They never cared about Kavanaugh's accusers, just like they never cared about Trump's accusers.
With Saturday's vote, the GOP simply confirmed what we've known along — that sexual predators will always have a safe space in today's Republican Party.
Published with permission of The American Independent.