Illinois Sen. Dick Durbin Wins Fourth Term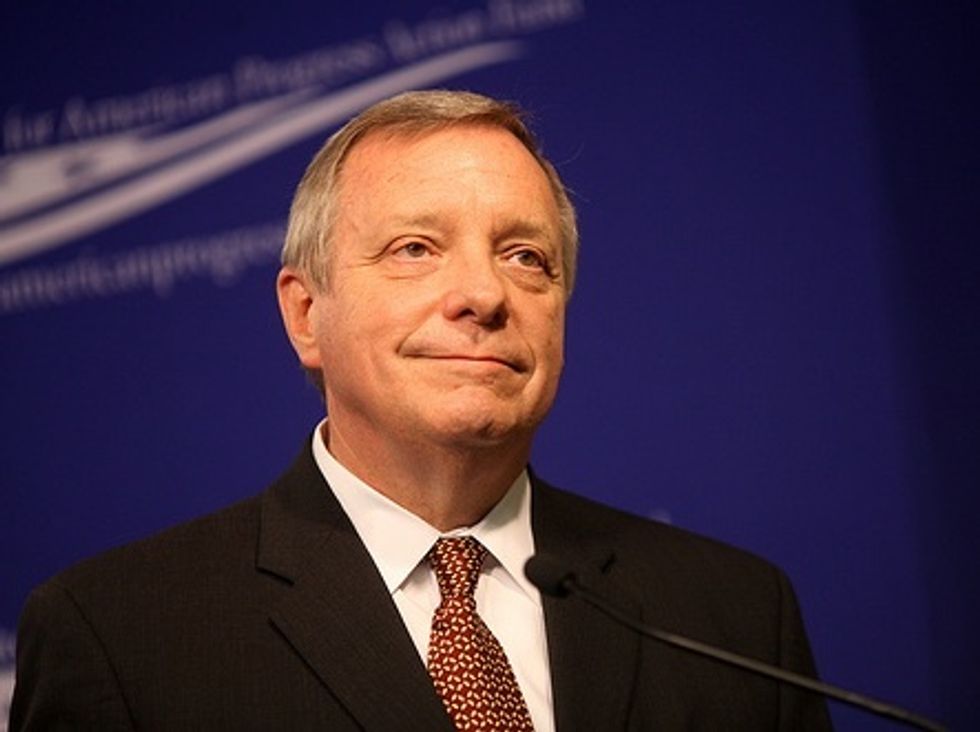 By Katherine Skiba and Kim Geiger, Chicago Tribune (MCT)
CHICAGO _–Sen. Dick Durbin charged to victory Tuesday against Republican challenger Jim Oberweis, becoming the first Democrat in Illinois history to win a fourth term in the U.S. Senate.
Oberweis conceded shortly before 8:45 p.m. CST, saying competing in a heavily Democratic state was difficult. With 24 percent of the precincts reporting, Durbin had captured 53 percent of the vote, with 42 percent for Oberweis and 3 percent for Libertarian Sharon Hansen.
The triumph by Durbin was somewhat undercut by uncertainty over control of the Senate, with Republicans mounting a strong challenge. Durbin is the Senate's second-ranking Democrat.
In his three previous general elections for Senate, Durbin won by 15 percentage points or more. He was always considered the favorite against Oberweis, a Republican state senator from west suburban Sugar Grove and perennial candidate for higher office.
As of Oct. 15, the incumbent had pumped $9.7 million into this race — more than four times the $2.2 million spent by his challenger.
Oberweis, an entrepreneur known for his family's ice cream business, lent or gave more than $1.5 million of his own money to his war chest but had little success persuading others to contribute. Competitive Senate races across the country siphoned off Republican money that might otherwise have gone to Oberweis.
Nor was he able to find a strong issue to chip into Durbin's long-term popularity.
According to University of Chicago political scientist Charles Lipson, Durbin won because a strong majority of Illinoisans "think he's doing a perfectly good job, including servicing constituents and remaining connected with the state. He hasn't gone Hollywood. Most people think of him as the senator from Illinois."
Oberweis was also hampered by his own reputation as a candidate unable to win major office. Before making his run this year, he had lost five tries for top political posts, including failed U.S. Senate primaries in 2002 and 2004.
Some of those past races created lasting negative impressions, such as his 2004 U.S. Senate race in which a controversial TV ad on immigration alienated Latino voters.
Another misstep came just before this year's primary when Oberweis was derided as a "snowbird" for leaving the state to celebrate his wife's birthday at their condo in Bonita Springs, Fla., as a snowstorm bore down on Illinois.
While his general election campaign against Durbin lacked such gaffes, it never made a compelling case that voters should reject the incumbent and choose him.
One avenue of attack for Oberweis was to challenge the political longevity of Durbin, who entered the Senate in 1997 after serving in the U.S. House beginning in 1983.
Oberweis criticized him as a "career politician" who had been in office too long and was responsible for the failures of Washington, but Durbin emphasized his experience and ability to get things done.
The challenger took a swipe at Durbin's wife, Loretta, a state-registered lobbyist, after a Chicago Tribune investigation found that some of her clients had received federal funding supported by the senator.
"Look, my family business happens to be ice cream," Oberweis said during a debate. "Sen. Durbin's family business happens to be lobbying and the sale of influence."
Wayne Steger, a political science professor at DePaul University, said Durbin's built-in advantages scared off more formidable Republicans from making the race.
"So it becomes mostly a self-fulfilling prophecy," Steger said. "They run a weak challenger, and they lose, and Durbin looks that much stronger because he vanquished a Republican."
In an interview last week, Oberweis said he jumped into the race because a private poll showed he would fare better against Durbin than former Rep. Joe Walsh, now a radio talk show host. Oberweis said he had urged the controversial Walsh to run but Walsh had told him to get in instead.
Durbin never took winning for granted and drew on Democratic star power while out on the stump. President Barack Obama, first lady Michelle Obama and U.S. Sen. Elizabeth Warren of Massachusetts headlined events for him.
Midterm elections generally don't favor the party of a sitting president, and the popularity of Durbin's friend, Barack Obama, has sunk below 50 percent, even in his home state of Illinois. But Durbin's political popularity rose above that on Tuesday.
In 1996, Durbin beat attorney Al Salvi 56 to 41 percent. In 2002, he won against state Rep. Jim Durkin 60 to 38 percent. And in 2008, he breezed past physician Steve Sauerberg, 68 to 29 percent.
At times, the campaign of Oberweis, 68, seemed like an infomercial for his family's dairy. He courted African-American voters — traditionally a Democratic bloc — while handing out free ice cream.
At an African-American worship service in Chicago on Sunday, he stood at the entrance and pressed fliers into worshippers' hands as they entered. "Where's the ice cream, man?" one parishioner joked as he swept past the Republican. "We don't want no fliers."
Tuesday night, Oberweis hosted supporters at an Oberweis ice cream parlor in Glen Ellyn.
With this defeat, Oberweis has contributed a total of about $10.5 million in loans and donations on his failed bids for public office.
Some political observers speculate that this race was the last in Illinois for Durbin, who will mark his 70th birthday Nov. 21.
Asked last month whether this would be his final campaign, Durbin said: "I'm making no plans beyond Nov. 4. If the voters of Illinois are kind enough to give me another chance, I plan to complete my term and have made no other decisions beyond that."
He is assistant majority leader, serving under Senate Majority Leader Harry Reid of Nevada. Reid, 74, said he'll run for re-election in 2016, but he faced a tough challenge in 2010, and experts expect his next race to be hard-fought.
If Democrats lose the Senate, Lipson said it's unclear if Reid would become minority leader. If he doesn't, Durbin could try for the job. But Lipson said having an Illinoisan in the White House would not improve Durbin's chances, because that might give Illinois Democrats outsized influence.
"It's not as if Illinois is nationally considered a model of strong growth, good governance and positive social change," Lipson said.
Matt Streb, political science chairman at Northern Illinois University in DeKalb, envisions Durbin maintaining his high profile even if his party loses its majority. "He'll remain one of the leading voices in the Senate, whether Democrats are in the majority or minority," Streb said.
The junior senator from Illinois is Republican Mark Kirk, so whichever party controls the Senate, the state will have one member in the minority and one in the majority.
The last previous Illinoisan to win a fourth U.S. Senate term was Everett Dirksen, a Republican. He won term No. 4 in 1968, and he died less than a year later, at age 73.
Freelance reporter Joseph Ruzich contributed to this report.
Photo: Center for American Progress Action Fund via Flickr