Immigrant Children Victimized By Sexual Assault In Shelters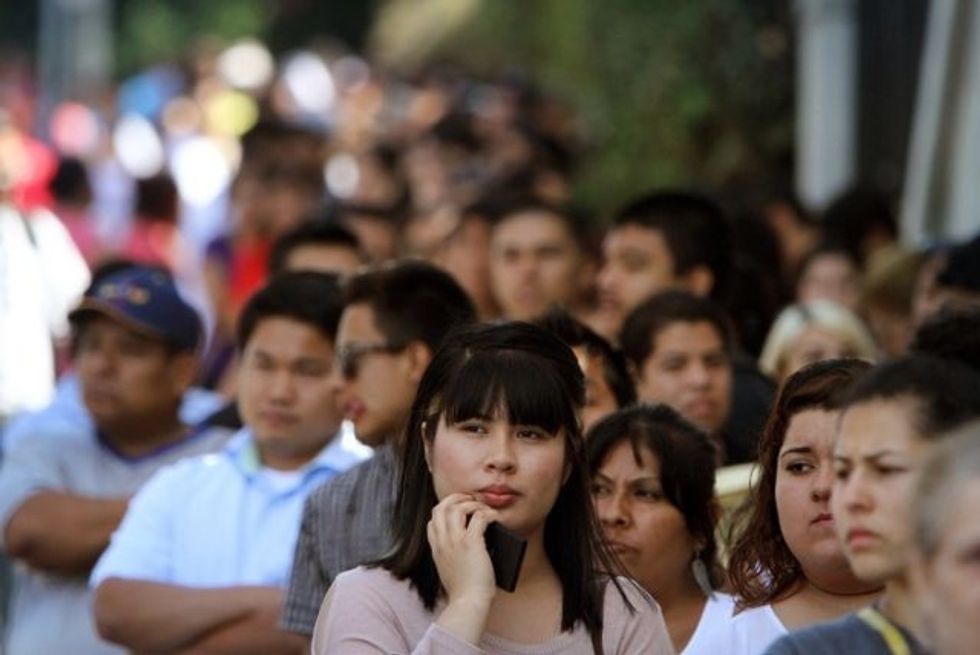 Reprinted with permission from Pro Publica.
A World Cup soccer match was playing on the shelter's TV when the two older teenagers tackled Alex on July 1 and dragged him into the empty bedroom. Wrestling him onto his stomach, one of them, a tattoo on his forearm, got on top. As Alex struggled to move, he said he could feel the teen's penis grinding against his butt.
"Take off his shorts!" he heard the other teen, who'd bragged he'd been a gang member in Honduras, shout. "Let's get him naked!"
Just 10 days earlier, Alex, 13, had been caught by the Border Patrol after traveling from Honduras with his 17-year-old sister and 5-year-old stepbrother, to flee the country's gang violence. Now, they were being held at Boystown outside Miami, one of more than 100 youth shelters in the government's sprawling system meant to provide a temporary haven for migrant children caught crossing the border.
The two teens had been taunting Alex since he'd arrived at the shelter, making crude sexual jokes about his pregnant sister. Now, in the bedroom, Alex said, they yanked down the front of his shorts.
"At least your sister has already tasted a man," he heard one of them sneer. "But you haven't even tried a woman."
Alex said he fought as hard as he could, somehow managing to pull up his shorts and kick until he broke free. As he lay on the floor catching his breath, he said, the boys fled, warning him to keep his mouth shut.
Over the past six months, ProPublica has gathered hundreds of police reports detailing allegations of sexual assaults in immigrant children's shelters, which have received $4.5 billion for housing and other services since the surge of unaccompanied minors from Central America in 2014. The reports, obtained through public records requests, revealed a largely hidden side of the shelters — one in which both staff and other residents sometimes acted as predators.
Several of the incidents have led to arrests of shelter employees or teenage residents. And in one particularly heinous case, a youth care worker was convicted in September of molesting seven boys over nearly a year at an Arizona shelter. The employee had worked for months without a full background check.
Coverage of such incidents by ProPublica and other media triggered demands for investigations.
Arizona's governor ordered a statewide inspection of the shelters, leading to the shutdown of two centers run by Southwest Key after the nonprofit failed to provide proof that its employees had completed background checks.
And late last month, federal investigators warned that the Trump administration had waived FBI fingerprint background checks of staffers and had allowed "dangerously" few mental health counselors at a tent camp housing 2,800 migrant children in Tornillo, Texas.
But ProPublica's review of the hundreds of police reports showed something else about the assaults. Something that went beyond background checks. Kids at shelters across the country were, indeed, reporting sexual attacks in the shelters, often by other kids. But again and again, the reports show, the police were quickly — and with little investigation — closing the cases, often within days, or even hours.
And there are likely even more such cases. ProPublica's cache of records is missing many police reports from shelters in Texas, where the largest number of immigrant children are held, because state laws there ban child abuse reports from being made public, particularly when the assaults are committed by other minors.
Now, as the immigration system struggles to house and care for 14,600 children — more than ever before — an examination of how federal and state authorities investigated the assault against Alex, one of those children, reveals startling lapses.
For a few days, Alex said, he didn't report his assault, heeding his attackers' warning, worried that speaking up would delay his release from Boystown. But as they continued to harass him, he decided to tell his counselor.
The counselor told him that a surveillance tape had captured the teenagers dragging him by his hands and feet into a room, and that there might have been a witness.
But Alex's report did not trigger a child sexual assault investigation, including a specialized interview designed to help children talk about what happened, as child abuse experts recommend.
Instead, the shelter waited nearly a month to call the police. When it finally did, a police report shows, the shelter's lead mental health counselor told the officers "the incident was settled, and no sexual crime occurred between the boys like first was thought among the staff."
And instead of investigating the incident themselves, officers with the Miami-Dade Police Department took the counselor's word for it and quickly closed the case, never interviewing Alex.
A spokeswoman for the Archdiocese of Miami, which received $6 million last year to care for about 80 children at Boystown, said it handled Alex's case correctly, blaming him for any delays. In response to questions, a Miami-Dade police spokesman said the department was reopening the case.
An examination of Alex's case shows that almost every agency charged with helping Alex — with finding out the full extent of what happened in that room — had instead failed him.
The police closed Alex's case 72 minutes after responding to the call.
---
Alex's mother, Yojana, had just gotten off work on July 27, bone-tired after another hot day installing swimming pools in southwest Missouri, when the call came from Boystown. She'd been expecting her regular chat with her children, so when her cellphone showed a Florida number, she answered excitedly.
Yojana had left them behind in Honduras four years earlier to seek a better life in the United States. Now after a month in the shelter, they'd soon be reunited.
But instead of her children, she heard the unfamiliar voice of a shelter staff member. Something had happened to Alex.
There was surveillance video, the woman said, showing two older teenagers grabbing Alex, throwing him to the floor and dragging him into a bedroom.
"But there are no cameras in the room," she said, "so we couldn't see the rest."
The woman passed the phone to Alex, who sobbed as he told his mother what happened in the bedroom.
When she hung up, Yojana was furious. The attack had happened more than three weeks ago. Why was she only finding out about it now? Where was the staff? Why wasn't anyone watching them? And what if the attack had been worse than Alex said?
As a mother, Yojana said her instincts were to go to the police — to break down any door she had to — to make sure the shelter and the teens were held accountable. But she knew that in the United States, she wasn't just any mother. She and her husband, Jairo, had separately crossed the border illegally several years earlier and had been living in the country without permission ever since. The family agreed to let us tell their story as long as we didn't use their last names.
Yojana had reason to worry. Immigration and Customs Enforcement agents have been arresting parents and family members, or members of their households, who are in the country illegally when they come forward to claim their children. This month, ICE said it had arrested 170 such sponsors, or people connected to them, between July and November; 109 of those people had no criminal record.
If Yojana and Jairo went to the authorities, or pressed too hard, they could risk everything they'd worked for.
---
Weeks earlier, Alex had started on a path he thought would lead to help. Four days after the attack, he finally got up the courage to report it to his counselor. "She told me it was very sad what happened to me and that she was very sorry," Alex recalled. His counselor took him to the office of her supervisor, Marianne Cortes, where he repeated his story.
Then, he said, Cortes told him that she and his counselor would watch the surveillance video and "if it's like you told me, we'll put in a report." After they watched the video, Alex said, his counselor told him that there was something else on the tape, something he hadn't realized during the attack. There'd been a witness.
"In the video, my counselor told me there was another boy in a window," he said.
But then, after those revelations, nothing happened. There was no further investigation.
In an interview, archdiocese spokeswoman Mary Ross Agosta said at that time there was no reason for one. Alex "was interviewed by staff, and he claimed it was verbal harassment, sexual gestures and teasing about his sister, but no nudity," she said.
The staff had reviewed the surveillance footage, she said: "They did grab him by his hands and feet and take him in the room." But, she said, it was "humiliating," not criminal.