Immigration In America's DNA, Obama Says
@AFP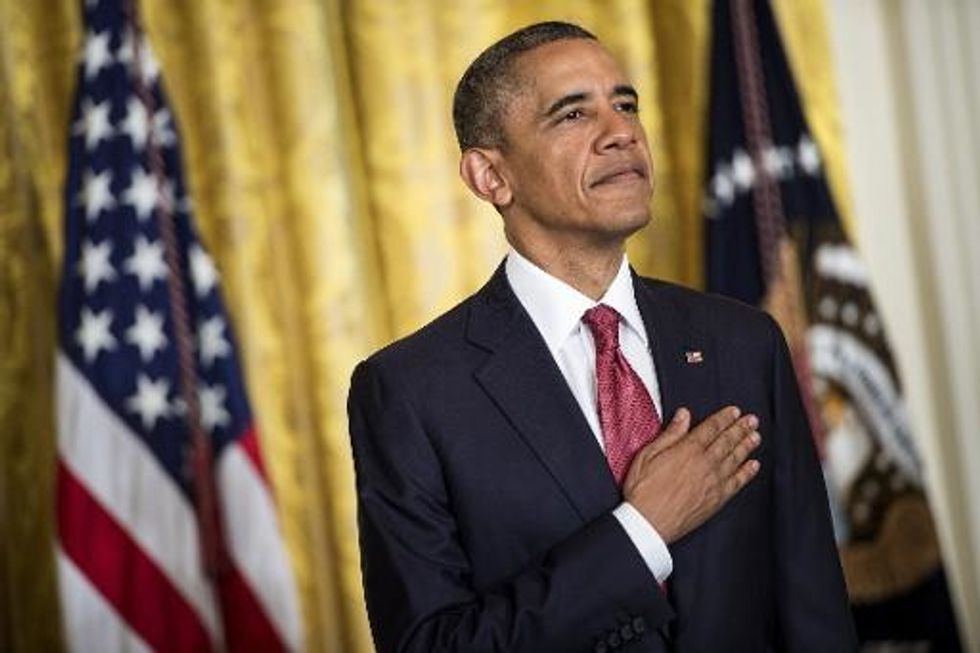 Washington (AFP) — President Barack Obama said accepting immigrants from foreign shores is in America's "DNA," as the nation continued to roil Friday over the arrival of thousands of undocumented minors.
At a Fourth of July event marking the 238th anniversary of American independence, Obama praised the newly minted citizens — some two dozen active duty military, their spouses, veterans and reservists — who "remind us that America is and always has been a nation of immigrants."
The president's remarks at the White House came with the country embroiled in a tense debate over how to stanch an influx of undocumented immigrants from Mexico and Central America, among them thousands of minors, who have flooded across the border into the United States in recent months.
"Throughout our history, immigrants have come to our shores in wave after wave, from every corner of the globe. Every one of us –- unless we're Native American –- has an ancestor who was born somewhere else," Obama said.
"That's what makes America special. That's what makes us strong. The basic idea of welcoming immigrants to our shores is central to our way of life, it is in our DNA," the president said.
And he used the event to plug his support for immigration reform, long stalled in the U.S. Congress.
"We believe our diversity, our differences, when joined together by a common set of ideals, makes us stronger, makes us more creative, makes us different," Obama said.
"If we want to keep attracting the best and brightest from beyond our borders, we're going to have to fix our immigration system, which is broken, and pass commonsense immigration reform," the president added.
"We shouldn't be making it harder for the best and the brightest to come here, and create jobs here, and grow our economy here. We should be making it easier."
The immigration issue has gained new urgency after some 52,000 unaccompanied minors crossed illegally into the U.S. via America's southern border since October.
Earlier this week, the tense debate took a contentious turn when residents of the California town of Murrieta refused to allow three busloads of 140 undocumented migrants from Texas relocate there.
With placards reading "Stop Illegal Immigration" and "Send Them Home," protesters blocked the road in the usually quaint town of some 100,000 resident, forcing the busloads of migrants to head instead to San Ysidro, near San Diego.
Overwhelmed by the massive waves of mostly lone child migrants crossing from Mexico into Texas and Arizona, the U.S. government has been forced to transfer some of them to detention centers elsewhere, including in California.
Republican leaders in the House of Representatives have refused to take up immigration reform because they fear conservative activists who oppose offering a path to citizenship for 11 million undocumented migrants as amnesty, particularly in an election year.
The Democratic-run Senate passed comprehensive immigration reform legislation a year ago.
Obama said last week that he has asked the Department of Homeland Security to come up with recommendations within the next few months, and pledged to immediately implement the measures using his executive powers.
He has vowed to send more resources to secure the southwestern U.S. border, where the flood of child migrants has stretched customs services and deepened the partisan bile over immigration reform.
The president also wants to drastically increase the number of immigration judges to the area and to do more to crack down on criminal and smuggling networks.
AFP Photo/Brendan Smialowski