Immigration Opponents See Opportunity In The Boston Bombing Suspects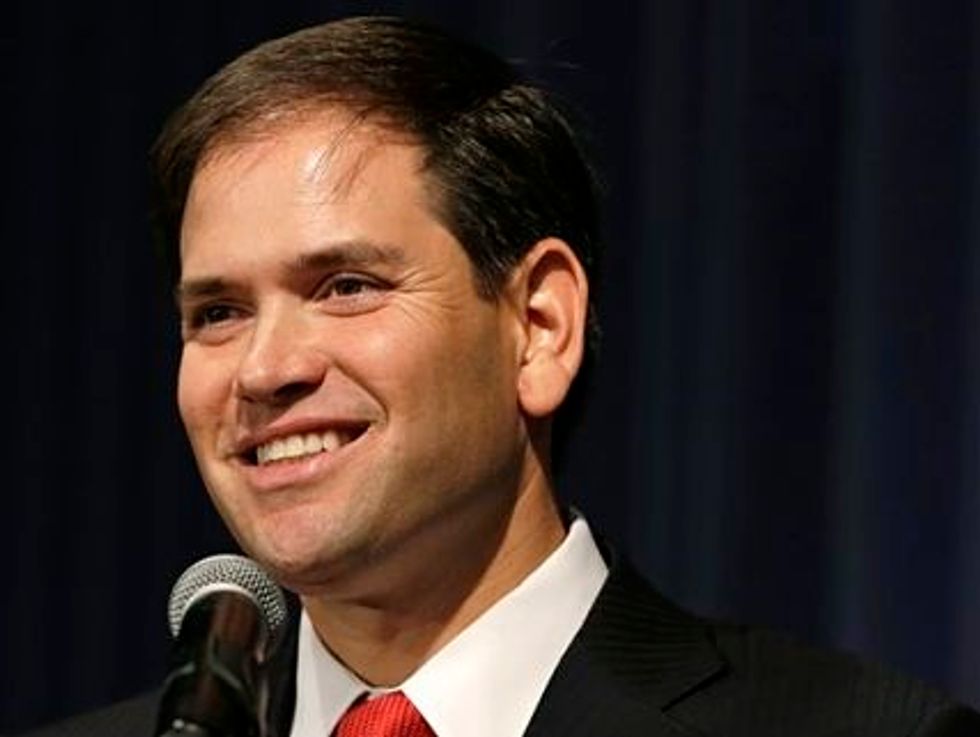 As soon as it became clear that the two suspects in the Boston bombing were legal immigrants from Dagestan, a mostly Muslim republic in Russia's North Caucasus, opponents of comprehensive immigration reform went on the attack.
Purposely outrageous Republican columnist Ann Coulter tweeted, "It's too bad Suspect # 1 won't be able to be legalized by Marco Rubio, now."
Christian conservative radio host Bryan Fischer didn't bother with nuance: "I think we can safely say that Rubio's amnesty plan is DOA. And should be. Time to tighten, not loosen, immigration policy."
And Republican senator Chuck Grassley (R-IA), whose vote will help make or break any bill, made it clear that he feels the identity of the suspects should pause the momentum for reform.
"Given the events of this week, it's important for us to understand the gaps and loopholes in our immigration system," Grassley said. "While we don't yet know the immigration status of the people who have terrorized the communities in Massachusetts, when we find out, it will help shed light on the weaknesses of our system."
"How can individuals evade authorities and plan such attacks on our soil?" he continued. "How can we beef up security checks on people who wish to enter the U.S.? How do we ensure that people who wish to do us harm are not eligible for benefits under the immigration laws, including this new bill before us?"
Critics of the bill have been trying to figure out a way to slow or stop reform for months. And the suspects in Boston may have finally given them the opportunity they've been hoping for.
The Republican establishment is so sure that immigration reform is necessary for the future of the GOP that they recommended it specifically as part of its "Growth and Opportunity Project" autopsy rebranding. Rubio took the lead and negotiated a compromise with a bipartisan "Gang of Eight" that fit the president's guidelines for reform while emphasizing the border security important to the Republican base.

Monday's bombings slowed the rollout of the bill but an actual draft of the legislation was released late Tuesday.
Immediately far-right site Breitbart invented "MarcoPhones," smearing Florida senator Marco Rubio (R-FL) with one of the right's favorite attacks on President Obama during the 2012 election. It's a claim as ridiculous and purposely mendacious as the Obamaphone slur — still, misinformation has a way of lingering on the right. Some Republicans criticized the site for cannibalizing one of their most popular politicians for pursuing a essential bill.
Despite the support from the party's mainstream, Rubio's attempts to sell the bill to Rush Limbaugh and other AM radio talkers didn't go — to put it mildly — well.
Still most believed that this time was different — until the photos of the Boston bombing suspects led to a robbery and then a continuing manhunt that has the nation on edge.
As Americans winced at the violence, immigration reform's opponents went on the attack.
One of the bill's leading Democratic supporters, Senator Chuck Schumer (D-NY), pushed back Friday morning.
"I'd like to ask that all of us not jump to conclusions regarding events in Boston or conflate those events with this legislation," he said. "In general, we're a safer country when law enforcement knows who is here, has their fingerprints, photos, etcetera, conducted background checks … Two days ago, as you may recall, there was [sic] widespread erroneous reports of arrests being made. This just emphasizes how important it is to allow the actual facts to come out before jumping to any conclusions."
The notoriously anti-immigrant Steve King (R-IA) made the case just hours after the blasts that the bombing on Patriots' Day should halt reforms, surprising no one.
Rubio immediately responded, "We should really be very cautious about using language that links these two things in any way. We know very little about Boston other than that it was obviously an act of terror. We don't know who carried it out or why they carried it out, and I would caution everyone to be very careful about linking the two."
Now that the link is more easily made, Rubio doesn't appear ready to retreat. The junior senator from Florida has launched a site to defend the reforms and his spokesman says that reform should continue despite the events in Boston.
Both he and his opponents recognize that the key moment for immigration reform has arrived. Whoever takes control of the argument now will likely decide the fate of those 11 million people waiting for an answer from Washington.
AP Photo/Charlie Neibergall. File