Immigration Reform Clears First Senate Hurdle In 82-15 Vote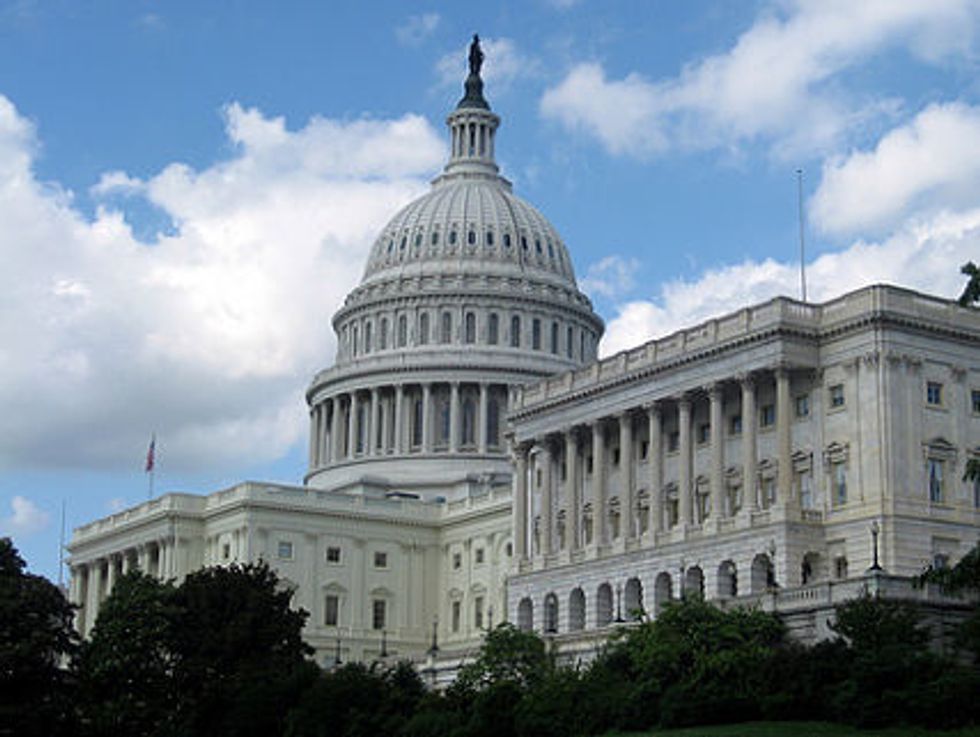 The Senate's "Gang of Eight" immigration bill took a significant step forward Tuesday afternoon, when the Senate voted 82-15 to invoke cloture on a motion to proceed on the measure. The Senate will now begin formal debate on the bill, with the goal of holding a final vote on the compromise measure by the July 4th holiday.
Despite weeks of heated debate over the bill, just 15 senators voted against moving it forward: John Barrasso (R-WY), John Boozman (R-AR), Mike Crapo (R-ID), Ted Cruz (R-TX), Mike Enzi (R-WY), Chuck Grassley (R-IA), Jim Inhofe (R-OK), Mark Kirk (R-IL), Mike Lee (R-UT), Jim Risch (R-ID), Pat Roberts (R-KS), Tim Scott (R-SC), Jeff Sessions (R-AL), Richard Shelby (R-AL), and David Vitter (R-LA). All 15 are Republicans.
Despite the overwhelming support for the motion to proceed, the ultimate fate of the compromise bill is still very much in question. Many of the Republicans who voted in favor of the motion to proceed may ultimately oppose the bill after it undergoes a contentious amendment process. Specifically, Senator John Cornyn's (R-TX) amendment to add strict border security requirements before any immigrants can obtain permanent residence — a proposal that Senate Majority Leader Harry Reid (D-NV) has called a "poison pill" — and Senator Patrick Leahy's (D-VT) amendment to add language protecting same-sex couples could divide the fragile coalition that supports the bill. Leahy has not yet announced whether he will offer the amendment, which he declined to offer in committee in the face of Republican threats that it would scuttle the deal.
As Jamelle Bouie points out in The Plum Line, Democratic senators such as Bernie Sanders (D-VT), Max Baucus (D-MT), Mark Pryor (D-AR), and Joe Donnelly (D-IN) could ultimately oppose the bill as well.
Senate leaders from both parties hailed Tuesday's vote as a critical step toward fixing the nation's broken immigration system.
"There are 11 million reasons to pass common-sense immigration reform that mends our broken system — 11 million stories of heartbreak and suffering that should motivate Congress to act," Senator Reid said ahead of the vote. "The bipartisan proposal before the Senate takes important steps to strengthen border security. It also makes crucial improvements to our broken legal immigration system."
Similarly, Senate Minority Leader Mitch McConnell (R-KY) — who has threatened that the bill would need "major changes" to ultimately win his vote — voted to invoke cloture, arguing on the floor that the Senate "deserves a chance to debate it" and "the opportunity to amend it."
Even if the bill does survive the Senate, there are no guarantees that it will advance through the Republican-dominated House of Representatives. House Speaker John Boehner expressed his concerns with the "Gang of Eight" compromise during a Tuesday morning interview with ABC News, telling host George Stephanopoulos that "especially in the area of border security, and internal enforcement of this system, I'm concerned that it doesn't go far enough."
"I would expect that a House bill will be to the right of where the Senate is," Boehner added.
Were the House to pass the Senate bill, it would almost certainly be with a minority of the Republican House majority — in violation of the so-called "Hastert Rule."
Earlier Tuesday, President Barack Obama had pushed the Senate to move forward with the bill. The president stressed that the compromise bill contains several elements for which Republicans have pushed — such as $6.5 billion in new border security, and harsher penalties for businesses that employ undocumented workers — and insisted that "no one is going to get everything they want. Not Democrats. Not Republicans. Not me."