Immigration Reform Is Just One Of Many Reasons Why Hispanics Hate The GOP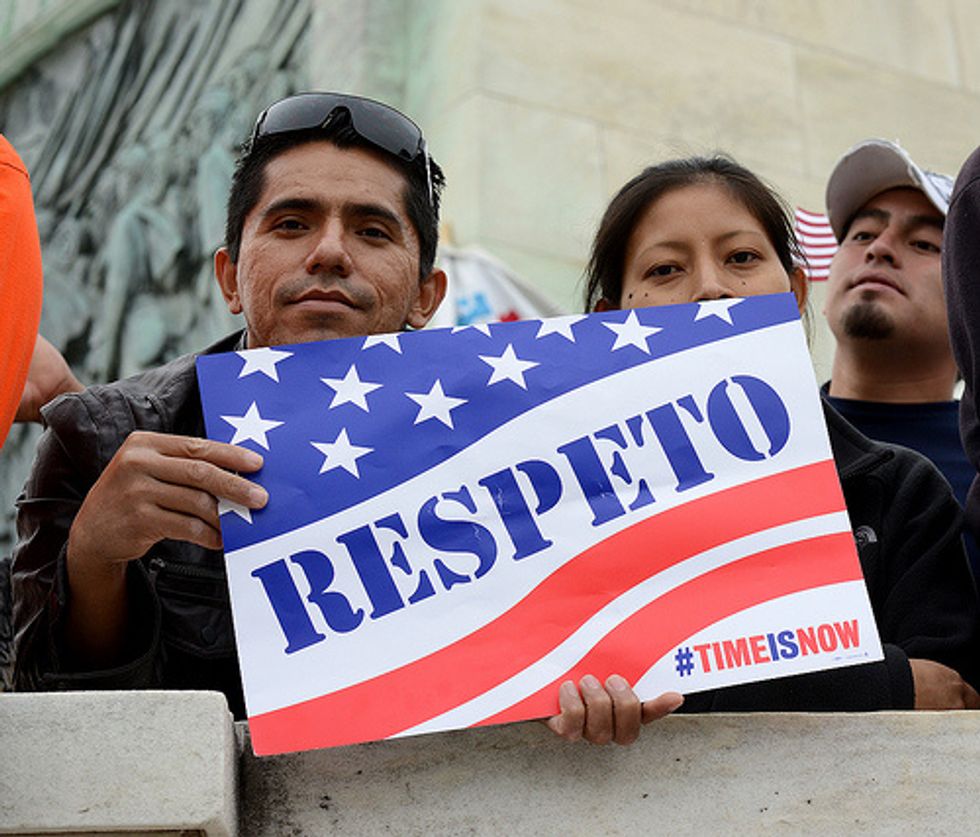 In June, as the U.S. Senate debated comprehensive immigration reform, Senator Lindsey Graham (R-SC) voiced a commonly held theme among mainstream Republicans: After getting blown out among Hispanic and Latino voters in the 2012 elections, the GOP needed to get onboard with immigration reform, or face certain doom as America's fastest growing minority continues to add more and more Democratic votes to the electorate.
"[I]f we don't pass immigration reform, if we don't get it off the table in a reasonable, practical way, it doesn't matter who you run in 2016," Graham told NBC's David Gregory at the time. "We're in a demographic death spiral as a party and the only way we can get back in good graces with the Hispanic community in my view is pass comprehensive immigration reform. If you don't do that, it really doesn't matter who we run in my view."
At the time, I disputed Senator Graham's claim that immigration reform could get the GOP "back in good graces with the Hispanic community," arguing that it was just one of many issues on which Hispanic voters fundamentally disagree with the Republican Party:
According to a wide-ranging Pew Research study from April 2012, Hispanics are politically predisposed to the Democratic Party. The study found that 30 percent of Hispanics describe themselves as "liberal," compared to just 21 percent of the general population. Only 32 percent describe themselves as "conservative," compared to 34 percent of the population at large.

Furthermore, Hispanics clearly favor a Democratic vision of government. When asked whether they would prefer a bigger government providing more services or a smaller government providing fewer services, they chose big government by a staggering 75 to 19 percent margin. By contrast, the general population favors a smaller government by a 48 to 41 percent.
In short: Partnering with Democrats on comprehensive immigration reform certainly wouldn't hurt the Republican Party among Hispanic voters, but it would fall far short of being the political game changer that Republicans like Graham hope. At the end of the day, there is just too much distance between the GOP's priorities and those of the Hispanic community to imagine a major political shift.
Four months later, this divide is more clear than ever. Not only has the Republican Party failed to move the ball forward on immigration reform — allowing it to languish in the House as the latest victim of the fictional "Hastert Rule" — but it has continued to take positions on other issues that are certain to keep pushing Hispanic voters away from the GOP.
The Republican-driven government shutdown, for example, had a disproportionately negative impact on Hispanic and Latino families. According to Leticia Miranda, senior policy advisor for the National Council of La Raza, 37 percent of children in Head Start programs and 42 percent of Women, Infants and Children (WIC) program participants are Latino. Additionally, about 24 percent of the federal employees who faced furloughs during the crisis were Hispanic. A few positive gestures on immigration won't erase the damage the Republican Party did to these families.
Moreover, the Affordable Care Act — which Republicans vainly hoped to kill by shutting down the government — is actually quite popular within the Hispanic community. In September, a Pew Research survey found that 61 percent of Hispanic-Americans support the health care law — well above the 42 percent approval rating that the law held in the poll among the general population. This makes sense, considering that Hispanics are the most underinsured demographic in the nation, and some 10 million Hispanics could gain coverage under the law. Don't expect them to forget that the Republican Party shut down the government in an effort to stop that from happening.
These are just two of several issues — including education and gun reform — on which polls find Hispanics siding strongly with Democratic governing priorities over the GOP's. Ultimately, even if Republicans do shift their position and sign on to a comprehensive immigration reform deal, they cannot expect to rapidly gain support among the Hispanic community. At least not unless they fundamentally change a platform that has been specifically tailored to attract voters with a completely different set of values.
Photo: Stephen D. Melkisethian via Flickr