Immigration, Taxes, Health Law On The Line In Tuesday's Battle For Senate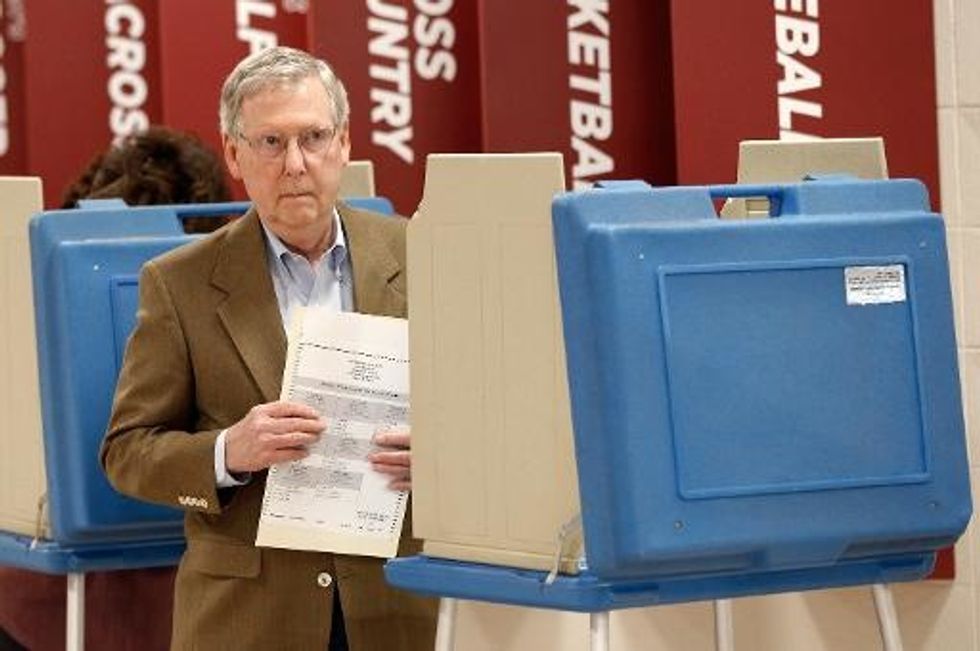 By Todd J. Gillman, The Dallas Morning News
WASHINGTON — For six years, the Obama White House could count on having allies in control of at least one side of Congress. That could change Tuesday, and if it does, the impact will be swift and dramatic.
Immigration, taxes, energy, nominations, health care, the president's legacy, the next elections — it's all on the line.
Control of the Senate hinges on 10 tight, hard-fought and costly races from Alaska to New Hampshire. Republicans have a strong chance of picking up the six seats needed to wrest control of a chamber that has eluded them throughout Barack Obama's term.
For the president, a Congress fully controlled by adversaries would force drastic retrenchment. For Republicans, the leverage to impose their agenda would be liberating. It also would entail plenty of complications.
"We've been in the minority for a while. Often, saying no is exactly the right answer," said Sen. John Cornyn, the Texan poised to become the Senate's second-most-powerful member if his party takes control. "When you're responsible for governing, it requires a different approach."
Whether the GOP's tea party faction accepts a measured approach remains to be seen.
Many conservatives would view victory in the Senate, even by a narrow margin, as a broad mandate, said Norm Ornstein, a congressional scholar at the American Enterprise Institute. He predicts they'll be emboldened to "oppose this president at every turn."
If the White House thought House Republicans have been pesky, with inquiries over Benghazi and the IRS, it should brace for a fresh onslaught of Senate subpoenas and oversight hearings. Until now, it's been shielded from those, courtesy of Democratic leader Harry Reid of Nevada.
"Probably the worst job in the next two years will be White House counsel," Ornstein said.
And impeachment demands will only escalate.
"You're going to see a drumbeat from the grass roots that is already out there," Ornstein said at a recent forum. "It is going to be a challenge for Republican leaders not to move in that direction. They all know that it would be incredibly stupid and catastrophic."
Interest groups recognize the stakes Tuesday. Outside spending on key Senate races has reached levels unimaginable a few years ago.
The 2012 contest in Virginia set a record with $52.4 million in spending by outside groups. At least three matchups this fall have passed or will pass that mark. Colorado's Senate contest has attracted $68 million. Iowa's has drawn $61 million.
The pacesetter is North Carolina. More than $80 million has poured into the state from sources reflecting the myriad issues that hang in the balance.
The U.S. Chamber of Commerce alone has pumped $5.3 million into Republican challenger Thom Tillis' cause. Crossroads GPS, the Karl Rove-founded group, has put in $4.9 million. The National Rifle Association has chipped in $6.7 million.
On the Democratic side, teachers unions and abortion rights groups have invested millions to prop up Sen. Kay Hagan. The League of Conservation Voters has injected $4.9 million into defending Hagan and, more broadly, the Democratic firewall.
A GOP takeover would mean a majority leader from coal country, Kentucky Sen. Mitch McConnell, assuming he's re-elected.
"In terms of legislative action, we're stuck," said Tiernan Sittenfeld, the League of Conservation Voters' senior vice president for government affairs. "They're going to promote a pro-polluter, anti-public-health agenda."
Across the ideological divide, Republicans see full control of Congress as a way to block Obama.
"We stop his agenda. We stop him from stacking the courts with liberal progressives that could never get a bipartisan vote, from stacking regulatory agencies," Rep. Paul Ryan — a potential 2016 contender and the GOP nominee for vice president in 2012 — told Fox host Sean Hannity last week.
Controlling the Senate would let Republicans unleash a wish list endorsed by the House GOP — nearly 400 bills that have died in the Democratic Senate. The new Congress could quickly send bills to the White House to authorize the Keystone XL pipeline or to cut corporate tax rates.
These could provoke Democratic filibusters and vetoes from Obama. Or, Republicans hope, they'll spur a willingness to bargain.
"We don't know what Democrats' attitude will be — whether they'll try to shut things down and embarrass the other side, or whether this election will serve as a wake-up call," Cornyn said. "It's going to require a reassessment by (Obama) about what he wants his last two years in office to be like."
Patrick Griffin was chief lobbyist for the White House during the "triangulation" phase of the Clinton administration — when the president, facing a hostile Congress, cut deals with adversaries over the objection of Democratic allies. He agreed that Obama will be forced to adapt to an unpleasant new reality.
"He has to shift, radically," said Griffin, now academic director of American University's Public Affairs & Advocacy Institute. "Lean in — and be prepared to accept less than he might want."
With Republicans in charge, confirmations will come to a screeching halt, especially for lifetime judicial posts.
Foreign trade deals become more likely, though. The president might find common cause with Republicans. And Republicans could use the issue to drive a wedge between him and other Democrats.
GOP leaders promise confrontation on many fronts, even as they try to hold down expectations among their base voters.
In the weekly GOP address, McConnell promised that a majority "would mean we'd be able to bring the current legislative gridlock to a merciful end."
Efforts to repeal Obamacare, or at least to hobble it, would be a top priority. But McConnell reminded Fox viewers last week that Obama will spend his final two years defending the health care overhaul.
"People need to understand that that constrains our ability to … get rid of it," he said.
The dynamic would shift instantly on immigration, though.
Last year, the Senate passed a bipartisan bill to overhaul the nation's immigration laws. It died in the House.
There is no chance a GOP-held Congress would clear a path to citizenship for the 11 million people in the country illegally, a key sticking point.
Regardless of what the new Senate looks like, "it's the same House that's being held hostage by a very small right wing of the GOP," said Marielena Hincapie, executive director of the National Immigration Law Center. But, she added, "if the Republicans are serious about finding their way back to the White House in 2016, they absolutely must deal with immigration."
Three close races are in states that Obama lost in 2012 by wide margins — Alaska, Arkansas and Louisiana — though Democratic incumbents are fighting to the end. Republicans also hope to topple senators in Colorado, North Carolina and New Hampshire.
Open seats in Iowa and Georgia are up for grabs.
"We are on a razor's edge in terms of who's going to control the majority," Guy Cecil, executive director of the Democrats' Senate campaign arm, said Thursday at a forum sponsored by Politico.
Republicans will have a lopsided share of Senate seats on the line in 2016, as Democrats did this year.
They'll want to chalk up some accomplishments, not just vetoes. But the GOP senators up for re-election next time will be loath to anger tea partiers back home by looking too conciliatory. And the presidential contenders — Texan Ted Cruz, Rand Paul of Kentucky, and Marco Rubio of Florida — probably will agitate for confrontation as they jockey for attention in Iowa and New Hampshire.
"Whenever there's an attempt to do something constructive, McConnell's going to have a problem, maybe worse than he ever had," Griffin said.
Cornyn, though, foresees less internal friction.
"We all are going to be eager for action. It boils down to tactics," he said. "We have a common incentive: If we demonstrate we're incapable of governing, then our chances of winning the presidency are not much better than zero."
AFP Photo/Win Mcnamee
Want more political news and analysis? Sign up for our daily email newsletter!