In ABC Interview, Trump Says Article II 'Allows Me To Do Whatever I Want'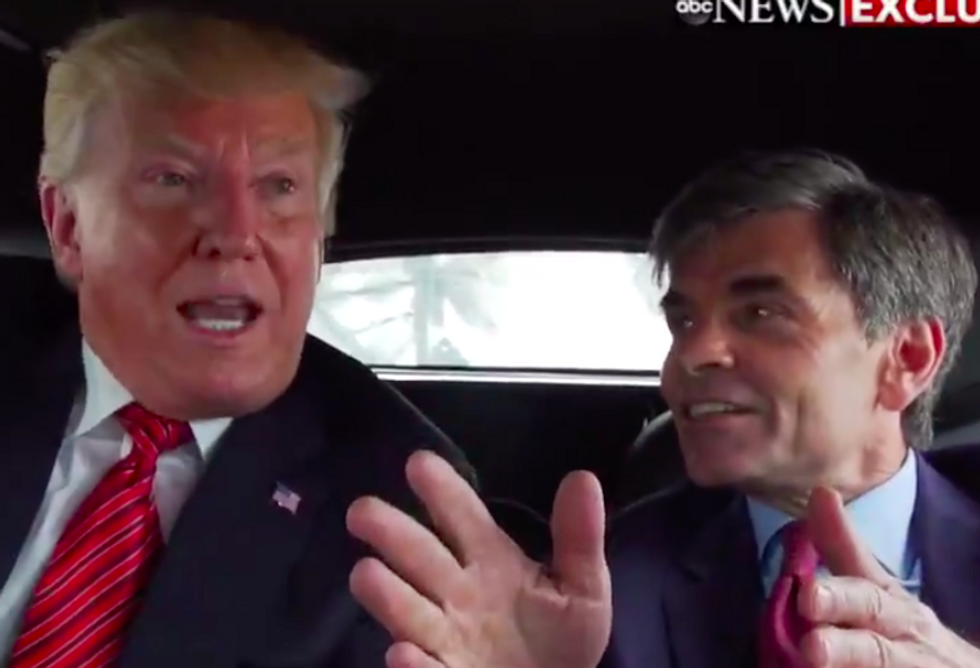 In a combative interview with ABC's George Stephanopoulos, President Donald Trump brought up special counsel Robert Mueller's report on links between his campaign and Russia in a bizarre effort to explain why he's angered by internal polling that shows him trailing Joe Biden in 2020 battleground states.
During the interview, Trump accused former White House counsel Don McGahn of lying under oath about the president's efforts to fire Mueller, "because he wanted to make himself look like a good lawyer." Trump then brought up Article II of the Constitution, which he claimed gave him the authority to fire the special counsel.
"Article II allows me to do whatever I want," Trump insisted.
Pressed on his argument that Article II of the Constitution grants him broad powers to obstruct justice, Trump told Stephanopolous to "read" Article II. 
"I'm just saying a president under Article II — it's very strong," Trump said. "Read it. Do you have Article II? Read it." (Actually, Article II, Section 3 says that the president "shall take Care that the Laws be faithfully executed.")
Later in the interview, Trump accused Stephanopoulos of "being a little wise guy" for asking about the president's refusal to sit for questioning with Mueller.
"There was no crime," Trump said. "There was no collusion. The big thing's collusion. Now, there's no collusion. That means they set — it was a setup. In my opinion, and I think it's gonna come out."
Trump then stated, without evidence, that former President Barack Obama "must have known" about the so-called set-up.
"I'm not gonna make that statement quite yet," Trump said. "But I would say that President Obama had to know about it."
You can read a transcript of the interview here, and watch a portion of the interview below, via ABC News.
EXCLUSIVE: In an interview with @GStephanopoulos, President Trump kept bringing up the Mueller report.

Asked why it bothers him so much, Trump says, "because it's untrue. I like the truth. I'm actually a very honest guy" https://t.co/J72Biz1YSs pic.twitter.com/RniIJlQBfj

— This Week (@ThisWeekABC) June 16, 2019