In America, Women Are Routinely Punished For Abortion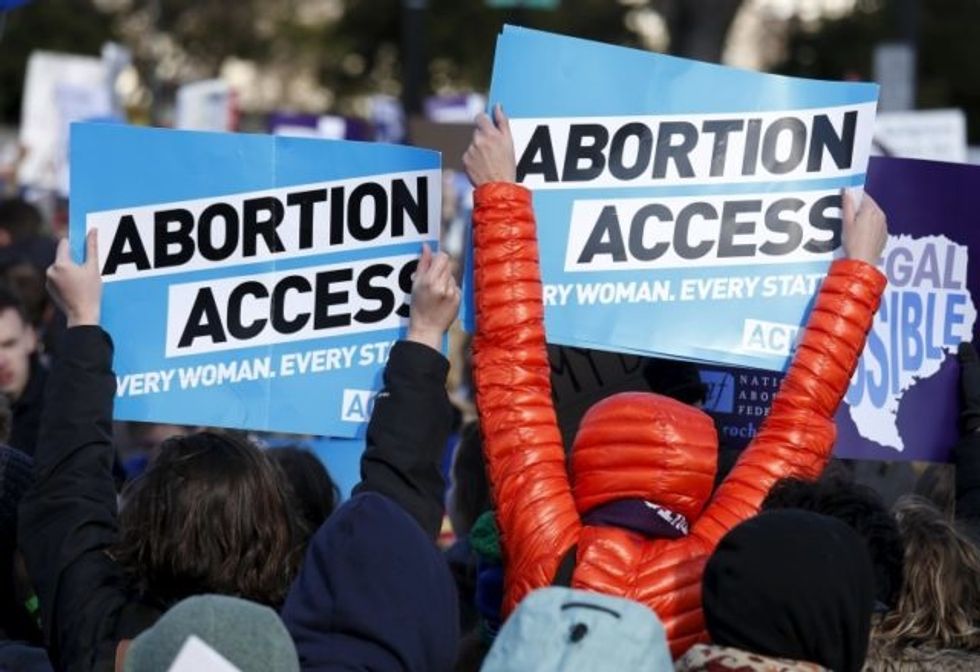 Reprinted with permission from AlterNet.
By Kylie Cheung / Independent Media Institute
Continuing a long and dangerous trend of anti-abortion policymaking among Republican lawmakers in Arizona, this week, the state's House of Representatives passed a bill that would require doctors to ask women seeking abortion for their motives. Despite being marketed as a new means for the state to learn about women's needs and "help" them, pro-choice advocates recognize the bill as a sweeping invasion of privacy, and the latest tool to shame and punish women who seek or have abortions.
In addition to asking women why they are seeking abortion services, under this bill, doctors would have to ask if women were victims of rape, sex trafficking or coercion. The bill essentially grants Arizona's government the authority to question and demand that women open up about deeply personal decisions, or even relive intense trauma. The questions SB 1394 asks are meant to sweepingly associate abortion with extreme, dire circumstances; they imply that the only women who have abortions are either victims or highly unstable, and that anyone seeking abortion for the diverse host of other reasons they might want the procedure should feel shame.
Even in the absence of the required questioning, by nature, we only demand that people justify decisions they should be ashamed of. No other legal, objectively safe medical service requires the same degree of interrogation, motive-seeking and mandatory counseling that are attached to abortion in many states; it's difficult not to see this bill as an extension of gender policing. In either case, there's a reason SB 1394 is drawing so much attention: The bill's foundation is in punishing women, blockading access to a service until women are degraded with questioning. And punishment of women who have abortions is a hot topic right now.
In the last two weeks, we've seen The Atlantic hire and subsequently fire Kevin Williamson, a high-profile conservative thinker who has vocally advocated for the death penalty for women who have abortions. Idaho state Sen. Bob Nonini, a Republican vying to be the state's next lieutenant governor, has argued subjecting those who have abortions to the death penalty—as opposed to, say, increased access to birth control and sexual health education—would reduce abortion rates. These views should not be accepted as normal, nor even accepted as "views," quite frankly. Inciting the mass murder of a quarter of all women for receiving a legal medical service, especially amid rising rates of violence, threats of violence, harassment and even murder toward women and abortion providers isn't an abstract ideology; for many people, this "ideology" is a very real experience.
DAME Magazine columnist Robin Marty has previously written about how calling for the death penalty for those who have abortions is not too uncommon among mainstream Republican lawmakers. And even among those who have shied from saying women should be killed, many—including, at one point, President Donald Trump—have suggested women should be punished.
Punishment inherently lies at the center of our conversations around abortion, even among the majority of abortion opponents who pose as the "forgive women" wing. And yet, women who make a private decision about their bodies have nothing to be forgiven for; this stance in itself is a reminder that shame and stigma are themselves a form of punishment. While plenty of women seek abortion care because of extreme circumstances, others may seek the procedure for everyday reasons, from financial strain to simply not wanting to undergo the discomforts and inconveniences of pregnancy, or to become mothers. Contrary to what SB 1394 suggests, no line of reasoning is more valid than another—nor is it ever anyone else's business.
In 2014, 51 percent of abortion patients had used contraception when they conceived; the most recent and comprehensive study revealed 95 percent of women who have abortions don't regret their choice. The implications of punishing women who have abortions are that women who were "irresponsible" should be disciplined and taught a life lesson, but clearly, this isn't a responsibility issue. Roe v. Wade says nothing about circumstances around conception or motives for the procedure. And yet, SB 1394 reveals that still, society clings on to its tradition of shaming and infantilizing women seeking health care, and doling out all the emotional manipulation and punishment it takes to sway some of the aforementioned 95 percent bloc.
Emotional manipulation is only one form of punishment women seeking abortions are often subjected to. In 2017, the Feminist Majority Foundation published the findings of a study which revealed 34.2 percent of surveyed abortion clinics reported "severe violence or threats of violence" in the first half of 2016, up from 19.7 percent from the entirety of 2014, and the previously highest rate of 24 percent from 1995. Even among politicians who do not support punishing women who have abortions, rhetoric that humanizes fetuses and fertilized eggs does so in the same breath that it dehumanizes women and abortion providers, by portraying them as murderers and—intentionally or not—inspiring extremists to bring them to justice.
In addition to the arson, harassment from protesters and other increasingly commodified attacks on women and clinics, the 2009 murder of late-term abortion provider George Tiller, and the 2015 shooting at a Planned Parenthood in Colorado from a man who called himself a "warrior for the babies," and killed three, speak to the extreme danger anti-choice rhetoric can contribute to. This rhetoric may not always explicitly demand punishment, and yet, from terrifying acts of violence to an overarching culture of stigma and shame, it yields punishment nonetheless.
According to Guttmacher, since the 1973 Roe decision, more than 1,050 restrictions on abortion access have been enacted, and 27 percent of these were passed between 2011 and 2016 alone. The role of most of these restrictions is to segregate abortion from every other equally legal medical service, through medically unnecessary requirements placed on clinics or prohibiting insurance coverage of abortion, and a variety of other regulations that have shut down clinics and forced women to pay high costs to travel out of state for the procedure. And speaking of quasi-financial sanctions on the procedure, other laws have tried to force women to pay out-of-pocket for the burial or cremation of fetuses or any remains from miscarriage or abortion, which some advocates argued could essentially apply to all women who menstruate; the costs could range from $1,500 to $4,000.
Other existing restrictions, such as bans at different stages of pregnancy or aforementioned laws banning coverage of abortion, offer exceptions for situational factors like whether the pregnancy is the result of rape. But these exceptions are arguably a punishment of their own, in the cruel burden they place on survivors of rape to prove their trauma for basic medical care.
SB 1394, the latest controversial anti-choice bill, punishes women who seek abortion by compelling their speech, and putting them in a position to defend a personal decision. Outside of legislation and in addition to aforementioned acts of physical violence, cyber violence and rampant harassment and threats are another issue that disproportionately affects women and health care providers who talk about abortion on the internet. The National Network of Abortion Funds this month filed a lawsuit regarding cyber violence and hacking for their work in funding abortion care.
Today, 80 percent of Congress and 75 percent of all state legislators are male, while the president of the United States is convinced abortion means "rip[ping] the baby out of the womb" in the ninth month. The numbers and ignorant ideologies of those who represent us speak volumes. The landscape of punishment and stigma that continues to govern abortion access in America is in many ways constructed by male dominance, and the patriarchal policing of women and sex. Punishing abortion isn't about accountability or standing up against "baby killers." It's about gender, control and upholding a system that accords men all decision-making power over women and their behaviors.
Kylie Cheung is a Los Angeles-based freelance writer whose work has appeared in the Mary Sue, Mediaite, ATTN:, Rantt, and others. Follow her on Twitter at @kylietcheung.