In Illinois Homecoming, Obama Calls For Improved Tone In U.S. Politics
@reuters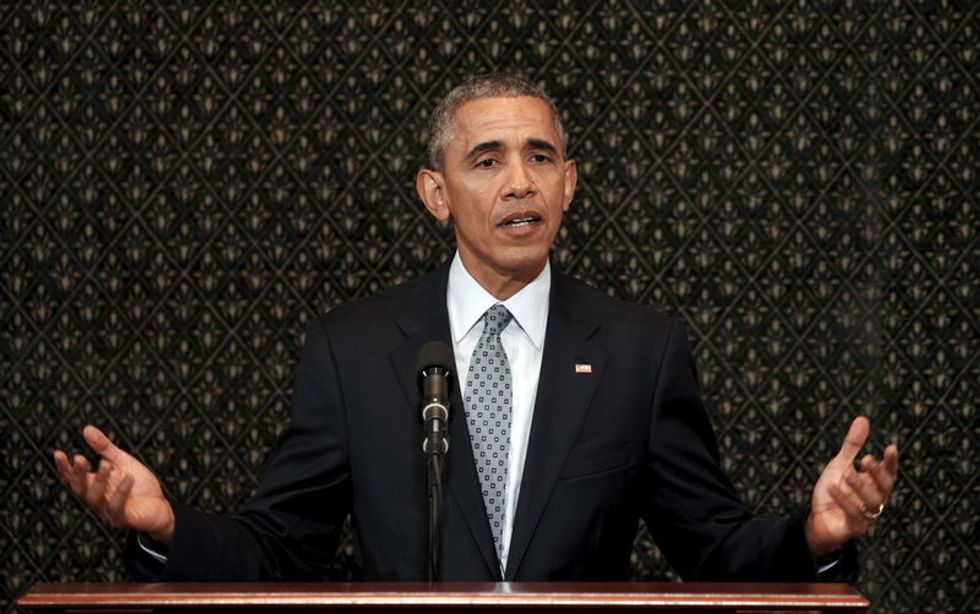 By Jeff Mason
SPRINGFIELD, Ill. (Reuters) – President Barack Obama paid a nostalgic visit on Wednesday to the place that launched his political career and made a renewed call for better relations between Republicans and Democrats to create a more positive tone in U.S. politics.
Obama won the White House in 2008 partially on a promise to overcome partisan divides in Washington. He has called his failure to do that, seven years after taking office, a regret.
On the ninth anniversary of his 2007 announcement in Springfield that he was running for president, Obama addressed Illinois lawmakers at the state Capitol where he once worked as a state senator in what he described as a collegial, friendly atmosphere.
"I was able to be part of that here, and yet I couldn't translate it the way I wanted to in our politics in Washington," he said.
Obama said reducing the influence of money, making it easier to vote and ending the way voting districts were drawn politically would help solve the problem.
"We've got to build a better politics," he said. "When I hear voices in either party boast of their refusal to compromise as an accomplishment in and of itself, I'm not impressed."
Congressional Republicans have said the Democratic president is often unwilling to work with them to pass legislation.
"The central premise of the Obama presidency was to unite the country, and that's been an unquestionable failure," Doug Andres, a spokesman for Republican Speaker of the U.S. House of Representatives Paul Ryan, said in a statement.
Obama has made clear he views Republican presidential front-runner Donald Trump's rhetoric as corrosive. Trump, who has called for a temporary ban on Muslims entering the United States, won the New Hampshire Republican primary on Tuesday as the parties hold state-by-state nominating contests for the Nov. 8 election to succeed Obama.
MICROCOSM
The chamber in which Obama addressed Illinois lawmakers also became a microcosm of the challenges he was hoping to address.
Democrats stood and clapped when Obama said the country was better off since he became president. Republicans stayed seated. The situation was similar to what occurred at his annual State of the Union addresses in Washington.
Obama chided both sides, however, and said he believed Republicans shared some of his values even if they disagreed on how to enact them. He noted the importance of basic governance such as fixing roads and passing budgets, a reference to a crisis facing his home state.
Republican Governor Bruce Rauner has refused to sign a spending plan for Illinois' 2016 fiscal year without winning Democratic concessions that would weaken collective bargaining rights for public-sector unions, impose term limits, freeze property taxes and make it harder for workers injured on the job to collect damages from their employers.
Democrats, who control both of Illinois' legislative chambers, have resisted his demands, setting up a stalemate that has left the state's public universities and social-service programs starved for funding. Chicago State University, for example, last week declared a financial emergency, and furloughs have been imposed at other public universities.
Obama's trip was aimed both at solidifying his legacy in a familiar place and making good on a promise to spend his last year working toward healing partisan wounds.
Shortly after arriving, he stopped at a restaurant he frequented as a state senator, then shook hands with onlookers outside the Old State Capitol, where Obama announced his bid for the White House exactly nine years ago.
(Additional reporting by Dave McKinney in Chicago and Roberta Rampton in Washington; Editing by Peter Cooney)
Photo: U.S. President Barack Obama addresses the Illinois General Assembly during a visit to Springfield, Illinois February 10, 2016. REUTERS/Kevin Lamarque