In 'Major Announcement', Trump Mostly Repeats His Wall Demand
@KailiJoy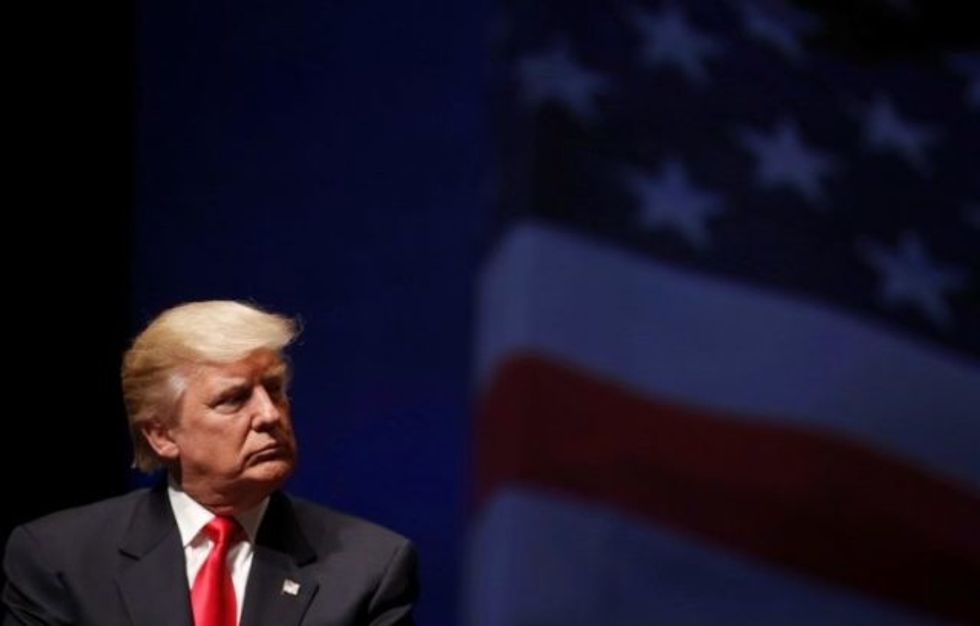 Reprinted with permission from Shareblue.
On Saturday, Trump delivered what was billed as a "major announcement," supposedly to address the ongoing crisis he created by shutting down the government in December.
Instead, Trump delivered what was essentially the same boring prime-time speech he gave earlier this month, in which he demanded — for the zillionth time — that Congress give him $5 billion to build his wall.
Like his first speech, he spouted absurd and baseless claims about drugs and crime, going so far as to suggest that his wall could cut the crime rate in the United States in half. And he continued to attack Democrats, while at the same time demanding that they work with him to end his shutdown.
"The radical left can never control our borders. I will not let it happen," Trump said.
The new part of Trump's Saturday speech was an offer of temporary relief to Dreamers — those young Americans brought to this country by their families when they were children.
Of course, those young Americans already had protection under DACA, the Deferred Action for Childhood Arrivals program. But in 2017, the Trump administration announced it was terminating the program, for no reason other than to try to use those 800,000 young lives as bargaining chips, throwing their lives into chaos as they faced the threat of deportation.
Now, Trump once again is callously treating those immigrants, whose lives he couldn't care less about, as bargaining chips to extort billions of dollars from American taxpayers. Taxpayers, by the way, who do not support his wall and most definitely do not support his shutdown, which he has continued for almost a month.
Trump's "compromise" is already dead on arrival. House Democrats have passed several bills to reopen the government, but Senate Majority Leader Mitch McConnell has refused to even hold a vote on any of them. Trump has insisted he would veto any bill to reopen the government that does not address his $5 billion ransom demand.
But Democrats have made clear they are not going to give Trump money for a wall most people don't support and that will in no way provide real immigration reform.
"Democrats were hopeful that the President was finally willing to re-open government and proceed with a much-need discussion to protect the border," Speaker Nancy Pelosi said in a statement just before Trump's speech.
But Trump's proposal, Pelosi said, "is a compilation of several previously rejected initiatives, each of which is unacceptable and in total, do not represent a good faith effort to restore certainty to people's lives."
That Trump is offering only a three-year reprieve for Dreamers, rather than a permanent solution, is one of several reasons his "compromise" is unacceptable.
Pelosi also noted that the House will pass yet more bills next week to reopen the government.
"The President must sign these bills to re-open government immediately and stop holding the American people hostage with this senseless shutdown," Pelosi said. "Each day he prolongs this needless crisis, Coast Guardsmen, FBI agents, border patrol officers, TSA agents, and hundreds of thousands more workers are forced to live without knowing how they can feed their families or pay their bills."
Nearly 1 million federal workers have had to go without pay and are about to miss yet another paycheck soon if Trump continues to keep the government shut. Those workers are becoming increasingly desperate, forced to rely on donations and food banks to support themselves and their families.
The solution to the problem entirely of Trump's making is clear. Both the House and Senate have voted for bills to reopen the government. It is up to Trump — the same man who insisted, during his campaign, that when it comes to America's problems, "I alone can fix it" — to do his job.
Trump "has taken pride in shutting down government," Pelosi said. "Now, he must take action to open up government."