In Montana, Trump Praises Assault On Reporter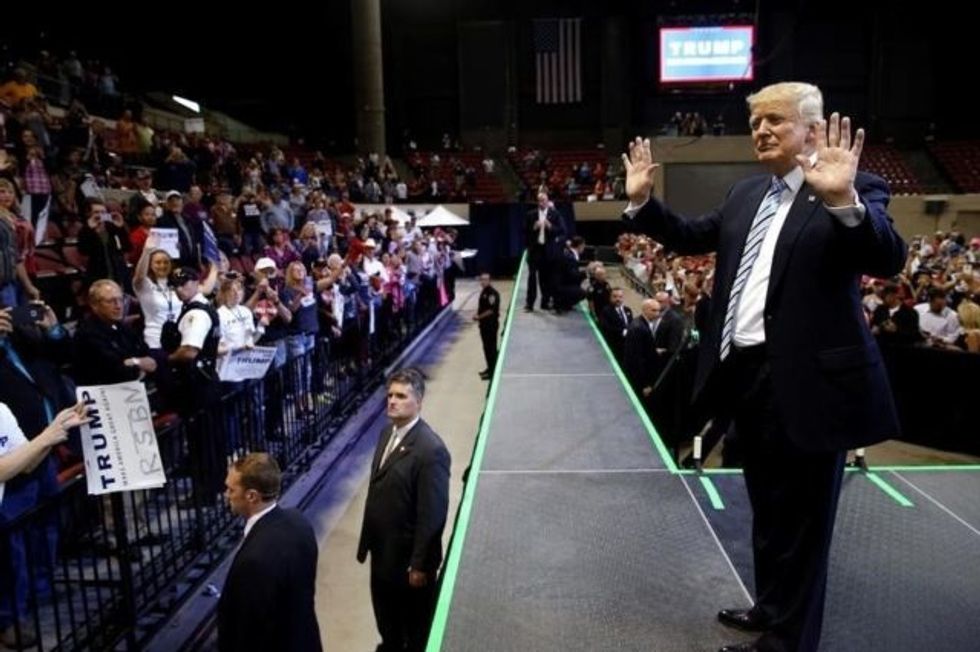 Reprinted with permission from AlterNet.
Revealing his party's pleas for "civility" to be a complete farce, President Donald Trump brazenly celebrated a brutal attack on an American reporter Thursday night at a rally in Montana.
The assault itself happened over a year ago in May 2017 in the runup to a special election in Montana. Guardian reporter Ben Jacobs was asking then-candidate Greg Gianforte, running for a House seat, questions about health care when the candidate grabbed him and bodyslammed him to the floor.
Gianforte then lied about the incident to the police and the public, won the election, and eventually pleaded guilty to misdemeanor assault. The fact that Gianforte was allowed to caucus with the GOP after winning the election by lying about the assault remains and unaddressed shame over the entire party.
But on Thursday, Trump made it clear he's not ashamed of Gianforte's actions — he's proud of them.
"By the way, never wrestle him," Trump said of Gianforte at the campaign rally. "You understand that? Never. Any guy that can do a bodyslam, he's my kind of … he's my guy. I shouldn't say this. But there's nothing to be embarrassed about!"
Trump went on to recount how he heard about the assault while he was in Rome after already having endorsed Gianforte. He said he was worried at first the Gianforte would lose, then added: "I said, 'Wait a minute, I know Montana pretty well. I think it might help him. And it did."
Despicable as it is to celebrate an assault — especially for a politician to celebrate an assault on a member of the press — it was particularly galling given that the administration is currently grappling with a crisis driven by the apparent murder of a Washington Post journalist by the government of Saudi Arabia. At the same time, the president has been pushing the narrative that the Democrats are an uncivil "mob" — without any regard for his long history of promoting and embracing violence. Watch the clip below:
WATCH: During Montana rally, President Trump references Rep. Greg Gianforte's assault of reporter Ben Jacobs: "Any guy that can do a body slam … he's my guy." pic.twitter.com/1bupNPtOzg

— NBC News (@NBCNews) October 19, 2018
Cody Fenwick is a reporter and editor. Follow him on Twitter @codytfenwick.