In Scotland, Trump Waves At Crowd Protesting His Racism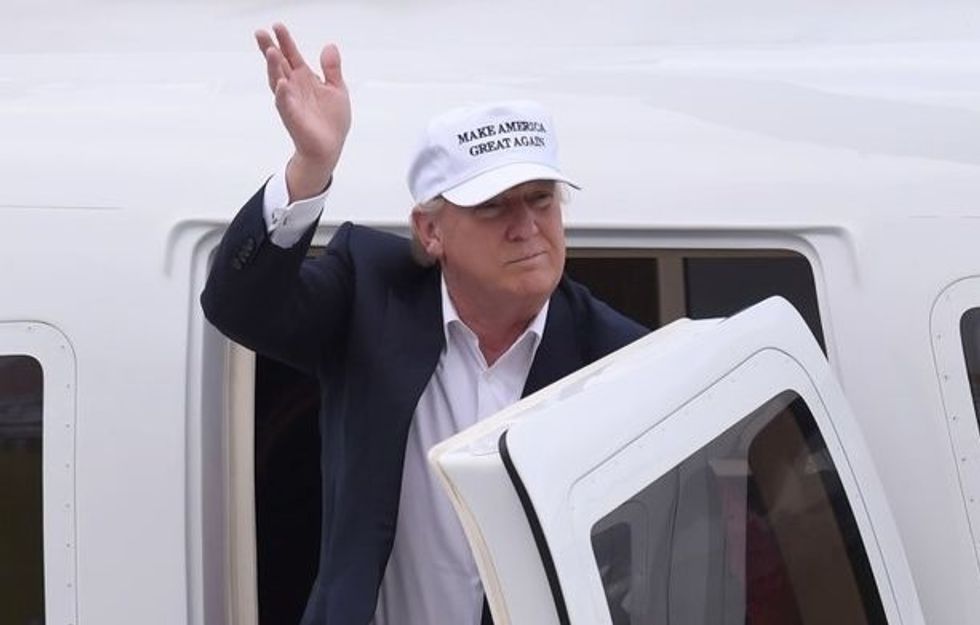 Reprinted with permission from Shareblue.
Trump is not liked in the United Kingdom. But he still appears to be suffering under the delusion he has well-wishers there, waving to protesters Saturday as they shouted down his racism.
Trump used his current trip to the U.K., and it's corresponding massive media coverage, as an excuse to try to boost his ailing Turnberry golf course in Scotland.
U.K. protesters used his ridiculously unpresidential promotional golf visit as a chance to demonstrate against Trump.
They yelled, "No Trump, no KKK, no racist USA." The protesters also held up anti-Trump signs like "Dump Trump," "Child Snatcher," "Small Hands, Big Lies," and "Caution: Racist."
One man even parachuted in with a sign reading, "Trump Well Below Par."
Despite the clear thrust of this message, Trump waved to the protesters in acknowledgment:
#BREAKING President Donald Trump waving a protestors who are calling him racist as he plays golf at #Turnberry@realDonaldTrump#TrumpProtests#TrumpVisitsUK#trumppic.twitter.com/aZFmqFzkzX

— Frankie McCamley (@Frankie_Mack) July 14, 2018
The tone-deaf response comes just after he admitted that the "Trump Baby" blimp flown by protesters made him avoid visiting London. His two presidential predecessors visited the English capital.
Trump has constantly lived in denial with how unpopular and disliked he is. On the day of his greatest political triumph, the 2016 election, he lost the popular vote by nearly 3 million votes to Hillary Clinton.
He has never been above 50 percent approval and currently his average approval is an anemic 43 percent, while 53 percent of Americans reject his presidency.
The story is the same around the world, with confidence in the presidency down 42 points since Trump took over. The failure of Trump to be a global leader has also increased unfavorable views of the United States.
Trump was being booed because people in the U.K., like Americans, dislike his racism, policies, and general character.
Trump nevertheless believed they were happy to see him, because he lives in a world of absolute delusion.
Published with permission of The American Independent.