In Swedish Farmhouse, A Neo-Nazi Weapons Stockpile -- And Plan To Attack Schools
@DavidNeiwert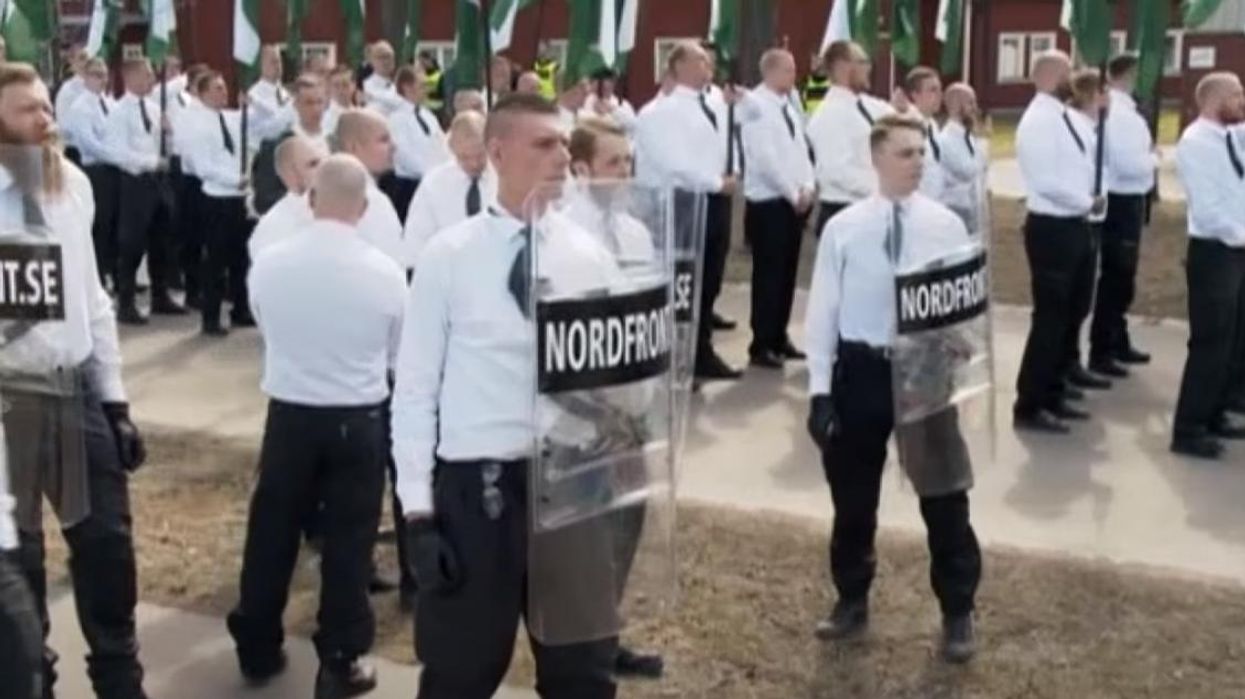 YouTube Screenshot
When Swedish police arrested a 25-year-old man at a farmhouse outside of Gothenburg last November, the only official explanation was that he was arrested for "gross preparation for general destruction." Now the details of what they found inside the house have been released, and it's chilling: the man, who was active in the neo-Nazi Nordic Resistance Movement (NRM), had stockpiled homemade bombs, semi-automatic weapons and parts manufactured with a 3D printer, as well as a huge cache of ammunition—all while engaging in online discussions about how to target schools for mass shootings.
The farmhouse arsenal was powerfully reminiscent of the case of Norwegian terrorist Anders Breivik, who made similar preparations at a rural property over several years prior to his lethal terrorist attack in July 2011 that killed 69 young people at a summer camp and eight people in downtown Oslo when he detonated a truck bomb. Terrorism experts examining the Sweden case say it's clear evidence that the threat of white-nationalist terrorism continues to spread around the globe.
Contained within the farmhouse near the town of Falköping, as researcher Hugo Kaaman explained, was a weapons stockpile that actually dwarfed Breivik's, suggesting the intensity of the young man—who has not been publicly identified—in his desire to replicate the white-nationalist hero's horrific act.
There were 50 tons of ammonium-nitrate fertilizer, the main component in the truck bombs ignited by Breivik and, before him, Oklahoma City mass killer Timothy McVeigh. He had multiple guns of various makes: semiautomatic and single-shot rifles and handguns, as well as multiple ammo magazines, bullet casings, and gunpowder. He also had a number of laser scopes, a bulletproof vest, camouflage clothing, a ballistic helmet, and a 3D printer that investigators believe he manufactured gun parts with.
The man had set up a laboratory in his garage, but investigators also found that he had likely set up a pipe-bomb-making operation on his kitchen table, which had gunpowder on it. And being a devoted neo-Nazi, he also had a full library of far-right literature, as well as manuals on bomb-building and a handbook on armed struggle.
When investigators went through his online activity, they found that the man had searched for posts and discussion threads about using various kinds of bombs, as well as proposals for attacks on schools. They believe, however, that he had not yet settled on a target.
"The suspect has discussed the possibilities of carrying out attacks on a schoolyard, but there is no evidence that any specific school has been selected. It appears as if the suspect has 'got stuck' in the first planning phase," a statement from the Swedish Defense Research Agency read.
The agency also noted that the man had expressed violent fantasies in various online forums, and promoted violent neo-Nazi beliefs, reflecting his membership in the NRM.
Like a number of neo-Nazi terrorist organizations, the Nordic Resistance Movement is a product of Russia-based fascist activism—particularly the now-defunct Iron March forum, originally the brainchild of a Russian neo-Nazi who went by the nom de guerre Slavros, who created Iron March in 2009 as the rebranded online home of the fascist International Third Position forum.
Iron March subsequently gave birth to the American neo-Nazi terrorist organization Atomwaffen Division, a number of whose members have been arrested by federal authorities for various acts of terrorism, as well as the explicitly fascist Patriot Front organization. Its impact has been global, however; among the organizations that emerged from it are the U.K.-based National Action, the Australia-based Antipodean Resistance, and the New Zealand-based Action Zealandia.
NRM's goal, according to its website, is to create an ethnically pure pan-Nordic nation that would include all Scandinavian nations, and to deport most non-ethnic Northern European residents. To do so, they say they intend to dismantle the "global Zionist elite".
Although NRM doesn't explicitly call for violence, its members train in martial arts and knife attacks, and they will eagerly seek out confrontations.
"The Nordic Resistance Movement is a serious threat—members have attacked refugee centers and traveled to train with other Nazi groups over the years," Heidi Beirich of the Global Project Against Hate and Extremism told Daily Kos. "If the U.S. ever designates another group as a Special Terrorist Organization, I would say NRM should be at the top of the list."
NRM has been involved in a series of incidents in which members violently confronted minority groups and antifascists. In 2016 and 2017, members planted bombs outside a far-left cafe and a refugee center in Gothenburg, the latter of which injured an immigration officer. At a 2016 protest in Finland, an NMR member killed a man by kicking him in the chest, causing him to fall and hit his head.
The Swedish man arrested for the farmhouse arsenal also has a previous conviction for assault in February 2017 as a result of his NRM activism. At an NRM demonstration in Gothenburg, the man was handing out leaflets when a woman spat in his face. He punched her in the face, causing her to fall to the ground.
"This guy's track record with them at least led to the police to not sell a shotgun to him," Beirich observed, "but the prevalence of 3D printed guns among extremists is undermining that strategy. This is a reminder that bombs are quite popular among right-wing extremists as well."
The incident also is stark evidence that the chain of terrorism fueled by white-nationalist extremism that was initiated by Breivik—who himself was following in the footsteps of killers like McVeigh—continues to mount, notably with the recent mass killing in Buffalo that was inspired by the Christchurch, New Zealand, killer in 2019, who in turn was inspired by Breivik. It also demonstrates the increasing number of arrests of neo-Nazis around the world—including the Austrian man arrested in November 2021 with an arsenal similar to the Swedish man's—is not simply a coincidence.
"This case is another reminder that far-right extremists are capable of mass violence and if they aren't tracked and investigated we will get more mass attacks, as we've just seen in Buffalo," said Beirich. "And given the online nature of his postings, once again the web is a key to stopping this violence. As scary as this situation is, it's sadly becoming par for the course in terms of neo-Nazis and white supremacists. At least in this case, he was arrested before something horrific happened."
Reprinted with permission from Daily Kos.