In India Relief Camp, Little Hope Or Trust Of The Man Who Would Be Prime Minister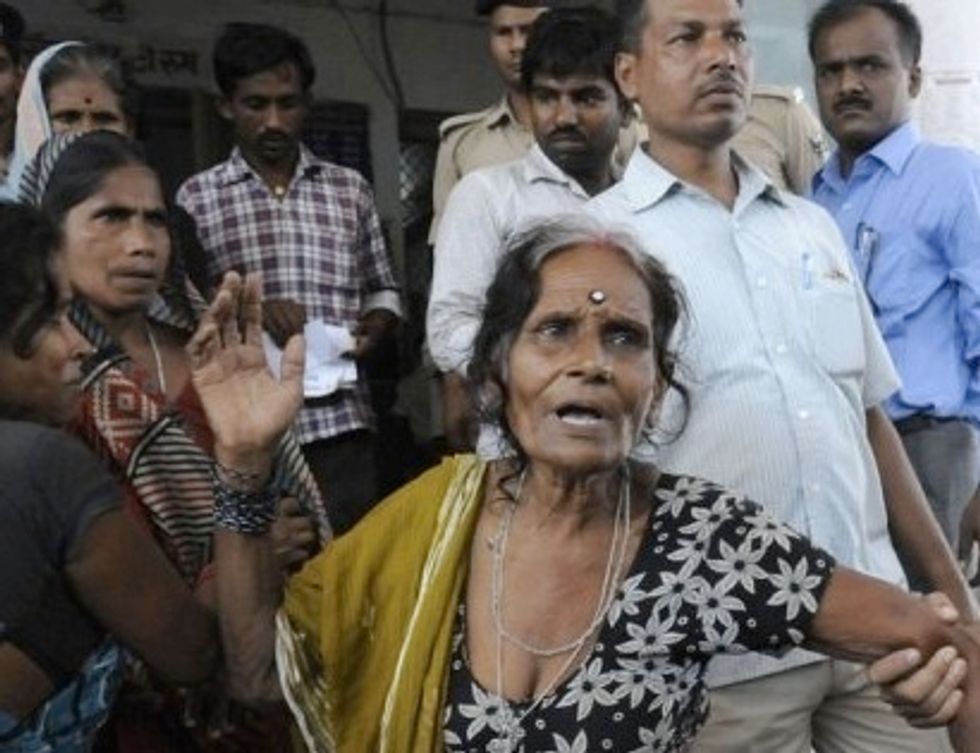 By Shashank Bengali, Los Angeles Times
AHMEDABAD, India — He was 12, too young to process the horror: Mobs of youths barely older than him swarmed his neighborhood with daggers and axes. Homes and the local mosque were ransacked and burned, bodies hacked to pieces, Hindu religious chants used as cries of war.
Mansoor Shah Suleiman escaped the sectarian riots that shook Ahmedabad and settled with his family in the Citizen Nagar relief camp on the outskirts of the city. Twelve years later, they still reside there, in a spartan concrete room in the shadow of a 10-story garbage dump so fetid that relatives refuse to visit them.
As much of Ahmedabad has flourished, the camp has become a permanent Muslim slum, forgotten by the authorities and suffocating the aspirations of young people like Suleiman, 24, who stitches shirts for $2 a day. In recent weeks, while Indians went to the polls in massive numbers to decide a pivotal national election, he cast his ballot with little enthusiasm, saying, "There is no hope for us."
The reason, many in the camp say, is the man who has ruled the western state of Gujarat since 2001 and is likely to emerge as India's next prime minister: Narendra Modi. He is an austere Hindu hard-liner whom critics accuse of allowing the attacks that killed hundreds of Muslims and forced tens of thousands from their homes in February 2002.
Modi, chief minister of Gujarat, has denied complicity and been cleared of involvement by court inquiries, although questions persist about their objectivity.
In a remarkable political turnaround, Modi has recast himself as a take-charge administrator, and according to exit polls released ahead of Friday's official results, he has led the conservative Bharatiya Janata Party and its allies to a convincing victory in the parliamentary elections.
Of eligible voters, about two-thirds — some 540 million people — participated in six weeks of phased balloting that Indian officials often described as the world's largest and most complex democratic exercise. Poll workers traversed mountains, forests and deserts to carry ballot boxes to remote villages, while in urban areas the airwaves were blanketed by spirited election coverage.
Modi's record in spurring growth in booming Gujarat resonated with an India that has faltered in pursuit of its economic rival, China. Nevertheless, to many Muslims, liberals and proponents of a secular, pluralistic India, Modi's rise serves as a source of fear, leaving the vast and diverse nation divided after one of the most bitter political campaigns in its history.
"The election turned out to be a referendum on one person," said Sanjay Kumar, a political scientist and director of the Center for the Study of Developing Societies, a New Delhi think tank.
As a young man, Modi, who grew up dirt-poor as the son of a tea seller, left home to join the Rashtriya Swayamsevak Sangh, a right-wing paramilitary organization that preaches Hindu superiority and demands asceticism in service of the nation. The group has been banned several times for inciting violence against non-Hindus, raising questions about Modi's willingness to represent the estimated 14 percent of Indians — about 175 million people — who are Muslim.
During the campaign, Modi played down his ties to the group and bragged that Muslims fared better in Gujarat than anywhere else in the country. But he also said he would deport illegal Muslim immigrants from Bangladesh while allowing Hindu migrants to remain in India. A party leader in the eastern state of Bihar said Modi's critics could "go to Pakistan."
Modi's biography stands in sharp contrast to that of his chief rival, Rahul Gandhi, dynast of the family that has led India for much of its post-independence history. Exit polls suggest Gandhi's left-leaning, scandal-plagued Indian National Congress party will suffer its worst showing ever.
The 43-year-old Gandhi, grandson of former Prime Minister Indira Gandhi, may have matinee-idol looks, but it is the bearded firebrand Modi, two decades his senior, who possesses the star power.
"I was on a plane and when I told the South Indian guy next to me that I was Gujarati, he said, 'Oh, you've got that very good chief minister,' " said Jayesh Parikh, a chemicals entrepreneur and Modi supporter. "He's done a fantastic job of marketing himself."
Barreling through India's legendary red tape, Modi promoted showy infrastructure projects and new factories that helped Gujarat, a traditionally entrepreneurial state, post growth rates and employment figures that outpaced national averages. Ahmedabad, a commercial hub choked with honking rickshaws and new luxury cars, has seen its population jump by half over the last decade, to 6 million people.
Modi's record was embraced by Indians who watched economic growth slide below 5 percent last year, well behind China's 7.8 percent, amid rising prices and persistent inflation.
The "Vibrant Gujarat" in Modi's marketing materials stops, however, at the farthest reaches of the city, where thousands of Muslims displaced by the 2002 riots continue to huddle in relief colonies like Citizen Nagar, disconnected from schools, transportation, medical facilities and basic municipal services.
Suleiman, a sixth-grader when his family was driven from their home, went to live with relatives in another Muslim colony to continue his studies. Most students just dropped out, he said. The warren of concrete shacks and unpaved streets fills every afternoon with young men his age lazing on rusted chairs and idle rickshaws, with no jobs to go to.
In the home he shares with his parents and three other family members, a dug-out latrine serves as the bathroom. Only recently, after a monthslong campaign by social workers and residents, did the city begin sending two trucks of potable water daily to the slum's 200 families.
The difference between his neighborhood and a more prosperous one, Suleiman said, was simple.
"Go to any Hindu area and you'll see running water, street lights, paved roads," he said. "In all the Muslim areas, nothing has changed."
Over the last decade, Ahmedabad has become one of India's most segregated cities. While Hindus and Muslims live apart from each other in many parts of India — and communal violence breaks out periodically — in Ahmedabad the divisions are more systematic and even supported by law.
After Hindu-Muslim clashes in 1991, Gujarati authorities enacted a policy known as the Disturbed Areas Act, which restricted the sale of a home in a riot-affected area to a member of another religious community. The law was aimed at preventing distress sales of property, but over time it has enforced barriers between Hindus, the overwhelming majority, and Muslims, who make up about one-seventh of Ahmedabad's population.
Last year, Modi's government expanded the areas covered by the law to about 40 percent of the city.
"Relations between the communities are not normal," said Rajiv Shah, the former political editor in Gujarat for the Times of India, the country's leading daily newspaper. "There is no interaction between Hindus and Muslims except at very high income levels" — where money trumps religion.
Inamul Iraki, a Muslim entrepreneur and philanthropist who ran relief camps after the 2002 riots, said Modi had become more tolerant over the last decade.
Of the riot victims, Iraki said: "Some things we will have to leave behind. In this life, how far can you go by clinging to the past?" His business partner is a prominent BJP leader in the state.
Residents of Citizen Nagar remain unconvinced. Modi has rarely visited the relief camps in the 13 years he has led Gujarat and never expressed remorse for the deaths of Muslims.
"Is he not the reason we're suffering for all these years?" asked 45-year-old Reshma Sayyed. "We can never trust him."
AFP Photo