Indian Court Rejects More Jail Time For Man Convicted As A Minor In 2012 Gang Rape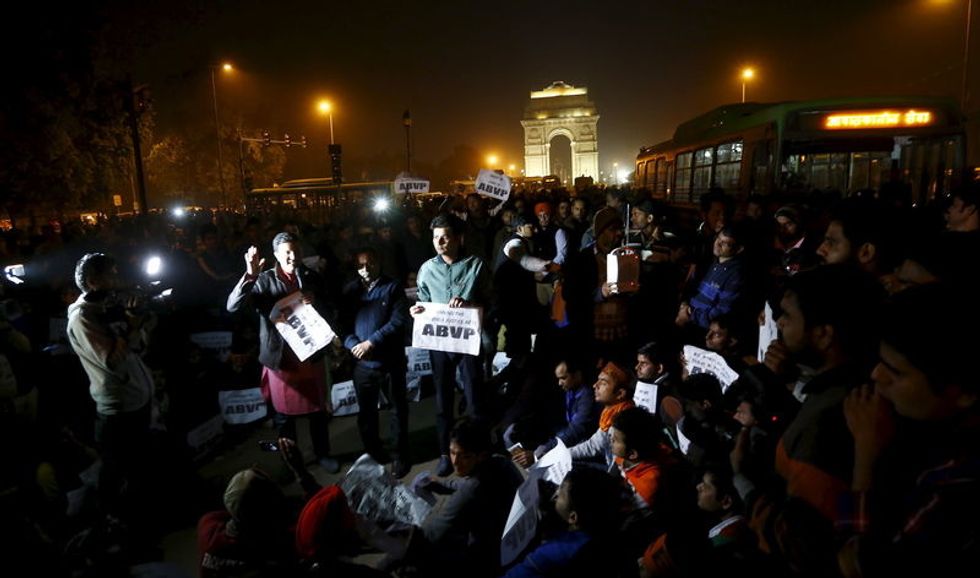 By Shashank Bengali and Parth M.N., Los Angeles Times (TNS)
MUMBAI, India — A day after a man convicted as a minor in a brutal 2012 gang rape and murder in New Delhi was released from detention, India's Supreme Court on Monday rejected appeals to extend his sentence in a case that has sparked a passionate debate over juvenile justice.
The man, who was shy of his 18th birthday when convicted, was released Sunday after completing a three-year term in a reform home, the maximum sentence allowed under Indian law.
On Monday, India's highest court dismissed a petition filed by the Delhi Commission of Women, a government body, arguing that the man should be returned to custody. The court ruled that despite the emotions surrounding the case, which prompted international outrage and reforms that have expedited prosecutions of rape cases, it had no legal grounds to extend the man's sentence.
"We cannot interpret the law to curtail his freedom without legislative sanction," Justice U.U. Lalit said. "We share your concern, but we cannot go beyond the statute."
The man, now 20, was the sole juvenile among six assailants convicted of the rape of a physiotherapy student aboard a moving bus in India's capital in December 2012. The victim died from her injuries two days later. The other five perpetrators were sentenced to death.
The man who was convicted as a minor was released into the care of a nongovernmental aid agency because of fears that he would not be safe if he returned to his home. As part of his state-sanctioned rehabilitation, he is to receive about $150 and a sewing machine to set up a tailoring shop.
His release sparked protests in New Delhi on Sunday, with activists and some government officials calling for changes to India's Juvenile Justice Act that would allow 16-year-olds to be tried as adults in serious crimes.
"Crime has won, we have lost," the victim's mother, Asha Devi, told reporters Monday. "The women of this country have always been betrayed and this has happened once again. Nobody is concerned about women's safety."
The outcry, which was fanned by nonstop coverage by India's voluble television news channels, prompted lawmakers to schedule arguments on the Juvenile Justice Act for Tuesday, but that also drew scorn from some quarters. Lawyers called it a knee-jerk reaction by politicians aimed at appeasing the media, arguing there was little evidence to suggest that lowering the age of majority would deter such crimes.
"Please do not rush into stupidity due to vocal anchors," tweeted Sanjay Hegde, a senior lawyer who argues before the Supreme Court.
"India's rape problems are complex and can't be solved by quick-fix harsh laws."
The 2012 case triggered some changes to Indian laws aimed at improving protection of women, including the creation of fast-track courts to handle rape cases and harsher punishment for sexual harassment, stalking and other offenses.
Yet incidents of rape and sexual crimes cases continue far from the spotlight of major cities. Activists also point to comments by some elected officials who have suggested that victims provoke sexual crimes due to the way they dress or behave.
"Our young boys do not learn that rape is morally wrong and a crime followed surely by punishment," said Kavita Krishnan, an activist. "Instead they learn that some rapists are animals who deserve to be punished, while most rape complainants are liars and most responsibility to prevent rape lies with women not with men.
"As long as our system and our society teaches these lessons, we cannot deter rape and sexual harassment."
(Parth M.N. is a special correspondent.)
©2015 Los Angeles Times. Distributed by Tribune Content Agency, LLC.
Photo: Demonstrators listen to a speaker during a protest against the release of a juvenile rape convict, in New Delhi, India, December 20, 2015. REUTERS/Adnan Abidi