Indiana's Fix To 'Religious Freedom' Law Draws Critics On Both Sides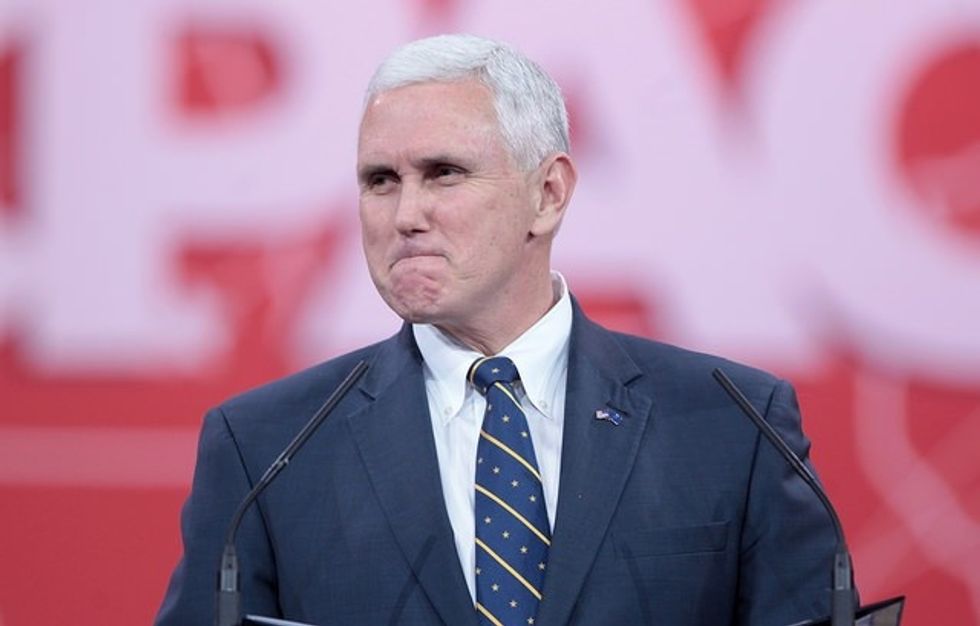 By Michael Muskal and Matt Pearce, Los Angeles Times (TNS)
INDIANAPOLIS — In a move designed to ease the political and business pressures tightened around Indiana, state lawmakers Thursday presented new legislation designed to answer critics who said the state's new Religious Freedom Restoration Act allows for discrimination against gays and lesbians.
The proposed amendment states the law cannot be used as a legal defense by those who deny goods and services to customers because of their sexual orientation or gender. It is expected to sail through the Legislature and land on the governor's desk in time to meet the self-imposed deadline of this week.
Critics of the law immediately said the changes do not go far enough in protecting against discrimination, while proponents said that Indianans' religious liberties are still threatened.
The state's Religious Freedom Restoration Act was designed to give persons some protection from lawsuits if they were acting in defense of their religious beliefs. Supporters argued the law was needed to protect religious freedom and was not designed to discriminate against any group.
But critics, including gay rights activists, prominent business leaders, and sports figures, charged that the Indiana law would allow providers to discriminate by denying services to gays and lesbians. At least three states ordered boycotts of travel to Indiana, conventions threatened to move, and the National Collegiate Athletic Association said it was troubled about possible discrimination.
Facing the pressure, Governor Mike Pence on Monday ordered a fix by the end of the week.
The amendment is "a very strong statement to assure that every Hoosier's right will be protected," House Speaker Brian Bosma said at a news conference where the new language was unveiled. The law "cannot be used to discriminate against anyone."
The amendment offers some protection against discrimination based on sexual orientation or gender identity, the first time an Indiana law has addressed the issue. But the amendment stops short of being a separate anti-discrimination law that some critics of the act had sought. Indiana has anti-discrimination laws, but they do not cover cases involving sexual orientation.
Republican leaders said they hoped the national outrage could be "put to bed" with the change and declined to immediately pursue adding lesbians, gays, bisexuals, and transgender people as a protected class, hinting that the issue may be debated next year.
The Human Rights Campaign, a national advocacy group for gays, lesbians, bisexuals, and transgender people, said more battles will come.
"Though this legislation is certainly a step back from the cliff, this fight is not over until every person in Indiana is fully equal under the law," Chad Griffin, the group's president, stated. "At the federal level and in all 50 states, the time has come in this country for comprehensive legal non-discrimination protections for LGBT people that cannot be undermined."
The new proposal, while a concession to liberal and business concerns, was also blasted by proponents of the law. Eric Miller of Advance America, one of the primary supporters of the law, vigorously opposed the proposed legislative change.
Speaking at a legislative committee meeting on Thursday, Miller said he was worried that religious Indianans were having the defense of their religious liberties stripped away and expressed concern that businesses would have to serve "homosexual" weddings against their religious beliefs.
"Hoosier businesses will be less protected," Miller said, adding, "Nobody should be forced to violate their conscience…absolutely not."
But the proposed amendment was praised by business and sports leaders.
"The future of Indiana was at stake," Bart Peterson, a senior vice president at Eli Lilly and former mayor of Indianapolis, said at the news conference. "The healing needs to begin right now."
The high-tech sector was vocal in its opposition. Apple CEO Tim Cook was a key voice along with the company Salesforce Marketing Cloud, which was an early opponent of the law.
"It was really a grassroots response from our employees," Scott McCorkle, CEO of Salesforce, told The Los Angeles Times in an interview. "It really lit a fire with me."
This weekend, Indianapolis will host the NCAA basketball championships and criticism from the sports group was especially telling. In a statement, the group's president, Mark Emmert, praised the changes.
"We are very pleased the Indiana Legislature is taking action to amend Senate Bill 101 so that it is clear individuals cannot be discriminated against," he stated. "NCAA core values call for an environment that is inclusive and nondiscriminatory for our student-athletes, membership, fans, staff, and their families. We look forward to the amended bill being passed quickly and signed into law expeditiously by the governor."
Indiana is also the home of the famed Indianapolis 500, held at the Indianapolis Motor Speedway.
"We care about how people feel when they come here," Allison Melangton, the former CEO of the city's 2012 Super Bowl hosting committee and a vice president at the Indianapolis Motor Speedway, said at the news conference. "Today is a significant day."
Democrats in the conservative Republican state said they were still concerned that the changes didn't go far enough.
"My instant reaction is, they've done nothing with this," said Representative Dan Forestal (D-IN) in an interview with the Los Angeles Times, adding that the new language only addresses the RFRA law and appears to do nothing to add broader civil rights protections for Indiana LGBT citizens. "Discrimination is alive and well in Indiana, and their efforts have exposed that," Forestal said. "Once again, they've tried to squirm off the hook….They pushed a gay marriage ban for two years in a row, but that failed, and then they tried to push this."
Indiana was the 20th state to pass such a "religious freedom" law. A similar law is pending in Arkansas, where the Legislature is also seeking a fix after Governor Asa Hutchinson refused to sign the measure and sent it back to lawmakers this week.
"I think it is a great revision," John Pippa, a professor and former dean at the University of Arkansas at Little Rock law school, said of the Indiana amendment. "It goes a long way to reassure people that the law won't be used to discriminate.
Pippa also praised a provision that makes it clear that religious organizations and their officials "won't be forced to do anything against their religion."
Photo: Gage Skidmore via Flickr