Injured Nadal In U.S. Open Battle After Toronto, Cincinnati Pullout
@AFP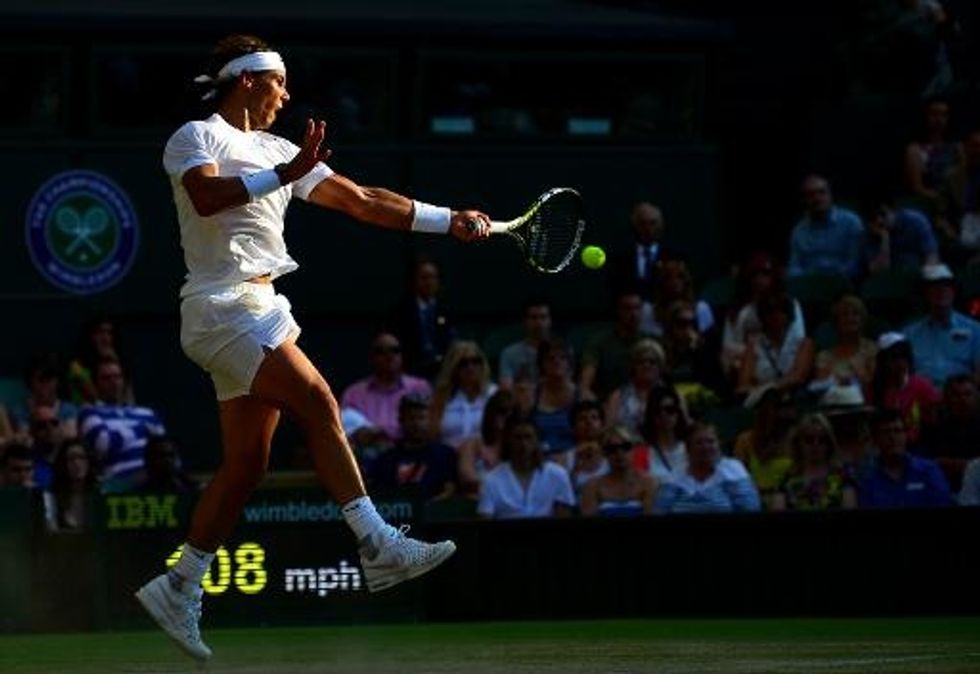 Toronto (Canada) (AFP) — Rafael Nadal was forced to pull out of the Toronto and Cincinnati Masters with a wrist injury on Wednesday, just over three weeks out from the U.S. Open where he is defending champion.
The 28-year-old Spaniard said he had hurt his right wrist in training and needed up to three weeks rest. The US Open gets under way in New York on August 25.
"Unfortunately I injured my right wrist yesterday (Tuesday) during practice and after the tests I have undergone today in Spain, including an MRI, and checking with my doctors, I will have to stay out of competition for at least 2-3 weeks," said the world number two.
"I'm extremely disappointed that I am unable to defend my titles and compete in Toronto and Cincinnati this year. I was looking forward to coming and playing again after my great results last year."
The Toronto Masters starts on Monday with the Cincinnati event getting under way the following week.
"I was looking forward to playing again in Toronto as I have always loved to play in Canada and had great results in the past at a very important event," added Nadal, whose career has been plagued by injury with persistent knee problems often forcing him onto the sidelines.
He missed seven months of action in 2012-2013 before making a blistering return with a successful defense of his French Open and capturing an emotional second U.S. Open crown in September.
Nadal hasn't played since his shock Wimbledon fourth round loss to Australian teenager Nick Kyrgios four weeks ago.
He was defending champion in Cincinnati as well as Canada where the Masters event was played in Montreal last year.
"It is very unfortunate that Rafa is unable to defend his title," said Cincinnati tournament director Vince Cicero.
"He is a great champion, and his run to the title last year electrified our fans. We will miss him, and we wish him a very speedy recovery."
Cincinnati still boasts a powerful field led by world number one Novak Djokovic, Roger Federer, and Andy Murray.
Nadal is one of five players to withdraw from the Cincinnati event due to injury, joining Nicolas Almagro (foot), Alexandr Dolgopolov (knee), Tommy Haas (shoulder), and Florian Mayer (groin).
The Spaniard will miss the Toronto event for only the second time since his 2004 debut.
"We know Rafa is a fan favourite and our fans will be upset by his absence," said Karl Hale, the tournament director of the Rogers Cup event.
"But we also know that if Rafa could play he would as he has a great respect for our event and his Canadian fans. We wish him well and hope he returns to the Tour healthy as soon as possible."
Toronto will still boast eight of the top 10 players in the world, including Djokovic, Federer, and Murray.
AFP Photo/Carl Court
Interested in sports news? Sign up for our daily email newsletter!