Innocents Online With Ashley Madison
@FromaHarrop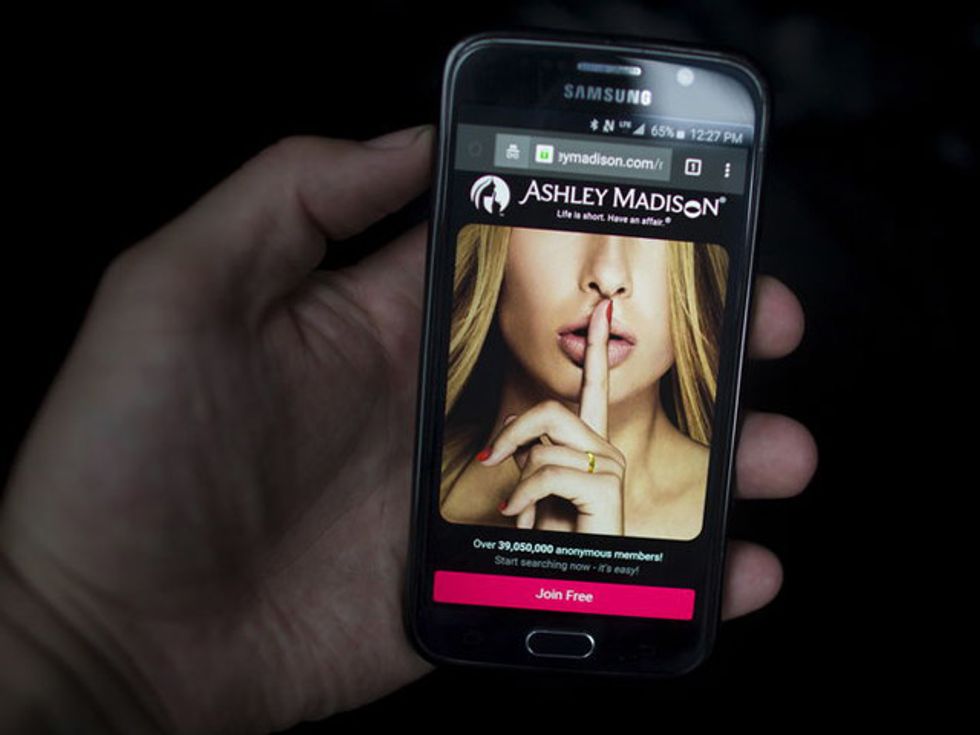 To the thousands who've been outed as users of the Ashley Madison adultery website: You deserve sympathy. Your greatest sin was trusting a website to protect your identity — especially one that would have rated a 10 as a juicy target for hackers.
The second sin, for many of you, was believing that Ashley Madison was populated by heavy-breathing wives looking for action — as opposed to bots and cardboard participants.
Ashley Madison was apparently not a "wonderland" of 31 million men competing for 5.5 million women. "Only a paltry number of women's accounts actually looked human," Annalee Newitz wrote for Gizmodo. That is, only about 12,000 of the 5.5 million female profiles.
Bored office workers may have created many of the fake profiles and then vanished. And there are charges that the site itself fabricated women. One woman claims that Ashley Madison paid her to write more than 1,000 fake profiles in Portuguese for a Brazilian audience.
And how many of the real women — or men — were actually looking for an affair, as opposed to fooling around online? Women who've been on respectable dating sites, such as Match.com, say that lots of men there are "jerks" playing mind games with those seeking a good mate.
Nonetheless, Ashley Madison — with its trademark manicured finger covering a foxy mouth — has been denounced, defended and, most grievously, taken seriously.
One news outlet used the leaked details to make a chart purporting to show which states have the most cheaters. Alabama was No. 1. Data analysts have noted that Alabama is the first state in the alphabetical dropdown menu for people concocting profiles.
After about 15,000 federal workers, including active-duty military, were found to be trolling Ashley Madison, The Washington Post wondered aloud whether these employees should be fired for adultery. Surely not over adultery, much less the appearance of adultery, but playing around on taxpayer time is another matter.
The hackers, members of Impact Team, also got on their high horse about the wages of infidelity. They may have been trying to justify exposing the bank accounts and other personal information belonging to thousands of the "innocents" who signed up with Ashley Madison. (They had first demanded that the Canadian-based site come down, promising to trample on the members' privacy if it didn't.)
"Chances are your man signed up on the world's biggest affair site, but never had one," Impact Team wrote after its data dump. "He just tried to. If that distinction matters."
First off, that distinction does matter. Secondly, why assume that the men tried to? How many men on the site were really looking to score in the physical sense? They may just have been curious about what was out there.
Oh, yes, the hackers "sharing" the users' pictures and sexual preferences are keeping their own identities under wraps. Real heroes, they.
The Toronto police report that criminals are already trying to extort people on the leaked Ashley Madison list, threatening to share embarrassing data with the users' friends, families and employers.
A wish to ridicule the whole phenomenon is tempered by some tragic results. That would include at least two suicides that are being blamed on the exposure.
Ashley Madison, the business, is now being charged with corporate crimes too numerous to list here. The chief executive of the parent company lost his job over the weekend.
The Web can be a very dangerous place for trusting people, including untrustworthy ones. As the Ashley Madison case shows, too many Internet users think they can do the ski jump when they belong on the bunny slope.
Follow Froma Harrop on Twitter @FromaHarrop. She can be reached at fharrop@gmail.com. To find out more about Froma Harrop and read features by other Creators writers and cartoonists, visit the Creators Web page at www.creators.com.
Photo: A photo illustration shows the Ashley Madison website displayed on a smartphone in Toronto, August 20, 2015. REUTERS/Mark Blinch