Insecure Trump Stumping In Deep-Red Districts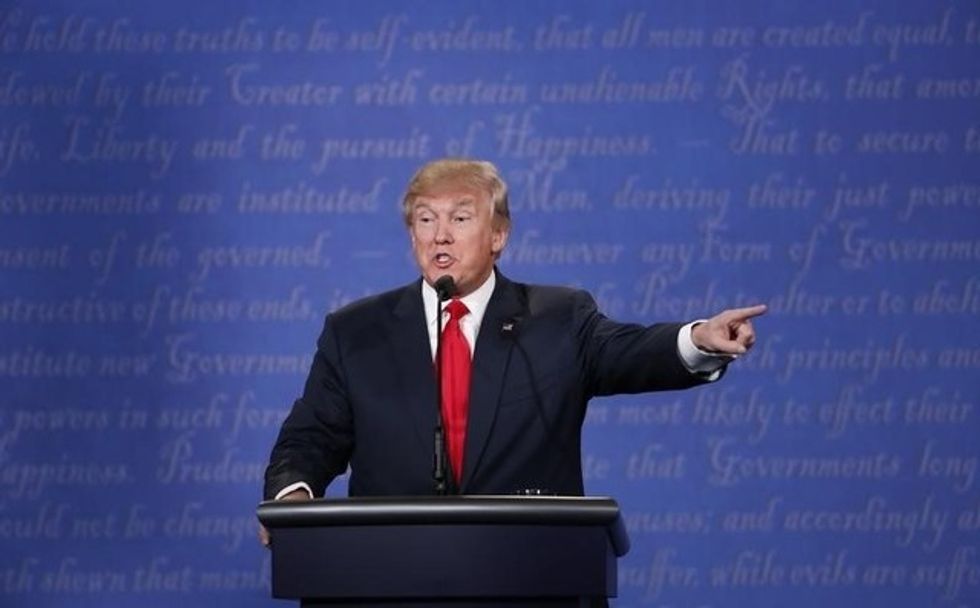 Reprinted with permission from Shareblue.
As Republicans struggle to hold on to their majorities in Congress, Trump is staying far away from the swing and Democratic counties where he might be unpopular — and focusing instead on holding rallies for his sycophantic supporters in deep-red areas.
NBC reports that according to Air Force One travel records, "The president's itinerary so far has taken him largely to heavily Republican parts of GOP-leaning states and districts to help Republicans who are loyal to his cause."
Out of a dozen "Make America Great Again" rallies Trump has held since Labor Day, just two of them were held in counties he lost in 2016, NBC reports.
And Trump has mostly traveled to areas where he's very popular. The average Trump margin of victory in states he's campaigned in is 20 points. He has also visited five counties where he won more than 60 percent of the vote.
Trump has campaigned in just a handful of districts that could determine whether Republicans keep the House. And when he does, he goes to the reddest place possible — and studiously avoids the more suburban, more highly educated voters who are most likely to have turned against him since the election.
"His choice of locations indicates a reluctance to make his case beyond his Republican base," NBC notes.
By comparison, Trump mostly refuses to set foot in hostile territory.
NBC noted that Trump has avoided campaigning in New Jersey, where four House seats held by Republicans could flip to Democrats.
He is also avoiding areas like Arizona's 2nd District, which is highly contested — yet he's going to the home district of Rep. David Schweikert, who is forecast to win his race.
Trump has a fragile ego. He has installed a team of "yes men" in the White House who don't seriously challenge his wrongheaded decisions. And now, he seems only willing to talk to voters who he knows will give him the benefit of the doubt, no matter his track record.
For his entire presidency, Trump's average approval rating has never reached 50 percent. He also lost the popular vote by nearly 3 million votes in 2016.
Most Americans simply don't like Trump, and didn't want him to be president in the first place.
Perhaps Trump knows that if he ventures outside of his base and speaks to ordinary Americans, he will be booed and protested.
And that might be too much for his ego to handle.
Published with permission of The American Independent.