Inside Game: Creating PACs And Then Spending Their Money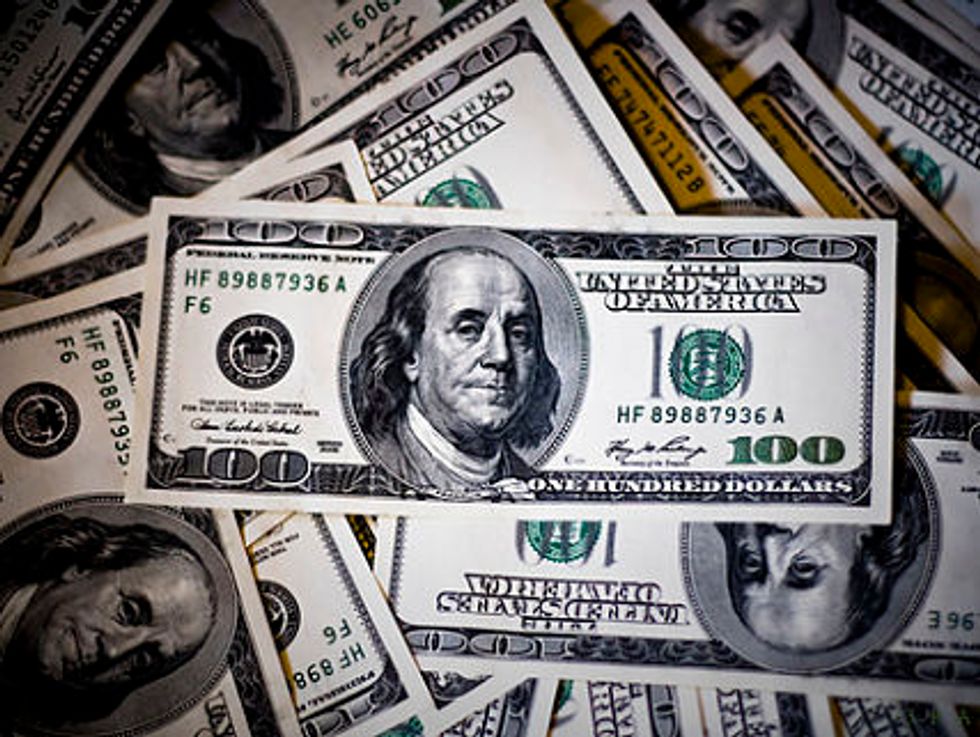 by Kim Barker,ProPublica.
In August 2008, as the right wing of the Republican Party grew increasingly disenchanted with the party's direction, the men from Russo, Marsh and Associates sensed opportunity: They created a political action committee, Our Country Deserves Better, and in time launched the Tea Party Express.
Russo, Marsh — an established California outfit of Republican consultants — was just getting started. The firm formed a second political committee, this one with a pro-military agenda. And eventually, seizing on the president's unpopularity in certain circles, they opened a third, the Campaign to Defeat Barack Obama.
Throughout the 2012 election cycle, the committees were relentless. In email after email, they pleaded for small donations to run ads supporting candidates who would defeat President Obama's "socialist" agenda. And it worked: They collected more than $14 million in donations — from all over the country, and from donors who gave as little as $10 to elect Ted Cruz as a Republican senator from Texas or to put Mitt Romney in the White House.
Yet an examination of the PACs' expenditures shows they spent a small percentage of the money they raised on work directly aimed at getting candidates elected — paid ads, say, or contributions to other political committees. Mainly, they paid consultants. And the biggest chunk of that consultant money went to Russo, Marsh and Associates, and people connected to the firm.
Of the $9.3 million spent by Our Country Deserves Better, more than $3.8 million went to Russo, Marsh and Associates, employees or others connected to the firm. Of the $3.9 million spent by the Campaign to Defeat Barack Obama, $2.4 million went to the firm and its associates. The pro-military Move America Forward Freedom PAC spent almost $143,000. Of that, $92,000 went to the firm and people connected to it.
Some of that money went for travel, or for ads funneled through the consultants. But most was for consulting, fundraising fees and administrative help.
It's rare for the people who form PACs to pay and treat themselves quite so generously. In addition to paying Russo, Marsh an assortment of fees, the PACs spent money so its principals could travel well: from almost $1,300 for meals at a fondue restaurant in Ohio on Oct. 18, to more than $50,000 for consultants and staff to occasionally stay at a golf resort on Lake Michigan last fall.
Meanwhile, the people who gave money had no idea that such amounts would go to consultants, not to the nuts-and-bolts efforts to get preferred candidates elected and their opponents defeated.
"How does Joe Average know this?" asked Linda Knox, 73 — who with her husband gave $585 to the Campaign to Defeat Barack Obama, mainly in $10 and $15 increments — after learning of the PAC's spending habits. "Of course I want the money to go to elect people who share my values, not to consultants."
No one from Russo, Marsh and Associates returned calls asking for comment. The two largest PACs didn't respond to emails and calls. Danny Gonzalez, a spokesman at the pro-military PAC, said: "I was not aware of what the particular numbers are." He said he would prepare a more detailed response.
Shawn Callahan, who's worked for Russo, Marsh and now does consulting for the PACs, said Our Country Deserves Better did much more than just contribute to campaigns "in a traditional sense." He said the PAC focused on coordinating unpaid grassroots activists, and spent much of its money on political organizing. He said the Tea Party Express held more than 400 rallies over the past three years, adding that the group had been credited with making the difference in dozens of House races.
"What looks like overhead is not overhead, but the costs of performing the mission of rallying citizens to get involved in conservative politics," he wrote in an email. At a later point, he added: "As a political activist and donor myself, I hope that donors are proud of all that we have accomplished together. I know I am."
While many watchdog organizations track how political committees raise money, few look at how the money is ultimately disbursed. PACs can spend their money as they want — on legal fees, on big meals, on trips to Dubai. But while PACs often devote some money to fundraising, most spend the bulk of contributions on efforts clearly aimed at electing specific candidates.
This last election, more than 3,000 PACs like the Russo, Marsh ones — independent committees supporting more than one candidate and not officially run by a lobbying group — spent almost half a billion dollars. Two-thirds of those committees spent most of their money directly supporting candidates.
PACs like these are allowed to donate money to a candidate or candidate committee — up to $5,000 per election. They can also donate up to $15,000 to a national political party committee and $5,000 to local parties or other political committees every year. But PACs also often spend money on what are known as independent expenditures, such as TV ads and phone calls supporting or opposing candidates. This spending can be unlimited, but it must be done independent of the candidates, meaning that the candidates often aren't even aware it's happening — especially with PACs that don't spend much on ads.
Longtime conservative activist Sal Russo, who helped found the consulting firm that became Russo, Marsh and Associates in Sacramento, CA, in 1976, has a long history with mainstream Republicans. He got his big break as an aide to Ronald Reagan, when the late president was California's governor. Russo developed longtime ties with several conservative politicians, including Utah senator Orrin Hatch. He worked on the campaigns of former presidential candidate Jack Kemp and former New York governor George Pataki.
Questions about the role of Russo, Marsh and Associates with political committees are not entirely new. The New York Times and Talking Points Memo detailed how one of the committees, Our Country Deserves Better, had paid out a substantial amount of money to the Russo, Marsh firm in 2009 and 2010. Sal Russo told The New York Times his firm did nothing wrong.
One Republican consultant, who would not be identified, said that PACs that raise and spend money like Russo, Marsh in the end hurt the efforts and reputation of conservatives, while often failing to have any truly reliable influence on election night.
After the 2012 elections — and despite critical news stories in several publications — the PACs got back to work. The Campaign to Defeat Barack Obama changed its name to the Conservative Campaign Committee just after the election, and emails this week from the group have asked people to send money for ads supporting Larry Grooms, who is running in a Republican primary for a U.S. House seat in South Carolina.
"Any entity that raises money under the banner of a certain cause and then doesn't spend money on that cause raises serious questions," said Hogan Gidley, a consultant with Grooms' campaign, adding that the campaign wasn't affiliated with the Conservative Campaign Committee and that he wasn't familiar with the inner workings of the group.
Of the donors who give to such committees, Gidley said, "They should hold the groups' collective feet to the fire and make sure the money is going to its stated purpose."
The Our Country Deserves Better PAC, which created the Tea Party Express, "the most aggressive and influential national Tea Party group in the political arena," according to its website, spent some of the $9.3 million it ran through in this election cycle on bus tours and rallies.
But it spent only 10 percent of its money directly on elections — $259,500 in contributions to political committees and candidates, and $681,000 on independent expenditures, most of which were funneled through Russo, Marsh and Associates.
The PAC spent almost half its money on fundraising, often using the Russo, Marsh firm or affiliated consultants. That fundraising ratio — spending almost $1 to earn $2 — is very high in the world of political action committees.
And the PAC also let its consultants live rather large: $3,500 for "PAC Election Night Headquarters" at a casino-resort in Las Vegas, $3,200 for meals and a meeting at a Mediterranean restaurant in Boston in February, 2011, more than $1,000 for parking at LaGuardia Airport in New York in May, 2011.
Barely one-third of the $3.9 million spent by The Campaign to Defeat Barack Obama went to truly focused efforts at electing candidates, but its consultants traveled comfortably: more than $4,500 to stay at Caesars Palace in Las Vegas in June, more than $8,200 to stay at the Paris Las Vegas Hotel in July.
Individual consultants, including current or former Russo, Marsh employees, did very well.
Joe Wierzbicki, who works at Russo, Marsh and Associates, pulled in almost $528,000 from two of the PACs. Most of that came from the Our Country Deserves Better PAC, which describes Wierzbicki on its website as "PAC coordinator," but neglects to mention he is a senior account executive at the Russo, Marsh firm.
Ryan Gill, who has also worked for the pro-military PAC and a related charity, was paid almost $592,000 from the two PACs, mostly from the Campaign to Defeat Barack Obama, for strategic consulting, fundraising commissions, travel reimbursement and online ads supporting several candidates.
In one month alone, the Campaign to Defeat Barack Obama paid Gill about $5,300 on July 2, $2,300 on July 3, $4,100 on July 6, and $12,000 on July 9, calling the payments "fundraising salary." Then he was paid $5,000 for "PAC strategy consulting" on July 20. He was also paid $7,400 for online advertising to promote certain candidates. And he was reimbursed almost $12,300 for travel.
Until last year, Callahan, the former Russo, Marsh employee, was the executive director of the pro-military charity. Callahan helped form a business called Frontline Strategies & Media.
Two of the PACs paid Frontline Strategies about $386,000 for fundraising commissions, consulting and website maintenance.
Callahan is also the founding chief executive officer of a company called DonationSafe, which the three PACs paid $450,000 for credit-card processing fees.
In responses to emailed questions, Callahan said he had to pay multiple employees for Frontline who "are dedicated full-time to those accounts." He said the PAC payments help cover his employees' salaries, "along with all the other costs that come from running a business."
The PACs linked with Russo, Marsh and Associates frequently attach themselves to popular causes or candidates or topics in the news. In past weeks, for example, they've sent emails praising Republican senators Rand Paul and Ted Cruz, while asking for donations.
This month, the Conservative Campaign Committee — formerly the Campaign to Defeat Barack Obama — has sent out emails, asking supporters to pony up $35,000 for a radio ad campaign backing Grooms in South Carolina. One email urged supporters to volunteer for Grooms and to give money to support him — not to Grooms' actual campaign, but to the PAC. That email also linked to the proposed radio ad and to two TV ads that were actually put out by Grooms' campaign — a nuance that would likely be lost on many supporters, who would probably think that the PAC was somehow involved in the TV ads.
"So many of you have told us how much you want to see real action taken to stop Barack Obama's radical agenda," said another email, sent March 6, with the subject line of "Time Sensitive: Your attention required." "That's why it's so important for Larry Grooms to win this election — we need his voice and his vote in Congress to defeat Obama's aggressive push for socialism."
It won't be clear until July how much the PAC raised. But it's already reporting some of what it spent. The cost of sending out the  two emails was $1,670, and it was paid to Russo, Marsh and Associates.