Interior Pick Rep. Zinke Connected To White Nationalists In Montana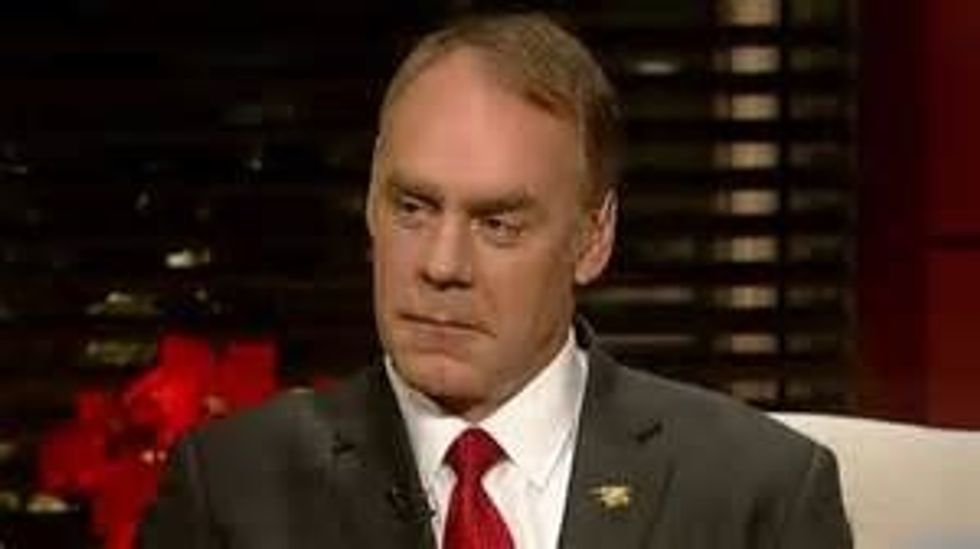 Reprinted with permission from Alternet.
Donald Trump's pick to lead the Department of Interior has gotten donations from white supremacists and endorsed them in political races.
Rep. Ryan Zinke (R-MT), like chief of staff Steve Bannon, brings troubling ties to organized hate groups to the Republican president-elect's inner circle, reported Fusion.
Zinke made news during his 2014 election campaign when he accepted a $500 donation from Earl Holt, head of the Council of Conservative Citizens, whose writings about "brutal black on white murders" inspired Dylann Roof, who gunned down nine black worshipers the following year in a Charleston, South Carolina, church.
A spokeswoman for Zinke later said the congressman would donate that contribution to a fund for the victims' families.
The website also reported he co-sponsored legislation to designate English as the official language in the U.S., and he discussed the bill in an interview with the anti-immigrant ProEnglish organization, which has been designated as a hate group by the Southern Poverty Law Center.
Zinke endorsed a Montana statehouse candidate who was active in a white nationalist group as a student at Liberty University and has extensive ties to European right-wing extremists.
Taylor Rose, the former vice president of the Youth for Western Civilization, lost his election race but garnered 47 percent of the vote, but he boasted that Zinke's support — along with the backing of a couple of other Republicans — made him a mainstream candidate despite his racist writings, which were promoted by the Council of Conservative Citizens.
Rose's campaign website claims he managed U.S. Sen. Steve Daines' (R-MT) "campaign in the Northwest," and he also claims he worked for state Sen. Jennifer Fielder, the vice-chair of the Montana Republican Party and CEO of the Koch-linked American Lands Council.
Greg Gianforte, who lost his Republican gubernatorial race, gave Rose $170 in campaign contributions, and he got the same amount from GOP state Sen. Mark Blasdel.
White nationalist Richard Spencer, head of the National Policy Institute, has said he may consider running for the congressional seat vacated by Zinke.
The state's Democratic Party called on GOP officials to denounce Spencer's campaign, but they were a bit more reticent.
"I'm guessing most quarters of the Republican Party in Montana would look skeptically at Mr. Spencer," said Jeff Essmann, the state's GOP chairman.
Travis Gettys is an editor for Raw Story.