Iowa Republicans Kill Presidential Straw Poll When Too Few Candidates Sign Up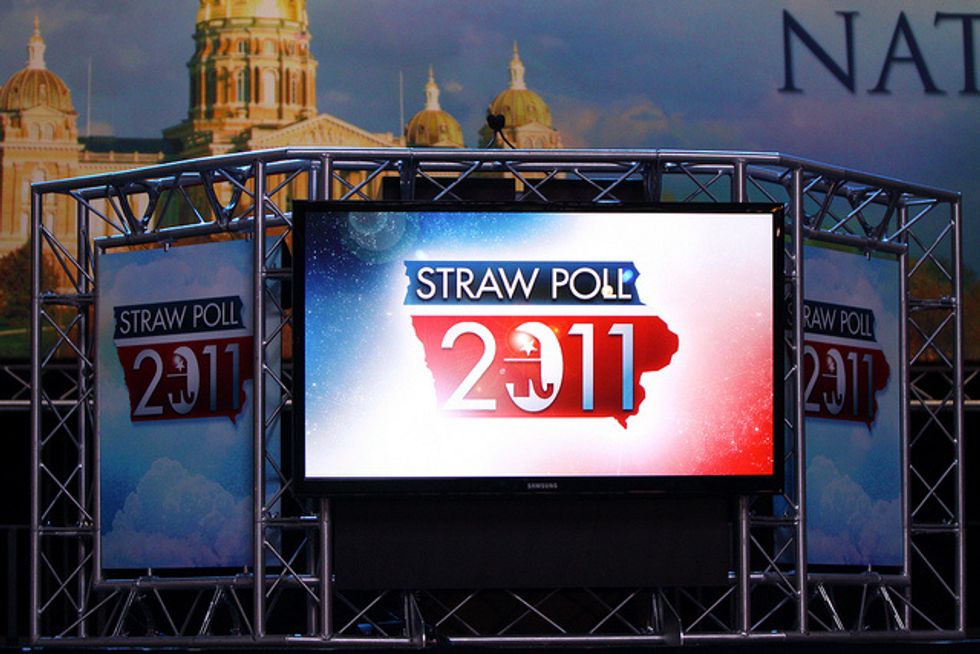 By Kathleen Hennessey, Tribune Washington Bureau (TNS)
WASHINGTON — Iowa Republicans have canceled their once-vaunted presidential straw poll, bowing to the reality that the decades-old political tradition now only threatened to spotlight the state's diminished role in the presidential race.
Despite a packed field of candidates vying for the GOP nomination, too few planned to take part in this year's popularity contest, which was to be hosted by the Iowa Republican Party on Aug. 8.
The meager turnout would render the poll a meaningless contest of also-rans — and an embarrassment for Iowa politicos trying desperately to hold on to their relevance as the gatekeepers of presidential politics.
"I've said since December that we would only hold a straw poll if the candidates wanted one, and this year that is just not the case," state party Chairman Jeff Kaufmann said in a statement released after what he said was an unanimous vote.
"This step, while extremely distasteful for those of us who love the straw poll, is necessary to strengthen our First in the Nation status and ensure our future nominee has the best chance possible to take back the White House in 2016," he said.
The party's poll has grown into a major fundraising event for the GOP and a major media moment for the candidate who managed to organize enough supporters to win the poll.
It was often cast as an early test of a candidate's organizing skill and viability, despite its spotty record of predicting the eventual victor.
Former Minnesota Rep. Michele Bachmann won the straw poll in 2011, for example, but dropped out of the race in January 2012 after placing sixth in the state's first-in-the-nation caucuses.
This year several top-tier candidates had declared early that they would not participate, concluding that the dated political ritual was not worth the time and money required to win.
Former Florida Gov. Jeb Bush, Florida Senator Marco Rubio and South Carolina Senator Lindsey Graham had RSVP'd no. Wisconsin Governnor Scott Walker would not commit.
(c)2015 Tribune Co. Distributed by Tribune Content Agency, LLC.

Photo: Gage Skidmore via Flickr