Iran Escalation: We've Seen This Bad Movie Before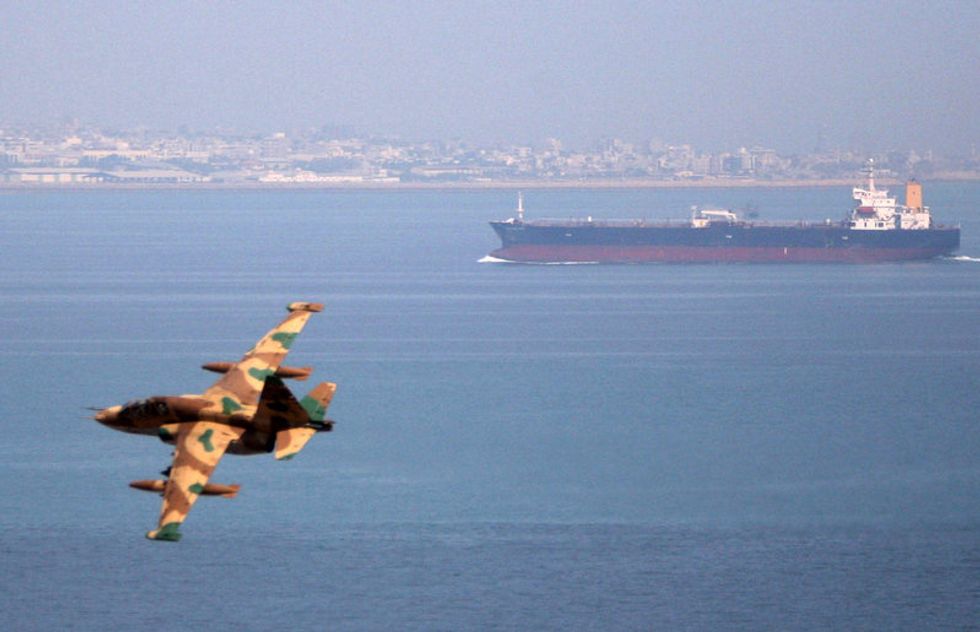 Of all the bad days and weeks in Donald Trump's presidency, the present moment may be the most dangerous. His provocative decision to abandon the Iran nuclear deal and impose new sanctions on the country is predictably heading toward military conflict in the Persian Gulf — which may well be disastrous for the world. Even Trump seems to be hesitating as his belligerent advisers press forward.
It is a dangerous time for reasons that we all know too well by now. This president is easily manipulated and uninterested in facts. He is emotionally volatile and possibly unbalanced. Despite his blustery claims, he must know that polls show him losing the next election. And as that election looms, the economy is slowing — and if it slows enough, he will forfeit the only argument for re-electing him.
Except war.
In his opportunistic way, Trump has long sold himself as an opponent of foreign military entanglements, especially those that might involve shedding much American blood. He wrongly claimed that he was against the Iraq War from the beginning, having surmised that the public was weary of that terrible squandering of blood and treasure.
But what if he becomes convinced that the most direct path to victory in 2020 runs through Iran? This draft-dodging playboy, always fascinated by martial trappings and glorious pomp, could well envision himself triumphing in a military campaign and then in a political blowout. His party's most outspoken Iran hawk, Sen. Tom Cotton (R-AR), likes to tell him that the U.S. could defeat Iran with "two strikes." And Trump may come to believe that, too.
For now, most polls show little public support for armed conflict with Iran, but Secretary of State Mike Pompeo reportedly has assured worried Republicans on Capitol Hill that those negative numbers can be turned around. That must be why Pompeo has spent so much effort framing Iran as a threat to U.S. interests and troops.
Not only did the secretary of state blame Tehran for the recent strike on an oil tanker in the Gulf; he claims its agents are behind many other incidents including an attack in Afghanistan that the Taliban admitted to perpetrating. The administration has gone so far as to suggest that Iran is working with its sworn enemies in Al Qaida so the White House can take action under the 2001 Authorization to Use Military Force. Remember, that is the same ruse used by Dick Cheney and the Bush crew to foment war against Iraq in 2003.
The evidence for several of Iran's supposed offenses is weak or nonexistent. Those grainy photographs will stir recognition in anyone who watched Gen. Colin Powell's infamous UN presentation on Iraq weapons of mass destruction. Indeed, the entire scenario is starting to resemble a nightmare combination of the WMD disinformation campaign, the Gulf of Tonkin deception, and the ship-sinking hoax that sparked the Spanish-American war. We've seen this movie, and it doesn't have a happy ending.
Of course, the regime in Tehran — or the hawkish factions that often dominate the government there — certainly appears eager to provoke the U.S. By shooting down an American drone that may or may not have entered their airspace, the Iranians played into the hands of our own hawks. Both the drone shoot-down and the ship attack may have been perpetrated by Iran as a sign of its readiness for conflict.
The more important question, however, is not whether Iran is culpable in any of these acts but why we suddenly seem to be hurtling toward war.
Only four years ago, the United States and its allies, along with China and Russia, achieved a remarkable diplomatic breakthrough that stalled the development of nuclear weapons in the region and created a basis for peaceful negotiation, even cooperation. But Trump's election has somehow resulted in the return to power of the same forces — now represented by Pompeo and national security adviser John Bolton — that promoted the invasion of Iraq.
Now those forces have cornered Iran with sanctions, provocations and threats, and Iran has responded in kind. Nobody on either side seems to know how to curtail the cycle of escalation.
Let's hope that Trump will hesitate and turn away, strictly as a matter of self-interest, before he does something even more foolish. Unlike Pompeo and Bolton, he seems to understand that Americans aren't looking for another forever war. Defeating Iran, a nation with a real military force, won't be a cakewalk. And apart from the incalculable human cost, a conflagration in the Gulf will drive up oil prices, leading to unpredictable economic consequences. It isn't a risk he — or we — should take.
To find out more about Joe Conason and read features by other Creators Syndicate writers and cartoonists, visit the Creators Syndicate website at www.creators.com.
IMAGE: An Iranian military fighter plane flies past an oil tanker during naval maneuvers in the Persian Gulf and Sea of Oman. REUTERS/Fars News/File Photo