Iran Nuclear Deal Threatens Israel's 'Survival,' Netanyahu Says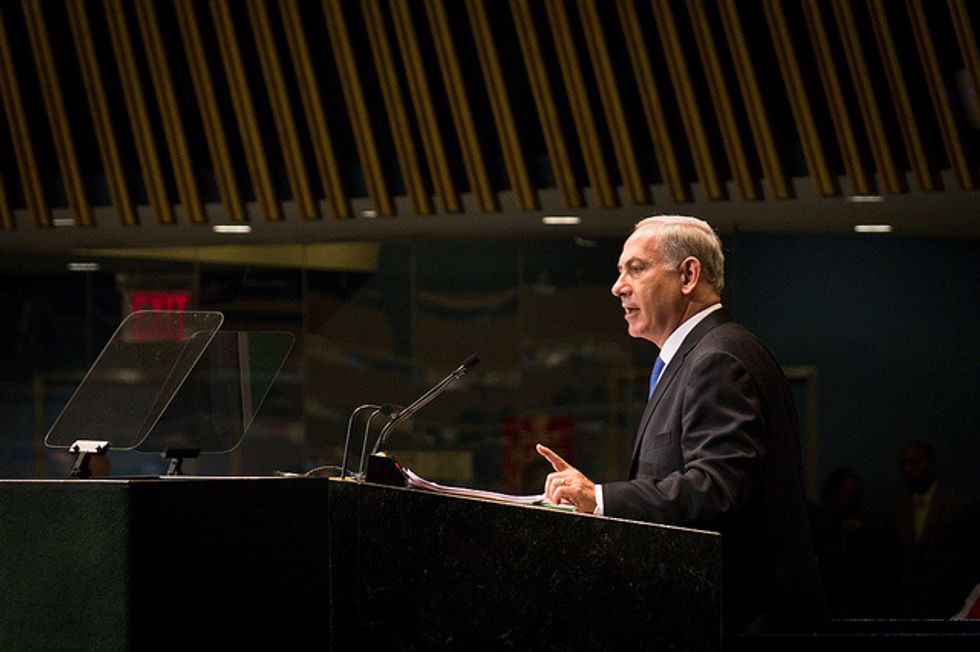 By Batsheva Sobelman and Laura King, Los Angeles Times (TNS)
JERUSALEM — Israeli Prime Minister Benjamin Netanyahu on Friday renewed his harsh criticism of the preliminary nuclear pact with Iran, declaring it a danger to his country's existence.
Hours before the start of the Passover holiday, which begins at sundown Friday, Netanyahu huddled with his "security Cabinet" — made up of his most senior ministers on military, diplomatic and security issues — to discuss the framework agreements signed in Lausanne, Switzerland on Thursday.
"The Cabinet is united in its opposition to the deal reached with Iran," Netanyahu said in a statement issued after the meeting. "This deal would pose a grave danger to the region and to the world, and would threaten the very survival of the State of Israel."
Although Netanyahu showed no sign of softening his stance, some Israeli commentators described the nuclear agreement's preliminary terms as surprisingly favorable.
"If the framework presented becomes the final agreement … even Israel could learn to live with it," commentator Ron Ben-Yishai wrote on the Ynet website. However, he cautioned, "we must be wary of appearances_too many key issues still remain unresolved."
Under the framework accord, Iran is to sharply curtail its uranium enrichment capacity in exchange for an easing of punitive sanctions that have devastated its economy.
Before the outlines of the deal were announced, Israel refused to rule out a unilateral strike to quell Iran's nuclear ambitions. Intelligence Minister Yuval Steinitz said Thursday that "if we have no choice, we have no choice," adding, "The military option is on the table."
Some observers, though, said such talk amounted to little more than bluster.
"The time has come to stop fantasizing and to connect with reality: Israel does not have a military option to destroy the Iranian nuclear program," columnist Nahum Barnea wrote in Friday's editions of the Yediot Ahronoth daily. "Even if it had such an option in the past, it expired."
Some commentators suggested that President Obama's decision to call Netanyahu to discuss the accord could signal a potential thaw in icy relations between prime minister and the White House_a rift that has been greatly exacerbated by the Iran nuclear issue. The Haaretz daily, however, characterized the two leaders' conversation as "difficult."
The prime minister infuriated the U.S. administration earlier this month when he defied White House wishes and delivered a speech to a joint session of Congress lobbying against the president's plan to try to strike a deal with Iran. Some urged Netanyahu to take advantage of an opportunity to get back in good graces with the U.S., saying such a course of action would allow Israel to wield more influence over the final shape of the accord.
Amos Yadlin, a former head of Israeli military intelligence, told Israel's Channel 10 that Netanyahu should pursue a "grand strategy" of cooperating with the U.S. on the Palestinian issue and curtailing settlement activity outside established blocs, or risk further alienating Washington.
"The danger is that the disconnect with the U.S. will lead to a poor agreement with Iran, all for the sake of building in remote settlements that Israel will never keep in a future agreement," Yadlin said.
Others, though, said it would be difficult now for Netanyahu to climb down from his fierce opposition to any deal — particularly as he seeks to keep right-wing allies happy as he sets about forming a government in the wake of his party's electoral success earlier this month.
In Iran too, backers of the accord were having to contend with criticism from hard-liners. Foreign Minister Mohammed Javad Zarif, who returned to Tehran on Friday from the Lausanne talks, sought to calm opponents, declaring in a tweet that "the solutions are good for all, as they stand."
Special correspondent Sobelman reported from Jerusalem and staff writer King from Cairo. Special correspondent Rahim Mostaghim contributed to this report from Tehran.
(c)2015 Los Angeles Times, Distributed by Tribune Content Agency, LLC
Photo: Benjamin Netanyahu addresses the U.N. General Assembly. September 27, 2012. (UNIC / John Gillespie via Flickr)