Iran Nuclear Negotiators Hint They May Announce Deal Soon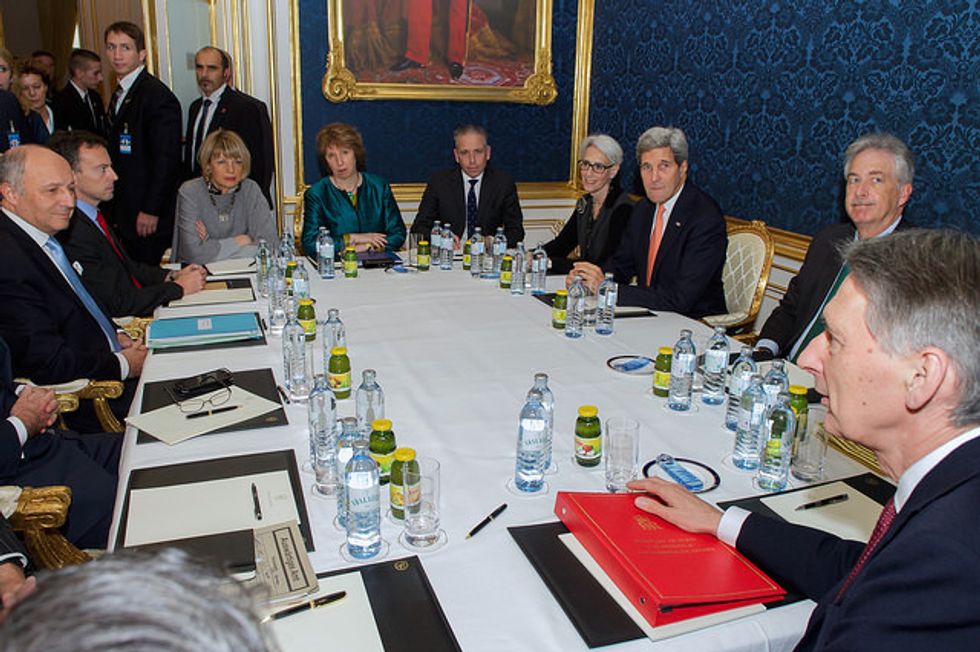 By Paul Richter, Los Angeles Times (TNS)
VIENNA — Negotiators for Iran and six world powers labored through a new round of talks Thursday, amid hints that they may announce a comprehensive nuclear deal in the next day or two, if not later Thursday.
One day after President Barack Obama held an unusual videoconference with the U.S. team here to provide his guidance on final terms for a deal, the six powers met among themselves Thursday morning. U.S. and Iranian officials also met in separate sessions.
"Hopefully, today is the last day," Ali Akbar Salehi, head of Iran's nuclear organization, said at the beginning of a morning meeting with U.S. Energy Secretary Ernest Moniz. Moniz said negotiators intended to solve the remaining issues, "if we can."
Iran, the United States and the five other powers – France, Britain, Germany, Russia and China – are seeking a deal that will ease sanctions on Iran if it accepts restrictions aimed at preventing it from obtaining a nuclear bomb within 10 to 15 years.
Majid Takht-Ravanchi, a deputy Iranian foreign minister who has been key in the talks, was leaving Vienna for Tehran to attend his mother-in-law's wake, but planned to return in less than 24 hours, an Iranian official said. The Russian and Chinese foreign ministers were abroad, but were said to be planning a return if a landmark deal is completed.
Negotiators have an incentive to finish by 5 a.m. Friday because that would enable them to meet a congressional deadline set for midnight Thursday Eastern Daylight Time.
If the deal is announced after that hour, Congress' period for deliberating over the deal will expand from 30 to 60 days, slowing implementation and perhaps exposing the deal to new threats from congressional and other critics.
The negotiators may feel they have an incentive to complete the deal late at night, to dramatize how hard they have worked to protect their countries' interests in the two-year-old process. In November 2013, negotiators completed a deal setting terms for negotiations just before dawn.
Yet it is unclear if Secretary of State John F. Kerry, still hobbling on crutches after breaking a leg May 31, would be eager to hurry across the city in the middle of the night to announce an agreement.
Some diplomats and others close to the talks predicted the deal would be unveiled early Friday.
If the deal is announced and the 80-page agreement and its annexes made public, the Obama administration will be under pressure to quickly make its case that the agreement is a smart way to resolve – if only temporarily – what Western officials consider one of the world's most urgent security challenges.
Both sides have made substantial compromises to reach the agreement. Critics in Congress, Israel and the Arab world are likely to scrutinize the agreement's dense technical language in search of additional concessions.
One key issue is how much access international inspectors will be given to look for cheating at Iranian sites. The ability to detect secret nuclear work is key, many experts say, because it is unlikely that Iran would try to cheat at the declared nuclear facilities that are under close scrutiny by United Nations inspectors.
Also likely to be scrutinized closely is the issue of how world powers will handle possible breaches of the rules by Iran. The U.S. and allies have been pushing for a mechanism that would make it hard for Iran and potential sympathizers, such as Russia and China, to block demands for special inspections to examine suspected violations.
But it is not clear how those debates have been resolved, or what punishments would be meted out in response to minor or major violations. Critics have predicted that the group will be reluctant to respond forcefully, for fear of sinking the deal.
Abbas Araqchi, a deputy Iranian foreign minister, said Thursday that Iran's demand for a lifting of the U.N. embargo on arms and missile sales to Iran remains a major issue.
Sergei Lavrov, the Russian foreign minister, said Thursday at a regional summit in Russia that his country would support a complete lifting of the embargoes, as sought by Iran.
(c)2015 Los Angeles Times. Distributed by Tribune Content Agency, LLC.
Photo: U.S. Embassy Vienna via Flickr