Iran Quits Nuclear Talks Protesting U.S. Blacklist Move
@AFP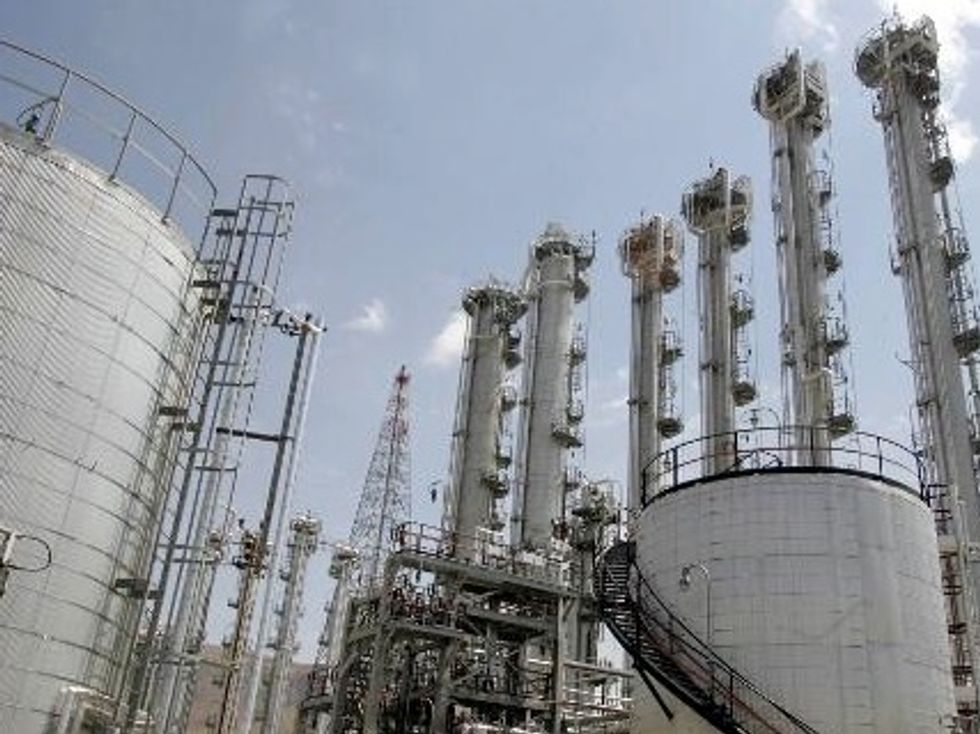 Tehran (AFP) – Iran has quit nuclear talks with the major powers, accusing Washington on Friday of going against the spirit of a landmark agreement reached last month by expanding its sanctions blacklist.
A spokesman for EU foreign policy chief Catherine Ashton, who represents the powers in the talks, said both sides had headed home for consultations and that she expected the talks to resume soon.
But Iran's chief nuclear negotiator Abbas Araqchi said the U.S. move went against the spirit of the deal struck in Geneva under which the powers undertook to impose no further sanctions for six months and Tehran was weighing the "appropriate response".
"America's move is against the spirit of the Geneva deal," Araqchi told the Fars news agency as his team headed back to Tehran from Vienna.
"We are evaluating the situation and will make the appropriate response," he said.
Under the deal, Iran agreed to freeze parts of its suspect nuclear programme for six months in return for some $7 billion in relief from Western sanctions as it negotiates a final, comprehensive accord to allay suspicions it seeks a weapons capability.
Iranian negotiators quit the implementation talks late on their fourth day Thursday after Washington blacklisted a dozen companies and individuals for evading U.S. sanctions.
Mehr news agency quoted informed sources as saying the "new American sanctions" were the reason for the interruption.
"The negotiations were halted by Iranian delegation because of new American sanctions. The Iranian negotiating team has halted the talks at this stage and are headed back to the capital due to America's lack of commitment to the agreement," Mehr reported.
But a spokesman for the EU foreign policy chief said both sides needed to return home for consultations and that Iran's move was not unilateral.

'Further work needed'
"After four days of lengthy and detailed talks, reflecting the complexity of the technical issues discussed, it became clear that further work is needed," Ashton's spokesman Michael Mann said.
"There will now be consultations in capitals, in the expectation that technical talks will continue soon," he added.
Under the Geneva deal, Washington agreed to refrain from imposing new sanctions on Iran.
But senior administration officials argued that Thursday's blacklistings were carried out within the framework of the existing sanctions regime which had forced Tehran to the negotiating table and did not constitute new measures.
The blacklisting of a dozen additional foreign firms and individuals for evading U.S. sanctions was widely seen as a move to head off moves in Congress to impose additional sanctions that would be in clear breach of the Geneva agreement.
Administration officials insisted the timing was entirely coincidental.
But just hours afterwards, Senate banking committee chairman Tim Johnson and the committee's top Republican Michael Crapo agreed with the White House that Washington should not introduce new sanctions, warning they could "rupture" international unity against Tehran's nuclear program.
The comments virtually assured that no new sanctions legislation would pass Congress before the year-end break, although lawmakers could controversially introduce a new sanctions bill within the next week.
"A new round of U.S. sanctions now could rupture the unity of the international coalition against Iran's nuclear program," Johnson said.
Those blacklisted on Thursday included the Singapore-based Mid Oil Asia and Singa Tankers, both companies accused of helping Iran transfer badly needed funds to a foreign bank on behalf of the National Iranian Tanker Company.
Ukrainian national Vitaly Sokolenko and his Odessa-based firm Ferland Company Limited were cited for helping to broker the sales of Iranian oil and transfer the crude from ship to ship.
"Today's actions should be a stark reminder to businesses, banks and brokers everywhere that we will continue relentlessly to enforce our sanctions, even as we explore the possibility of a long-term, comprehensive resolution of our concerns with Iran's nuclear program," said David Cohen, Treasury under secretary for terrorism and financial intelligence.
AFP Photo/Atta Kenare