Iranian Leaders 'Clearly' Got Senate Letter Message, Cotton Says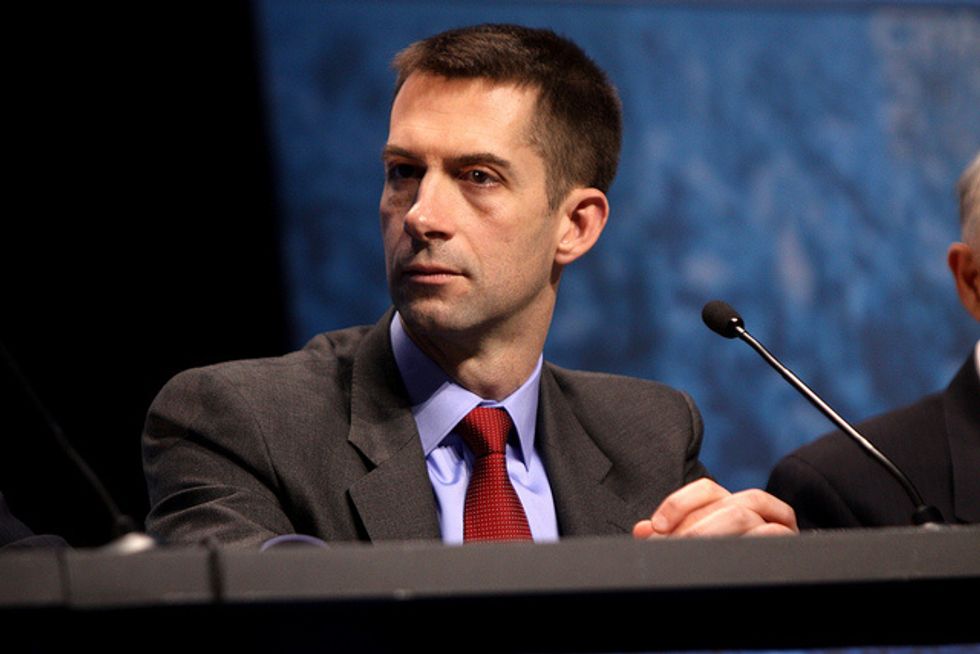 By Kathleen Hunter , Bloomberg News (TNS)
WASHINGTON — Iranian leaders "clearly have the message now" from a letter that 47 Senate Republicans wrote warning that a future U.S. Congress could reverse any nuclear deal, the chief author said Tuesday.
President Barack Obama views the Republican-led Congress as a "nuisance," said freshman Senator Tom Cotton, an Arkansas Republican, as he defended the letter following criticism from U.S. allies and lawmakers including some fellow Republicans.
"This president views Congress as an afterthought," Cotton said at a breakfast with Bloomberg reporters and editors in Washington. "Iran's leaders clearly have the message now, and I think it was important they got the message."
Cotton said he "absolutely" stands by the decision to address the March 9 letter to Iran's leaders. White House officials and Democratic lawmakers have accused Cotton and his colleagues who signed the letter of undermining the administration's efforts to forge an agreement with Iran in the nuclear talks ahead of a March 24 deadline.
"That's because they know the offer is indefensible," Cotton, a member of the Senate Armed Services Committee and a former U.S. Army lieutenant, said of the Democratic criticism. He accused the administration of being unable to defend "the very bad deal that they're about to make."
At least two Republicans who signed the letter — John McCain of Arizona and Ron Johnson of Wisconsin — said last week that they would have approached the matter differently in retrospect.
Johnson said it may have been "a tactical error" to address the letter to Iranian leaders, rather than to Obama's administration or the American people. McCain, a prominent Republican voice on foreign affairs and national security, said an impending snowstorm in Washington short-circuited more measured consideration of the letter.
The missive has escalated political rancor in Washington surrounding the Iran negotiations, complicating Foreign Relations Chairman Bob Corker's efforts to cobble together enough Democratic votes for legislation to require congressional review of any Iran nuclear deal to overcome an Obama veto.
Republicans hold 54 seats in the Senate and ten Democrats have said they'll support Corker's measure, though only after the end-of-the-month deadline passes for the current round of negotiations among the U.S., five other world powers and Iran. That's three votes short of the number needed to override a veto.
Corker was one of seven Senate Republicans who didn't sign the letter.
The Associated Press , citing a senior U.S. official, reported Monday that Iranian officials have twice in recent days confronted U.S. negotiators, led by Secretary of State John Kerry, over the letter.
Photo: Gage Skidmore via Flickr