Iraq Bloodshed Surges Ahead Of Maliki-Obama Talks
@AFP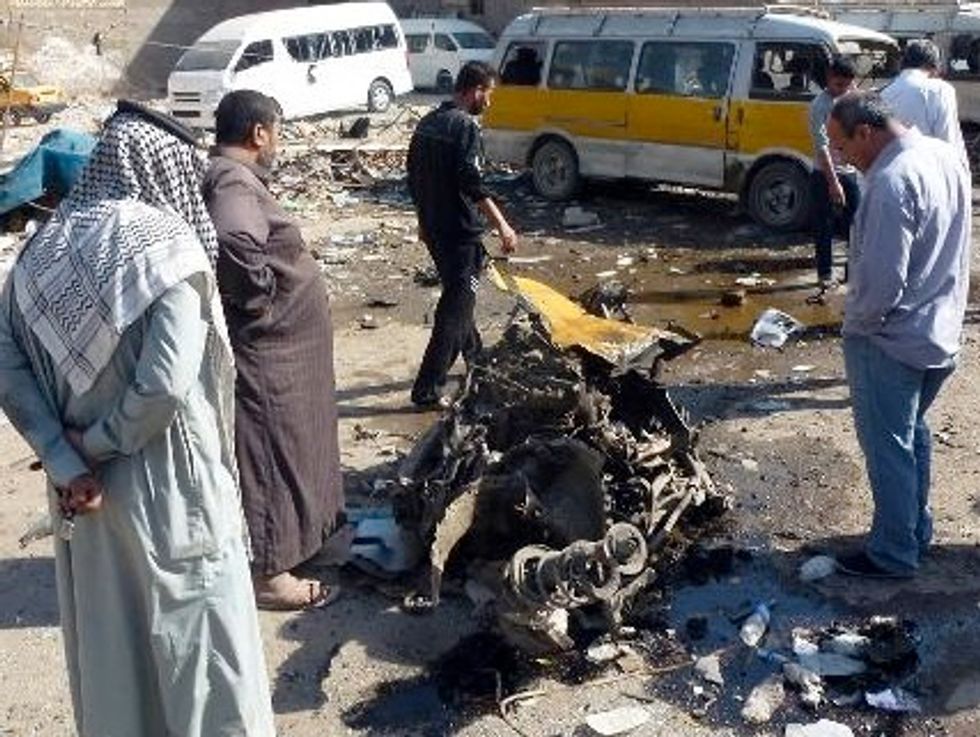 Baghdad (AFP) – Violence in Iraq is at its worst level since 2008, figures showed Friday, as premier Nuri al-Maliki was to appeal for Barack Obama's help to combat a spike in militancy.
The new figures capture a months-long surge in unrest despite wide-ranging operations targeting insurgents and a major tightening of security in Baghdad and elsewhere, with no sign of respite ahead of elections due within months.
Two years after U.S. forces withdrew from Iraq, Maliki is to call for more military equipment and greater security cooperation in talks with the American president later on Friday in Washington, after likening the fight against Al-Qaeda-linked militants to a third world war.
Figures released by the ministries of health, interior and defence showed violence last month killed 964 people — 855 civilians, 65 policemen and 44 soldiers — and another 1,600 wounded.
The United Nations put the figure even higher, with 979 people killed and 1,902 wounded.
"Indiscriminate violence is constant," said U.N. special envoy Nickolay Mladenov.
"It is urgent that the Iraqi leaders take together the necessary bold steps to bring an end to the current mayhem, and to foil attempts by terrorists to destroy the social fabric of the Iraqi society."
The overall government death toll is the highest such figure since April 2008, when 1,073 people were killed.
At that time, Iraq was slowly emerging from a brutal sectarian war that claimed tens of thousands of lives and only slowed when the United States sent in a surge of troops and partnered with former Sunni insurgents against Al-Qaeda's local affiliate.
But nearly two years after the U.S. military withdrew from Iraq and a civil war erupted in neighboring Syria, Iraq once again appears on the verge of another round of sectarian bloodletting.
Violence continued to roil Iraq on Friday, with four people killed in the north of the country.
Figures compiled by AFP based on reports from security and medical officials showed a decline in violence last month, but still put the death toll at one of the highest levels of the year.
Overall, at least 743 people were killed in attacks in October, according to the AFP tally, more than in January, February and March combined.
'Anyone can be killed at any time'
"You, me, and anyone who walks in the streets, at any minute, we could face a car bomb, a motorcycle bomb, or a suicide bomber using an explosives belt," said Kadhim Abdulridha, an unemployed man in Baghdad who blamed security forces for not bringing the unrest under control.
"At any moment, anyone could be killed for doing nothing wrong."
Militants last month targeted everything from public parks and restaurants to funerals and government buildings, killing security forces, civilians and civil servants, with dozens of suicide bombings and vehicles packed with explosives ripping through towns and cities.
Many days saw waves of violence nationwide, with a spate of attacks on October 5 killing 73 people, while 77 others died on October 17. On both days, the deadliest attacks were carried out in Baghdad.
Much of the violence has been attributed to the Islamic State of Iraq and the Levant, an Al-Qaeda front group opposed to Iraq's Shiite-led government that has carried out attacks in both Iraq and neighbouring Syria.
Diplomats and analysts have called for Maliki's government to seek a long-term accommodation with the country's disaffected Sunni Arab minority in order to drain support for militancy.
But officials have thus far concentrated on security operations they insist are yielding results.
Maliki has sought to drum up U.S. support, calling in a speech on Thursday for an "international war against terrorism".
Speaking at the United States Institute of Peace, he called Al-Qaeda "a virus" which was trying to spread "a dirty wind" around the region.
Ahead of Maliki's talks with Obama, Washington vowed to help Iraq combat terror groups, but said Baghdad needed a broader strategy not just based on strengthening its military arsenal.
The top U.S. commander in the Middle East, General Lloyd Austin, meanwhile gave voice to increasing concern in Washington that Al-Qaeda will manage to hunker down in a safe haven stretching from western Iraq into Syria, in an interview with the Wall Street Journal.
AFP Photo/ Sabah Arar