Iraq PM Under Fire As U.S. Mulls Air Strikes On Militants
@AFP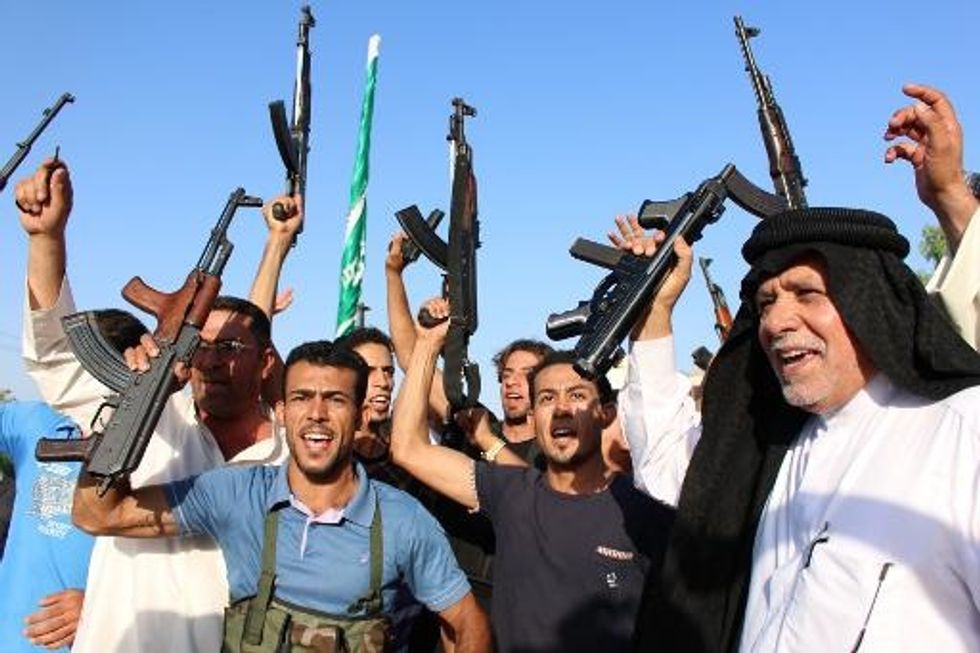 Baghdad (AFP) – Top U.S. officials warned Iraqi Prime Minister Nuri al-Maliki against "sectarian" policies as President Barack Obama Thursday weighed calls for air strikes on Sunni insurgents bearing down on Baghdad.
The sharp criticism of the embattled premier came as he scrambled to push back militants who have seized the second city Mosul and a swathe of territory north of Baghdad in an offensive that could threaten Iraq's very existence.
The swift advance of fighters led by the Islamic State of Iraq and the Levant (ISIL) has sparked international alarm and the United Nations has warned that the crisis was "life-threatening for Iraq".
Hundreds of thousands of Iraqis have been displaced in the nine days of fighting and an unknown number killed, while dozens of Indians and Turks have been kidnapped.
In a sign of what the Pentagon has described as Iraqi forces' "stiffening resistance", however, security forces regained full control of the country's main refinery after protracted clashes with insurgents.
Baghdad has formally requested that Washington launch air strikes on the advancing militants, but there were no signs U.S. military action was imminent.
Instead U.S. officials castigated Maliki, who is being blamed in Washington for causing Iraq to splinter after discriminating against the minority Sunni community.
Vice President Joe Biden drove home the U.S. message that Maliki needs to lead all Iraqis, not just Shiites.
He told the Iraqi leader in a telephone call that he must govern in an "inclusive manner, promote stability and unity among Iraq's population, and address the legitimate needs of Iraq's diverse communities," a White House statement said.
Former U.S. commander in Iraq David Petraeus urged reconciliation, warning at a conference in London that Washington risked becoming an "air force for Shiite militias" and supporting "one side of what could be a sectarian civil war".
And U.S. Secretary of State John Kerry on Thursday stressed that Washington was seeking to help all Iraqis, not merely prop up Maliki.
"This is not about Maliki," Kerry told NBC in an interview. "Let me stress, what the United States is doing is about Iraq, it is not about Maliki."
Washington has deployed an aircraft carrier to the Gulf and sent military personnel to bolster security at its Baghdad embassy, but Obama insists a return to combat in Iraq is not in the cards.
The United States spent billions of dollars over several years training and arming Iraqi security forces after disbanding the Sunni-led army following the 2003 invasion that ousted dictator Saddam Hussein.
But the security forces wilted when faced with the militant offensive on June 9 which saw insurgents quickly capture Mosul, a city of some two million people, and then parts of Salaheddin, Kirkuk and Diyala provinces.
Some abandoned their vehicles and uniforms when faced with the insurgents.
The Sunni fighters have been led by the powerful Islamic State of Iraq and the Levant, but also include a wide coalition of other Sunni Arab militant groups, as well as loyalists of executed dictator Saddam Hussein.
Though the alliance has made significant territorial gains, the wildly divergent ideologies of its constituent groups means it may fracture over time, analysts say.
And while they struggled in the early part of the offensive, Iraq's security forces appear to be performing better in recent days, managing to make advances in certain areas, though militants have made their own gains elsewhere.
In a sign of the improving performance, security forces regained full control of the Baiji oil refinery in Salaheddin province on Thursday, officials and witnesses said.
The insurgent assault, which saw militants enter the refinery complex, further spooked international oil markets, though officials and analysts said the country's vast oil exports were safe — for now.
The Pentagon has noted that Iraqi forces were "stiffening their resistance" around Baghdad, while the increasingly open assistance from Shiite militia groups towards government soldiers and policemen has also played a major role.
State TV reported that Iraqi counter-terrorism forces were deployed in the west of the city, which borders conflict-hit Anbar province, because of fears of "terrorist sleeper cells".
Saudi Arabia has warned of the risks of a civil war in Iraq with unpredictable consequences for the region, while the United Arab Emirates recalled its envoy to Baghdad, voicing concern over "exclusionary and sectarian policies".
AFP Photo