Iraqis Recount Their Lives Under The Islamic State: Cheap Food, Endless Rules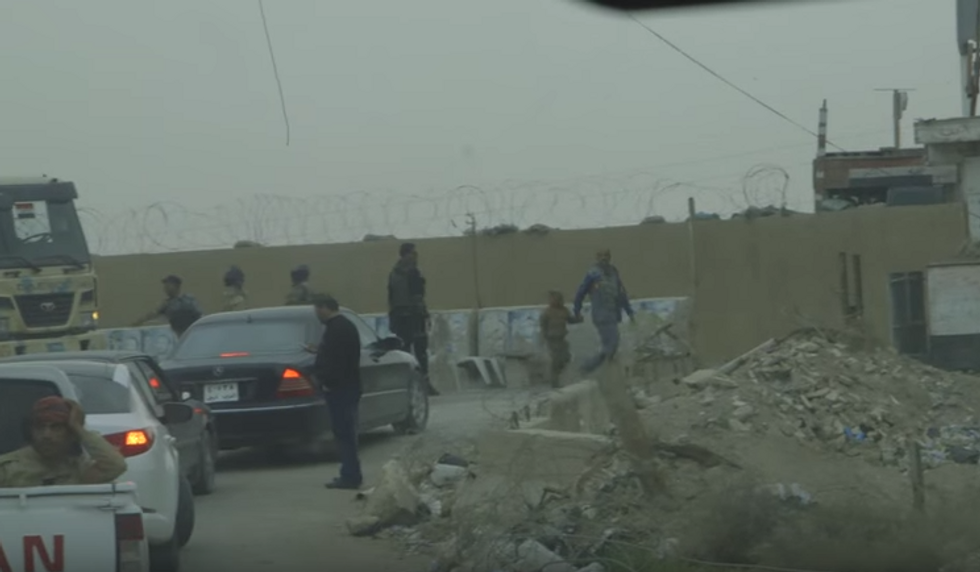 By Mohammed Al Dulaimy and Hannah Allam, McClatchy Washington Bureau (TNS)
WASHINGTON — There are few signs of life in central Ramadi, the Islamic State's latest prize in the vast western badlands of Iraq.
Photos and videos posted on the Internet show battle-scarred streets littered with rubble and blood-stained clothing, but devoid of inhabitants. Many once-vibrant commercial districts are shuttered or in ruins from airstrikes. The black flag of the Islamic State, also called ISIS or ISIL, flutters atop what's left of public buildings.
But the images of Ramadi that have emerged since it fell to the Islamic State don't tell the whole story. Quietly, quickly, the jihadists also are working to provide fuel for heavy generators, ordered shopkeepers to reopen, and have begun demolishing old checkpoints to make it easier to get around the city, according to telephone interviews with residents.
The Sunni Muslim extremist group appears to be following the same blueprint as it has in other conquered parts of Anbar province: seize territory, execute "apostates" and "traitors" in a bloodbath, and then reassure terrified civilians by producing goods and services that surpass those provided by the Shiite Muslim-led government in Baghdad.
Even the photos the Islamic State approved for release served that goal — displaced homeowners rejoiced when they spotted their houses intact, waiting for them if they'd only return and submit to the medieval rules of the self-proclaimed caliphate.
For many, that's hardly an inviting option, and not just because of the group's totalitarian control over virtually every aspect of life. There are also U.S. planes overhead and a counteroffensive promised by the fearsome Shiite militias that have stepped in for the overwhelmed Iraqi military.
But other options aren't much more appealing. Anbar residents can gamble on fleeing to contested towns that are under the fragile hold of anti-Islamic State tribes. Or they can strike out for Baghdad, which might as well be the capital of another country, because Shiite authorities have instituted heavy restrictions on Sunni families wanting to enter the capital.
"We cannot leave, but we're afraid to stay," said Alaa al-Dulaimy, 39, a father of two who escaped Ramadi days ago and was among the lucky to make it to Baghdad. "We are prey between two predators."
For many, staying put is the only option, and what they report in phone interviews is that the Islamic State is eager to provide fresh food and cheap fuel to loyalists even as it imposed a long list of rules that can seem endless: no English teaching, no smoking, no unveiled women, no price gouging, no skipping prayers, and so on.
Through longtime contacts and the help of local journalists who can't be named for security reasons, McClatchy interviewed residents who've spent a year or more under Islamic State rule in the Anbar hubs of Fallujah, Khalidiyah and Qaim. They told stories of grotesque hardships under Islamic State rule, but often as well of what some described as benefits.
Abbas Fadhil, 48, a construction worker and father of five, has spent the past year under Islamic State rule in Fallujah, then Khalidiyah and now back in Fallujah. In that time, he said, punishments have grown harsher, with whippings now even for an offense as minor as smoking a cigarette.
He said local women used to protest when the caliphate's authorities poked them with sticks in the market to admonish them for improperly veiling or for failing to cover their feet with thick black socks. But then the jihadists began marching the women home and seizing their fathers, brothers or husbands to face punishment on their behalf.
"He'll be held to account, in many cases beaten, whipped or imprisoned," Fadhil said. "There used to be objections, but now everyone is resigned to it so they just follow the rules."
Fadhil, along with other residents, conceded that some aspects of life have improved under Islamic State rule. In Fallujah, he said, there's an efficient Islamic court where residents can file their grievances, "even if you have a complaint against the State." Seven schools are operating, he said, teaching math and science along with religion, but abolishing English, history and any mention of evolution.
He said residents aren't forced to formally pledge allegiance to the Islamic State, but they must attend prayers and abide by its rules.
Except for stretches when the city is blockaded during fighting, Fadhil said, fresh produce and meat are trucked in from jihadist-held lands in neighboring Syria — meat is only $2.50 a kilogram compared with $11 per kilo in government-controlled areas. And the truckers praise an above-board system that taxes them upon entry — about $400 a truckload — and has eliminated the shakedowns they used to face at subsequent checkpoints.
"They're taxed once and that's it," Fadhil said. "They show us the receipts and I haven't heard of any complaints from merchants saying they were taxed multiple times."
Khaled Omar, 38, an engineer originally from Fallujah who until recently was living under the Islamic State near the Syrian border, told similar tales of the unpredictable, mercurial jihadists who are just as capable of charitable acts as they are of a mass public slaughter.
Omar said that in his year as a citizen of the caliphate — he's made it out of Anbar now — he witnessed the beheading of a man who was accused of helping the U.S.-led coalition, the stoning death of a woman accused of adultery, and two men who were thrown from tall buildings for suspected homosexuality. The militants rounded up spectators from busy markets, he said, and forced them to watch the executions. Some of the condemned came from Islamic State territories across the border.
"When we were asking how come Syrian guys are being executed in an Anbar town, one of the ISIS members said, 'There were more than 40 people sentenced to death, but by orders they were distributed throughout caliphate to serve as an example for people to see,'" Omar said.
Omar also recounted his neighbor's experience. The man's son was accused of being gay, so the Islamic State imprisoned him and allowed his father one visit. The father returned from the visit and told his neighbors that his son made him film a video in which he was recorded telling his family: "I swear by God I'm innocent. In case they kill me, don't ever be ashamed."
Days later, the son was thrown off a building, "in front of children," Omar said.
Presenting such grisly spectacles to children is important to the Islamic State, Omar and many other Anbar residents said. With almost all forms of entertainment shut down, the closest thing to "the movies" is hanging out in an Islamic State "media station," where big-screen TVs show nonstop propaganda videos of battlefield exploits and explain religious diktats.
"A kid I know, 13 years old, always trying to play soccer, came to me and said, 'Uncle Khaled, Uncle Khaled, I saw the mujahedeen showing us a movie about the bravery of the lions of the State. They are so brave!'" Omar recalled. "He said, 'Look at my phone!' He'd changed the background to the face of the caliph. The sad part is, I couldn't say a word."
As brutal as the militants are, Omar said, there are also flashes of leniency. The judge in his town was Saudi, and he'd shown compassion by letting people off easy if, say, a family crisis had prevented them from fulfilling orders. Omar said "some people can't stop praising" Islamic State judges. They also like the cheap meat and how authorities force merchants to provide high-quality goods, he said.
Mohamed al-Ani, 42, is a small-business owner who spent a year under the Islamic State in Qaim, on the Syrian border. He made it out of the caliphate just days ago and the memories are fresh of a life of total submission, relieved only by the fact that "they're stocking the market with food, vegetables and other goods."
As much as he detests the Islamic State, he said, he admitted that the caliphate presented him with an opportunity for travel that's rare in many autocratic Arab nations. Using just his Iraqi ID, al-Ani said, he left Iraq, traveled through Syria and made it all the way to near the Turkish border. Though the route has since been closed because of military activity, he said, "It's amazing that I, an Arab, can travel through different countries using just an ID."
Even so, he said, it's not a tradeoff that's worth it to many Iraqis.
"Are people satisfied? I tell you no," al-Ani said. "People are beginning to hate them more and more. They had popularity for a while, but they've lost it now that people have seen their cruelty. It's not something they saw in government propaganda — it's something they saw with their own eyes."
(Al Dulaimy is a McClatchy special correspondent.)
Photo: This is what life is like under the Islamic State in Ramadi: Walking past rubble in a world of surveillance. Screenshot: Vice News/YouTube