In Iraq's Most Sacred City, A Governor From Michigan Holds Sway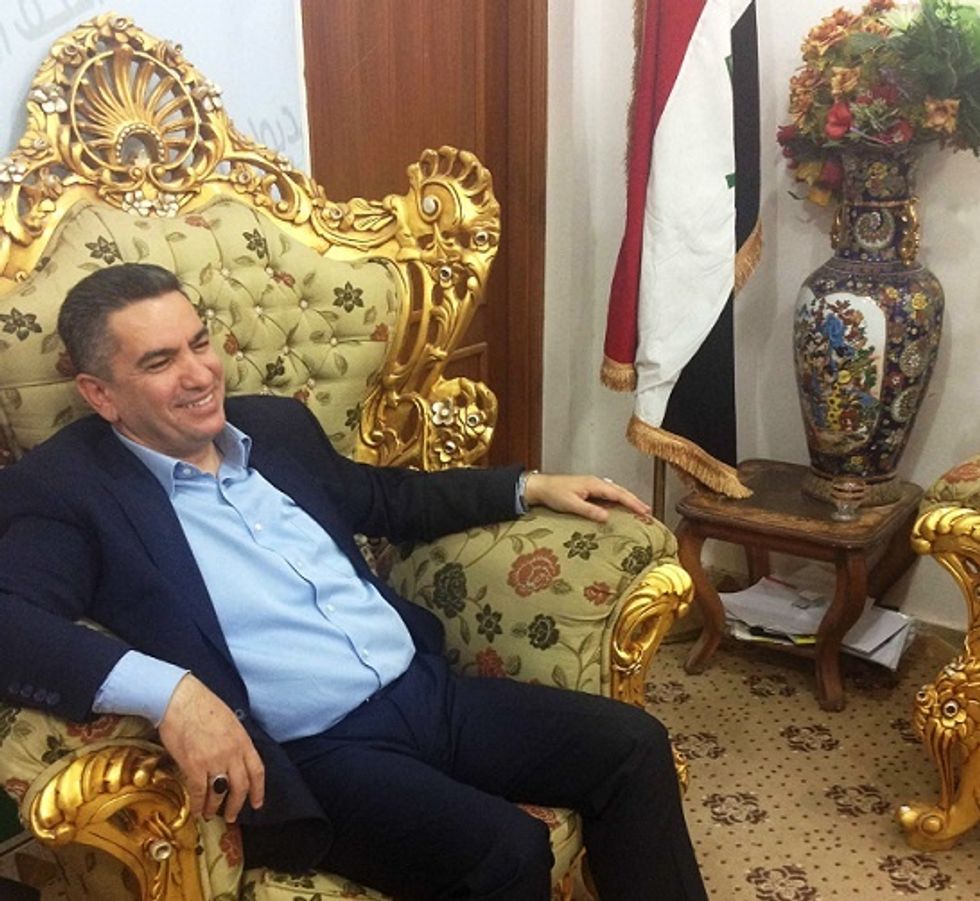 By Hannah Allam, McClatchy Foreign Staff
NAJAF, Iraq — The governor of Iraq's most sacred territory is a slick-haired, sharp-dressed, foul-mouthed, sleep-deprived workaholic who's lost track of how many times he's been hauled into court on charges of abuse of power: "Maybe ten? Twenty?"
Najaf Gov. Adnan al-Zurufi makes no apologies for his brash style of leadership, which he says is the reason he's among the last of the U.S. occupation-era appointees to hold office. If he were more diplomatic, chances are he wouldn't have survived here given his American citizenship and hard-line stance against the Iranian-backed Shiite Muslim militias that hold parallel authority.
"I'm the only one who came from the States and kept fighting and fighting and fighting," al-Zurufi said in an interview that began at midnight, about the time he starts to wind down a typical workday.
The years of street battles and assassination attempts have hardened al-Zurufi for what's shaping up to be his biggest fight yet. It's his job to protect Najaf's revered Imam Ali shrine from the extremists of the Islamic State, a self-proclaimed caliphate that's seized roughly a third of Iraq. Breaching the shrine would hand the Sunni Muslim militants a symbolic victory — proof of their ability to strike at the heart of Shiite worship — and likely would plunge the country into deeper sectarian warfare.
That's not going to happen on his watch, al-Zurufi vowed.
"They plan to attack the shrine and they've been thinking about it a long time," he said. "I'm focusing very deeply on their activities and working hard to prevent them from entering Najaf either with car bombs or by building networks here."
Al-Zurufi has plenty of firsthand experience with a militant group infiltrating Najaf. After years of living in Chicago and then Dearborn Heights, Mich., he returned to Iraq and in 2004 was appointed governor by then-U.S. administrator L. Paul Bremer. Al-Zurufi's swearing-in came just as supporters of the cleric Muqtada al-Sadr launched the war's first Shiite uprising against the U.S. military, holing up in the shrine and seizing Najaf's police stations and other public buildings.
The Sadrists dismissed al-Zurufi as an American puppet, but the governor stood his ground, albeit under U.S. protection, until an agreement was brokered and the militants melted back into their neighborhoods.
Today, al-Zurufi contrasts his conduct with that of the governor of Nineveh, Atheel al-Nujaifi, who faces sharp criticism for fleeing the provincial capital of Mosul during the Islamic State's northern offensive last month.
Al-Zurufi all but called al-Nujaifi a coward, saying he had no respect for a leader who abandoned his post and then tried to shift the blame to Prime Minister Nouri al-Maliki. Al-Nujaifi has said his only option was to flee because al-Maliki's military collapsed and he had no resources to keep the extremists at bay.
"If I am a man, I have to stand and fight," al-Zurufi said. "I stayed in Najaf and fought the militias; I fought Shiites. I didn't leave my city."
Al-Zurufi lost the first elections after his standoff with militants and spent 2006 to 2009 working for the Iraqi Ministry of Interior. A 2008 U.S. diplomatic cable released by the anti-secrecy group WikiLeaks describes al-Zurufi at that time as the deputy director of the ministry's National Information and Investigation Agency and says he was involved in the repatriation of four Iraqi detainees at the U.S.-run prison at Guantanamo Bay, Cuba.
Despite a dismal fourth-place showing in the 2009 polls, al-Zurufi returned to the governor's office through a surprise agreement hashed out with more powerful religious parties. With his wife and children back in the United States, he focused single-mindedly on turning Najaf into a success story on the security, commercial and education fronts.
And he didn't mind bending the rules to do it, readily admitting that he skirts government regulations so his pet projects don't get mired in Iraq's notorious bureaucracy.
"I don't care about the law — I care about people," he said. "I care about the happiness of the city."
Al-Zurufi added that he's personally interrogated suspected al-Qaida operatives from two cells that he said security forces busted in 2010. When a visitor asked what that entailed, he replied flatly: "I beat them. They're germs, animals; not humans."
His first two stints as governor came through appointment but last year's election was different: He finished first in the polls, ahead of extremely influential religious parties that have close ties to the clerical class.
Al-Zurufi's campaign posters still flutter in the wind next to banners of religious icons and the menacing mug of his foe, the cleric al-Sadr. For all the enmity between the two, al-Zurufi said they'd come face to face just once, at a funeral last year. He said al-Sadr had sat near him at the service and the two traded barbs, but he wouldn't divulge details.
"Go ask him," al-Zurufi said, laughing. "He knows the story."
Street interviews with voters from Najaf confirmed many of al-Zurufi's claims: that he spends several hours a day in local schools, he introduced free tutoring for high school students and he hops in police patrols nearly every night to check on his city's security. One police officer, Ahmed Abdelamir, 33, said he'd been startled to show up for work and find the governor himself manning a checkpoint.
While some residents privately complained that al-Zurufi is turning Najaf into his own fiefdom, giving sweetheart deals to cronies, they didn't dispute that the city has flourished in recent years, with Shiite pilgrims from across the Muslim world packing the refurbished hotels in the old quarter near the shrine. Construction projects dot the city and investors don't seem scared to do business here: One massive zone heralds the future spot of a branch of the French department store Carrefour.
Still, residents wonder whether al-Zurufi really can guarantee that security forces here won't dissolve, as they did up north, if the Islamic State attacks. They point to recent skirmishes between the security forces and supporters of a radical cleric in nearby Karbala; reports say the Baghdad-based special forces known as the Golden Division had to come help the overwhelmed local officers.
"I would vote for Zurufi for the next 100 years because I think he's a good fit for Najaf," said Shnawa Hassan, 63, a retired shopkeeper. "But I'm concerned. If something happens here, will Najaf also need the Golden Division or will the military be able to defend the city?"
Al-Zurufi said he heard the worries firsthand on his walks around Najaf and tried his best to reassure nervous constituents. He faces a balancing act in trying to bolster provincial security without turning Najaf into a fortress with militiamen roaming the streets.
The reconstitution of outlaw Shiite militias is of nearly equal concern to al-Zurufi as the possibility of an Islamic State assault. He worries that they have religious cover to carry weapons again now that the highest Shiite religious authority has issued a fatwa for all Iraqis to defend their homeland against the extremists.
"Now I see them at checkpoints with weapons and they can say, 'We're training. We're going to jihad,' " al-Zurufi lamented.
Al-Zurufi said he was deeply disappointed in the Obama administration's reluctance to devote more military resources to the crisis.
He summed up the U.S. response in a word: "bull—-."
He said the U.S. approach of attaching conditions to military help in Iraq's time of need was forcing his country to rely more on Iran. He made it a point to mention that Qassem Suleimani, the shadowy commander of Iran's Quds Force, a division of the Revolutionary Guards Corps, had visited Najaf in the past couple of weeks. Al-Zurufi said Suleimani was "trying to assist," but also is taking advantage of what al-Zurufi described as a widening trust gap between Washington and Baghdad.
"All your kids were killed here, and you tell me you're watching closely?" Al-Zurufi said of the American response. "Watching for what? It wouldn't be hard for them to get everybody to stop all this. I know the power of the United States."
Photo: Hannah Allam/MCT