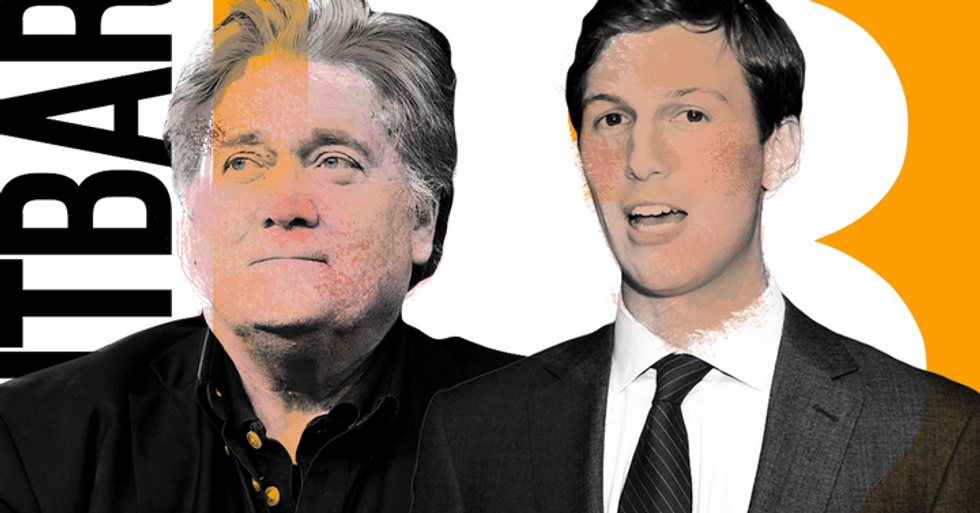 Reprinted with permission from MediaMatters.
I guess you either die an edgelord, or you live long enough to see yourself become the cuckservative. That's the takeaway from the last six months at Breitbart.com, the right-wing website previously led by White House chief strategist Steve Bannon. Breitbart became a conservative media juggernaut by riding the rising tide of the racist, misogynistic "alt-right" and Donald Trump's bigoted presidential campaign. But amid a massive advertiser boycott and faltering website traffic, the site has been forced to backpedal — at least somewhat — from the reputation that was responsible for its popularity in the first place.
And that's placed the website in an untenable position between its dwindling fringe-right audience and the advertisers it needs to survive.
Signs that Breitbart's editors had become nervous with their public status as "alt-right" champions began appearing as far back as November, when one of the site's most virulent commentators left, saying the sitehad become "more controlled." But the pace of cosmetic change quickened after progressive activists began destroying the site's business model by urging advertisers to abandon it.
The Washington Post outlines four such changes: the removal of Breitbart staffers Milo Yiannopoulos and Katie McHugh, who departed amid media firestorms over their commentary; the elimination of the website's regular spotlight on purported instances of "black crime"; and the delay of a planned expansion to France and Germany.
Putting aside the European expansion, which is less about addressing vulnerabilities than simply struggling to move forward, these efforts fall into two categories — staffing and content. In each case, Breitbart's interests in attracting traffic and retaining advertisers are at cross purposes, leaving the website vulnerable to its competitors.
Breitbart was happy to attract traffic from bigots with articles such as "Five Devastating Facts About Black-On-Black Crime" and "Black-On-Black Crime: Blame It On The System And Ignore The Evidence." But this sort of content is racist on its face, and as Breitbart's profile rose, being associated with naked bigotry became untenable for the site's advertisers. Breitbart likely pulled the plug on this sort of content to assuage the advertisers, but at the cost of opening the site up to the critique that it had knelt at the altar of "political correctness."
Likewise, when media attention settled on Yiannopoulos and McHugh, their histories of bigoted commentary made them radioactive to advertisers. But each had a strong individual fan base and close ties to the "alt-right" network because of that very virulence, which had previously made them valuable assets to Breitbart by building the website's audience.
As the site has sought to downplay its relationship with the "alt-right" and the fringe, commentators from those movements saw weakness and began attacking Breitbart for turning its back on its fans and supposedly becoming mainstream. In recent months, this far-right alternative media echo chamber has gained an increasingly large audience by presenting its adherents as completely dedicated to President Donald Trump and as savage foes of "political correctness" and "SJWs" — in other words, by trying to out-Breitbart Breitbart.
This dynamic came to a head on Monday when Breitbart fired McHugh after she responded to the London Bridge terror attack by tweeting that "there would be no deadly terror attacks in the U.K. if Muslims didn't live there" and attacked a critic's perceived ethnicity. The far-right immediately rallied around McHugh and lashed out at her former employer, with leading fringe figures declaring that the website had given in to "political correctness," castigating the site for supposedly seeking "to try to pivot to the mainstream," and declaring that "Breitbart is over."
Breitbart fired a journalist to appease fake news media. Here's how to respond! https://t.co/gdno2ATVOr

— Mike Cernovich (@Cernovich) June 5, 2017
None of this is to say that Breitbart has suddenly become a beacon of moderation. Yiannopoulos spent years promoting bigotry with the site's full approval before he apparently crossed the line. McHugh didn't suddenly start tweeting racist things over the weekend — she first drew attention for this behavior in September 2015. Asked about her racist tweets in March 2016, current Editor-in-Chief Alex Marlow replied, "We're considering giving Katie a weekly column."
And while "black crime" reporting seems to have died away, Breitbart still regularly publishes the same type of anti-Muslim commentary that got McHugh fired, and continues to employ white nationalist reporterswith long records of racism who have yet to experience a media flashpoint.
If the site's leaders were cleaning house, they would clean house. Instead, they're taking steps to minimize advertiser blowback when public attention is focused on their staffers' awful behavior. The day after McHugh was fired, Digiday reported that Breitbart had lost nearly 90 percent of its advertisers over the previous three months, along with seeing a steep decline in traffic.
Those simultaneous crises have put the website in a precarious position. If its editors can't demonstrate a drastic change in behavior, there's no chance their advertisers will return. But if they do try to become more mainstream, the site will come under fire from other members of the alternative media echo chamber who want to carve off some of Breitbart's audience.
This dynamic has been a part of the right-wing media for years. There is constant pressure for commentators to push the envelope and become ever more extreme, accusing liberals of dire behavior to indulge the worst pathologies of their audience. During the Obama administration, right-wing media figures faced a series of decision points where they could either choose to enable the conservative movement's increasingly destructive behavior, or speak out and put their standing with that movement in jeopardy. Trump's campaign, with all its bigotry and authoritarianism, held a mirror up to that system. Some of its members were horrified and decried what they had built, while others stood by the future president and attacked those "NeverTrumpers," in part to steal their audiences.
Indeed, Breitbart itself used these tactics against Fox News during the 2016 election, building up its own massive audience in part by lashing out at the network for being insufficiently loyal to Trump. Fox responded to that pressure, and its commentators have largely avoided attacks from the right during the Trump administration by emerging as the president's most devoted propagandists.
Now Breitbart is under the same pressure, and there's nowhere for it to go without risking its financial security.