Is The Catholic Hierarchy Really Committed To Rooting Out Abusive Priests?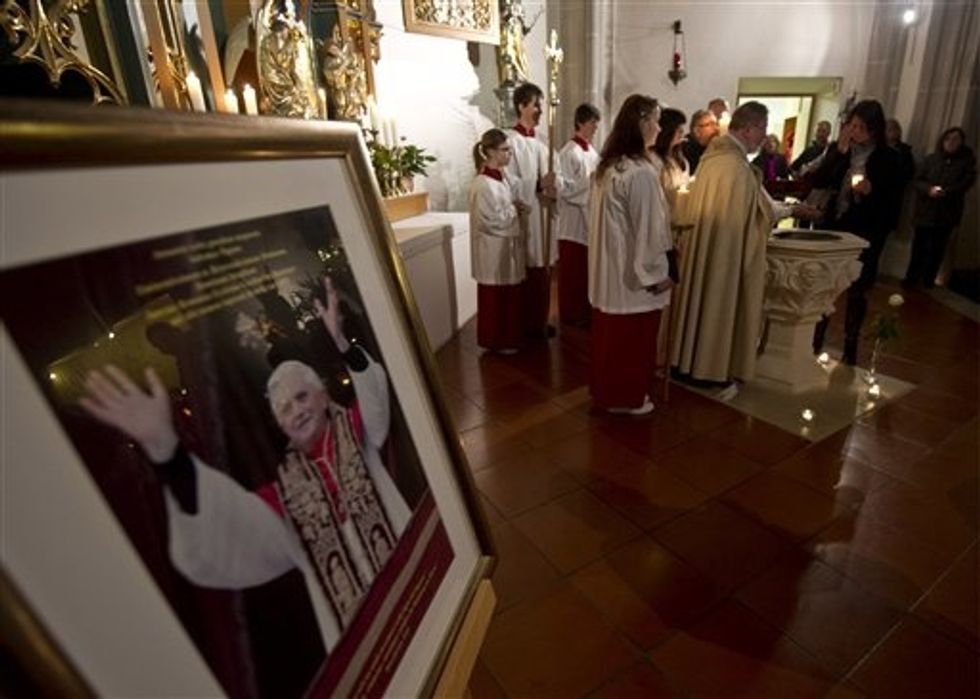 The headline on the website of the U.S. Conference of Catholic Bishops reads like good news: "Child Protection Audits Find Nearly All Dioceses Compliant."
What they were complying with, as the accompanying press release explained, was a set of zero-tolerance policies the bishops conference put in place a decade ago in response to the unfolding scandal involving the sexual abuse of children by clergy members.
The view from Kansas City is far less consoling. In September, their bishop will stand trial in criminal court for failing to report suspected child sexual abuse. Bishop Robert Finn will be the highest-ranking U.S. Catholic official to be tried on such charges. The case stems from how the bishop handled the case of a priest now charged with possessing and producing pornographic photos of young girls, some of which were taken around churches and schools.
Many outraged Catholics in Kansas City are wondering how this could have happened. The church has argued — and, indeed, it does so in the just-released annual audit report — that the worst of its child sexual abuse problem is in the past. New allegations of abuse are made each year, but three-fourths of the credible new allegations made in 2011 were from adults reporting incidents long ago, from 1960 to 1984.
Yet the Kansas City case suggests that the sexual abuse saga of the U.S. Catholic Church is far from over, despite the largely positive review by auditors and years of multimillion-dollar settlements.
In its 2002 Charter for the Protection of Children and Young People, the church instituted a litany of protocols, including new reporting procedures and expectation that dioceses would train staff and volunteers to recognize and report suspected abuse. The annual audit is supposed to monitor the progress of those reforms.
But if certain church hierarchs don't adhere to the rules, if they fall back on their own judgments rather than those of law enforcement, children will still be at risk. That's what happened in Kansas City.
In May 2010, the principal of a parochial school wrote a chilling letter to the diocese complaining that Fr. Shawn Ratigan was behaving inappropriately with young girls. Nothing appears to have been done in the priest's case until the following December, when questionable photos of young girls and toddlers were found on Ratigan's computer. Finn finally moved the priest to a mission of nuns to get him away from parochial school children. Neither he nor any other church official reported to police about the images, even though state law required them to. Nor did Finn apprise a diocesan review board, in place to help oversee such issues, of the full concerns about Ratigan
The following Easter Sunday, Ratigan is accused of taking "close-up shots of the crotch area" of a 12-year-old girl. She's one of five girls in a federal pornography indictment against the priest, and allegedly had been photographed naked by Ratigan as a 6-year-old. He has pleaded innocent.
Bishop Finn apologized twice to the faithful for mishandling the Ratigan case. That was before a grand jury indicted Finn for failing to protect children. If convicted, he faces a maximum sentence of a year in prison and a $1,000 fine.
What troubles Catholics about the Kansas City scandal is not the lack of a policy on the church's part. It's the failure to shift attitudes among the hierarchy.
Kansas City is not the only case of failure. Another prosecution is ongoing in Philadelphia against Monsignor William Lynn, who once supervised more than 800 priests in the archdiocese. He is accused of allowing priests with a history of abusing children to remain in a position to prey on them.
Neither case is mentioned in detail by the bishops conference audit report, but both cases suggest that high church officials have failed in their commonsense responsibility to report suspected child sexual abuse to authorities immediately. That duty should be obvious to any adult, whether they are a teacher, a camp counselor or the bishop.
The procedures the church has put in place to protect children — along with the many hours that have been spent training volunteers, teachers and other staff to spot and report suspicious behavior — are positive steps, tallied and checked by the U.S. Conference of Catholic Bishops' report. But if the men at the top of the chain of command are still inclined to cover questionable behavior by priests, to shuffle them off to less public assignments rather than alerting police, it's all for nothing.
That is what's finally going to trial.
(Mary Sanchez is an opinion-page columnist for The Kansas City Star. Readers may write to her at: Kansas City Star, 1729 Grand Blvd., Kansas City, Mo. 64108-1413, or via e-mail at msanchez@kcstar.com.)