'Islamic State' Claims Beheading Of Second U.S. Reporter: Video
@AFP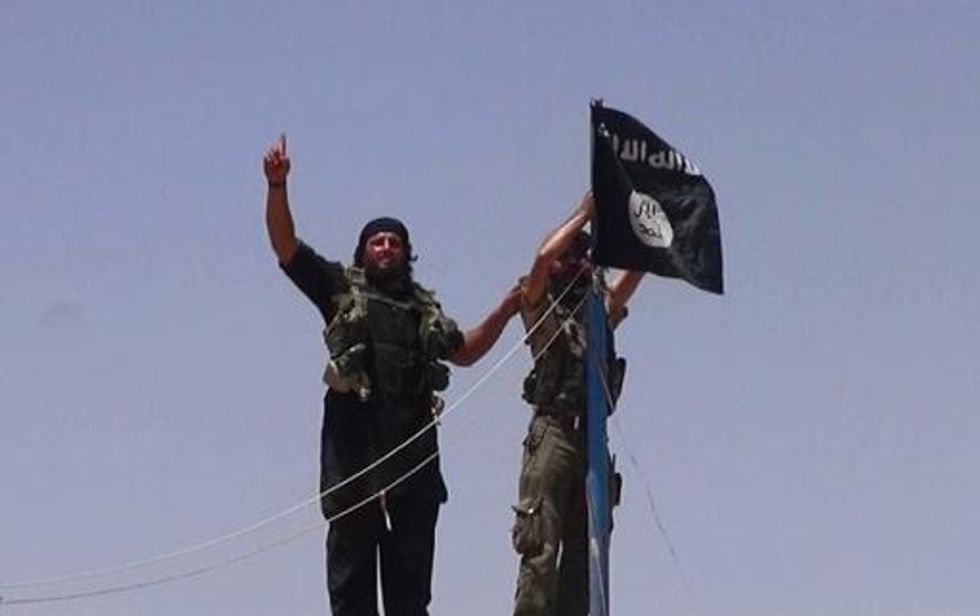 Washington (AFP) — Washington (AFP) — The so-called "Islamic State" released a video on Tuesday showing a masked militant apparently beheading an American journalist and threatening to kill a British captive.
The footage, seen by AFP after it was found online by private terrorism monitor SITE, shows 31-year-old freelance reporter Steven Sotloff dressed in orange and on his knees in a desert landscape.
The masked militant condemns the ongoing U.S. strikes against the Islamic State — a Sunni jihadist group that operates in Iraq and Syria — and cuts Sotloff's throat.
He then introduces a second captive, identified in a caption by name as a British citizen.
"I'm back, Obama, and I'm back because of your arrogant foreign policy towards the Islamic State," the militant says, speaking in what sounds like a London accent.
This was an apparent reference to a previous video in which U.S. journalist James Foley was murdered, again by a suspected British foreign fighter and in an almost identical fashion.
British Prime Minister David Cameron said the latest video depicted an "absolutely disgusting, despicable act."
The previous video was released last month after U.S .President Barack Obama ordered air strikes against the Islamic State.
It showed 40-year-old Foley's death at the hands of a masked militant who then threatened Sotloff, a Miami-born freelance reporter who has written for Time magazine, Foreign Policy, and other outlets.
U.S. officials said they were working to confirm the authenticity of the latest video, and State Department spokeswoman Jen Psaki said Washington would be "sickened" if it proved genuine.
American air strikes against IS positions and vehicles continued in the wake of Foley's death, and more than 120 have been carried out, most of them hitting targets around Iraq's largest dam north of Mosul.
The video, shot with the same high production values as its predecessor, is entitled: "A second message to America."
It opens with a clip of Obama vowing to be "relentless" in his determination to protect U.S. citizens from IS attacks.
Sotloff identifies himself in English and calmly explains that he is paying the price for Obama's policy. His killer also speaks in English.
Sotloff was kidnapped in northern Syria more than a year ago, on August 4, 2013. His family only publicly revealed his captivity last month, having previously requested a media blackout.
This story has been updated.
AFP Photo
Interested in world news? Sign up for our daily email newsletter.</em>