This Isn't New: Donald Trump Has Been Profiting Off His Campaign For Months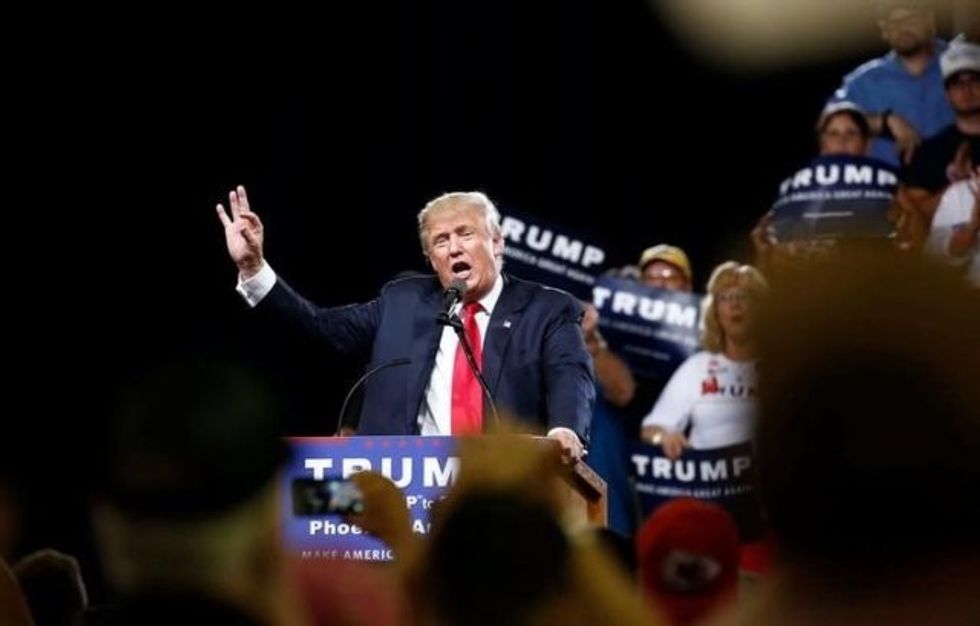 Donald Trump's spectacularly bad fundraising report for the month of May, published over the weekend, got a lot of attention. The press picked apart the document, reporting on the lavish amounts of money Trump has paid his own companies, his family's companies, and his political allies.
"Trump's campaign spends $6 million with Trump companies," the Associated Press reported.
But if the media wanted to find evidence of possible wrongdoing, or at least of an extremely bizarre campaign finance regimen, they needn't have waited until now: Trump, his family, and his associates have been profiting off of this campaign for months.
In February, the New York Timesreported that, of the 12.4 million the Trump campaign had spent in 2015,
About $2.7 million more was paid to at least seven companies Mr. Trump owns or to people who work for his real estate and branding empire, repaying them for services provided to his campaign. That total included more than $2 million for flights on his own planes and helicopter, a quarter of a million dollars to his Fifth Avenue office tower, and even $66,000 to Keith Schiller, his bodyguard and the head of security at the Trump Organization.
We reported back in March that, in January, Trump had spent around six percent of total campaign expenditures on Trump businesses, and the salaries of Trump employees.
In May, Forbesreported that, through the end of March, Trump had paid Trump-owned businesses $4.3 million, or 10 percent of total campaign expenditures through that date.
And now, through May, we know that of the $63 million the Trump campaign has spent this election cycle, 10 percent has been spent on Trump-owned organizations, in keeping with the trend this whole time.
Trump's campaign expenses happen to be with businesses he owns or is affiliated with. A look at the list of top Trump campaign vendors is telling: Aside from Rick Reed media, a GOP advertising group, most are in some way Trump-related.
Tag Air is the Trump-owned company that operates his private jet. $4.3 million.
Ace Specialties, who manufacture the "Make America Great Again" hats, is owned by Christl Mahfouz, who the Wall Street Journal reported in October serves on the board of the Eric J. Trump foundation. $4 million.
WizBang solutions is run by the Mike Ciletti, the former head of the Make America Great Again PAC, which the Trump campaign disavowed after pressure from the media. They do "printing and design services," according to the Washington Post. Mike Ciletti is a close business associate of Corey Lewandowski, Trump's recently-fired campaign manager. $2 million.
And on and on and on: You get the point. When Trump isn't funneling donor dollars and his own loans to Trump organizations or employees, he's spending them on the companies of close associates and friends.
And he can pay those "loans" back to himself using donor dollars, as long as he does it before the Republican National Convention in July. Can Donald Trump afford to lose the $45 million he has loaned his campaign so far? We can't know for sure, especially without seeing his tax returns… Trump did wonder aloud, in May: "Do I want to sell a couple of buildings and self-fund? I don't know that I want to do that necessarily."
So, we'll see. Keep your eyes on the FEC filings.
But now that Trump has dropped all pretense of "self-funding" his general election campaign, this whole branding scheme may get a bit more complicated. Trump loaned his campaign $11.5 million in March, his largest one-month loan. After that, his monthly contributions started decreasing: $7.5 million in April, and just $2.2 million in May.
May was the first month the Trump campaign took in more from donations ($3.1 million) than it did from Trump's loans.
That's meaningful. As Ciara Torres-Spelliscy, an election law expert at the Brennan Center for Justice, noted in a New York Times article published yesterday, "as soon as you start using campaign money that has come in from donors, not just the money that he has loaned to himself, and he uses it for something that he will personally keep, or his family will personally keep, that is what crosses the line."
Photo: Republican U.S. Presidential candidate Donald Trump speaks at a campaign rally in Phoenix, Arizona, June 18, 2016. REUTERS/Nancy Wiechec