Israel Intensifies Aerial Offensive Amid More Rocket Attacks From Gaza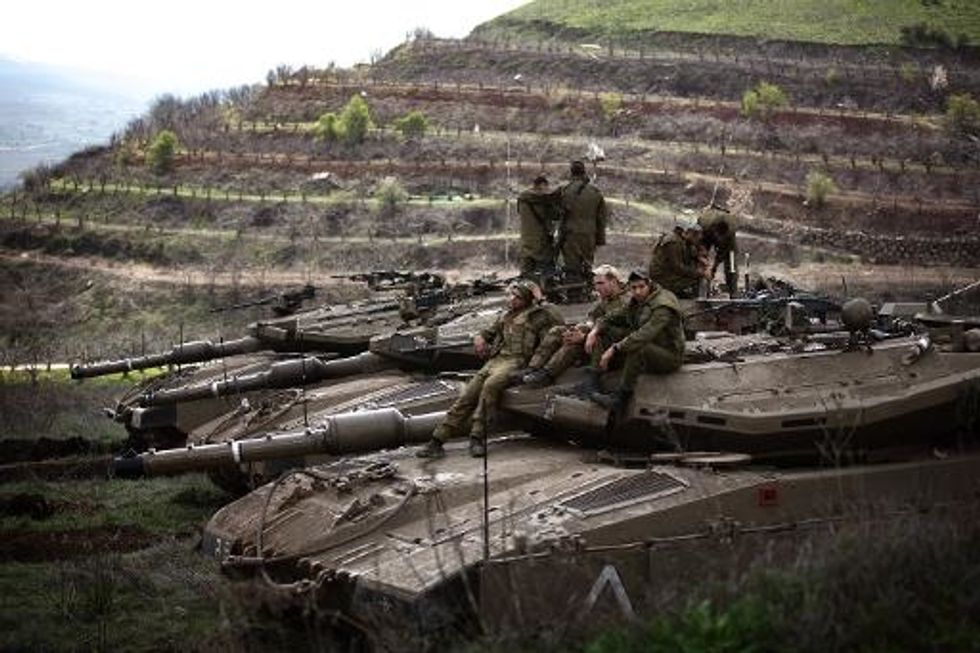 By Batsheva Sobelman and Henry Chu, Los Angeles Times
JERUSALEM — Warning that its offensive would only intensify, Israel stepped up its aerial campaign against the militant group Hamas in the Gaza Strip, firing missiles that medical sources said killed at least 10 people in the Palestinian enclave Wednesday, including four children.
The barrage came as militants in Gaza kept up their rocket fire into Israel, penetrating deeper into the Jewish state than in the past and causing residents to scurry for cover in communities dozens of miles away, including Tel Aviv. There have been no reports so far of Israeli fatalities or serious injuries.
The airstrikes on Gaza targeted weapons caches, command centers, smuggling tunnels, homes of suspected militants and the alleged militants themselves. Smoke billowed into the sky from damaged and demolished buildings.
Among those killed during the first part of Wednesday were two brothers, 11 and 13; a 4-year-old boy, and a 14-year-old youth, medical sources in Gaza said. At least 32 people have been reported killed and 150 injured since Israel began pounding Hamas-controlled Gaza this week in response to a stream of rocket attacks on Israeli civilians.
"The battle against Hamas will become wider in coming days. It won't be a short campaign, and we should be patient," Israeli Defense Minister Moshe Yaalon warned.
Israel is also mobilizing up to 40,000 reservists in preparation for a possible ground incursion into the Gaza Strip. So far, the call-up of the reservists has been selective, drafting troops for headquarters, aerial defense and home-front assignments.
Some of the reservists will relieve troops stationed in the West Bank to free them up to take up positions around Gaza or for a ground operation, an Israeli military official said.
The secretary-general of the Arab League, Nabil Arabi, called for an urgent meeting of the United Nations Security Council. A statement from Egyptian President Abdel Fattah Sisi's office said that intensive efforts were underway to broker an end to the outbreak of violence, similar to Cairo's intervention when hostilities last boiled over between Gaza and Israel at the end of 2012.
But neither the Israeli government nor Hamas gave any indication that the confrontation would soon ease. Israeli officials say that their goal is not just to mount reprisals for rocket attacks but to cripple the capabilities of Hamas and other extremist organizations such as Islamic Jihad.
"Over the last few years, Hamas has built up in Gaza a very formidable terrorist military machine, and we are now acting to dismantle that machine," Israeli government spokesman Mark Regev told Sky News. "Over the last two, three weeks, there have been messages sent to Hamas: Stop the rocket fire, that quiet will be met by quiet. … Hamas did not heed our warnings."
The Israeli military said it struck 129 targets across the Gaza Strip between 7 a.m. and early afternoon Wednesday, on top of dozens of airstrikes it had mounted overnight.
In the past few days, more than 170 rockets have hit Israel from Gaza, and more than 50 have been intercepted by Israel's missile-defense system, known as Iron Dome. The rockets have reached farther into Israel; Hamas said Wednesday it had fired one at the coastal city of Haifa, nearly 90 miles north of Gaza.
The militants are believed to possess hundreds of longer-range rockets, which represent a significant advance in their capabilities.
"Hamas still has surprises left in its arsenal, including long-range rockets. Despite pretending we weren't, we were surprised by yesterday's fire," Danny Yatom, the former head of the Israeli intelligence agency Mossad, said in a television interview.
The sharp increase in armed hostilities follows the kidnapping and killing last month of three Israeli teenagers, which Israel blames on Hamas, and the brutal revenge killing of a Palestinian teenager in East Jerusalem last week.
AFP Photo/Menahem Kahana