Israel Prime Minister To Visit U.S., Meet Obama
@AFP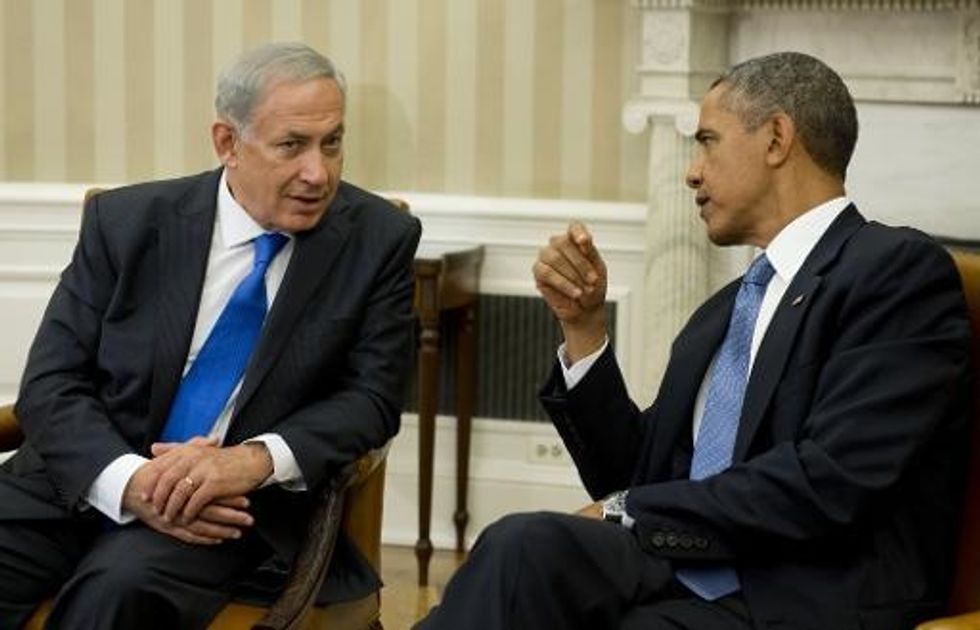 Jerusalem (AFP) – Israeli Prime Minister Benjamin Netanyahu will visit Washington on March 2 where he is to discuss Iran and the peace process with U.S. President Barack Obama, his office said Monday.
"The prime minister will be going to the United States on March 2 for the annual meeting of AIPAC in Washington," an official in Netanyahu's office told AFP, referring to a powerful pro-Israel lobby group.
"He is also expected to meet President Obama, and after that he will fly to Los Angeles for meetings," he said.
The trip was expected to focus heavily on U.S. efforts to drive forward Israeli-Palestinian peace talks, and a global attempt to reach a comprehensive accord with Iran to roll back its disputed nuclear program.
"PM Netanyahu will meet with President Obama next month. Will discuss ways to prevent Iran from producing nukes as well as ways to advance peace with the PA (Palestinian Authority)," his spokesman Ofir Gendelman wrote on Twitter.
Israel and the Palestinians embarked on a nine-month track of direct peace talks in July 2013, with U.S. Secretary of State John Kerry investing huge efforts to keep them on track, despite multiple setbacks and little visible sign of progress.
With the April 29 deadline looming, Kerry is currently trying to hammer out a framework agreement to guide the talks forward.
Quoting a senior Israeli official, Haaretz newspaper said Netanyahu would meet with Obama at the White House on March 3 for talks on the framework agreement which would allow the negotiations to be extended to the end of 2014.
They would also discuss talks between the P5+1 group of world powers which are trying to thrash out a permanent deal to curb Iran's nuclear program, building on an landmark interim agreement signed in Geneva in November.
Netanyahu fought a major diplomatic campaign against the accord, which saw Iran agreeing to roll back part of its nuclear program in exchange for sanctions relief, saying it had gifted Tehran the "deal of the century."
Israel and much of the West believe Iran's civilian nuclear program is a cover for building a military capability, a charge which the Islamic republic has repeatedly denied.
The Israeli leader has long warned that a nuclear Iran would pose an existential threat to the Jewish state, and has refused to rule out a military strike to prevent that from happening.
Following his meeting with Obama, Netanyahu is to address the annual conference of the American Israel Public Affairs Committee before heading to California.
There he was expected to hold meetings with hi-tech business leaders in Silicon Valley and participate in events in Los Angeles to promote tourism to Israel.
AFP Photo/Saul Loeb