Israel Pummels Gaza As World Pushes For Truce
@AFP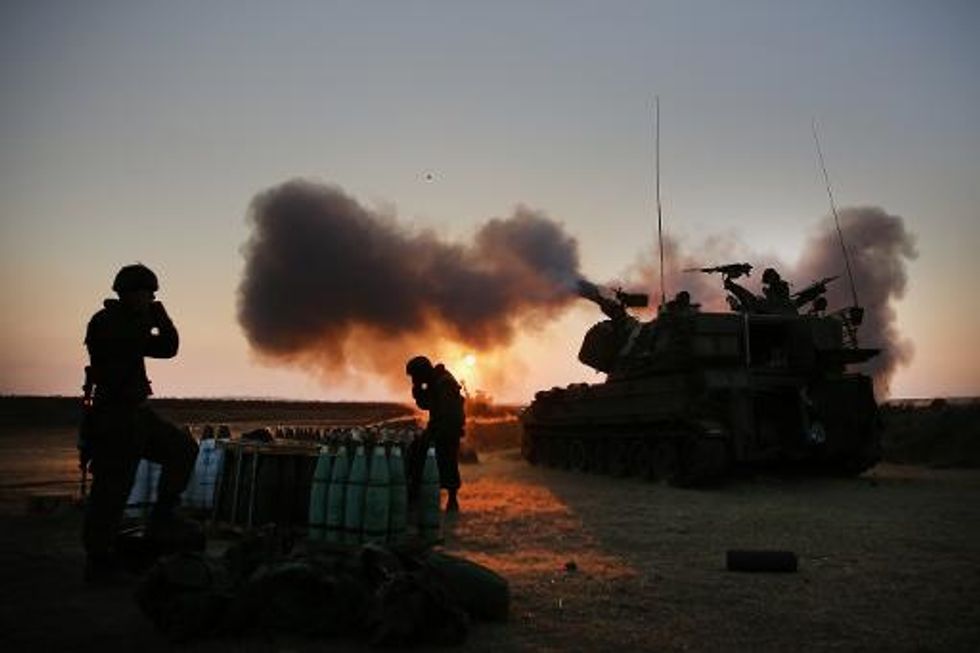 Gaza City (Palestinian Territories) (AFP) – Israel pummeled Gaza for a 14th day on Monday, hiking the Palestinian death toll to more than 570, as Cairo took center stage in world efforts to broker a ceasefire.
With air strikes and shelling raining down across the besieged coastal enclave, Israel's army said seven of its soldiers had been killed, bringing the Israeli toll to 25 troops and two civilians in the bloodiest Gaza conflict since 2009.
With civilians making up the vast majority of Palestinian dead, Washington urged Israel to take "greater steps" to prevent innocent casualties, and UN chief Ban Ki-moon appealed for the violence to "stop now".
But Hamas has so far rejected truce calls, insisting Monday on a lifting of Israel's siege of Gaza and the release of prisoners to cease its rocket fire.
Monday's attacks across Gaza killed at least 55 people including 16 children, bringing the overall death toll since Israel launched its operation on July 8 to 572 Palestinians, officials said.
In the costliest single Israeli bombardment, an air strike hit a residential tower block in central Gaza City, killing 11 people, including five children.
Seven children were among nine people slain in a strike on a house in the southern city of Rafah, and four children died in a raid on a Gaza City home in which another nine died.
It came after Israeli tank shells struck a hospital in Deir al-Balah, killing four people, including doctors, officials said, indicating at least 70 people were wounded.
Israel says its campaign aims to stamp out rocket fire from Gaza, and the ground phase of the operation to destroy tunnels burrowed into Israel by Hamas, the main power in the coastal strip.
With growing concern over civilian deaths, UN chief Ban arrived in Cairo for talks on ending the hostilities, followed by U.S. Secretary of State John Kerry, with the two men set to meet to discuss a ceasefire.
In Washington, President Barack Obama repeated that Israel had a right to self-defense, but raised "serious concerns about the rising number of Palestinian civilian deaths and the loss of Israeli lives".
Since the Israeli operation began on July 8, huge numbers of Gazans have fled their homes, with the UN saying more than 100,000 people have sought shelter in 69 schools run by its Palestinian refugee agency (UNRWA).
"This is a watershed moment for UNRWA, now that the number of people seeking refuge with us is more than double the figure we saw in the 2009 Gaza conflict," spokesman Chris Gunness said.
On Monday morning, a UN school on the outskirts of Shejaiya, east of Gaza City, was packed to overflowing with displaced people, many sleeping in the corridors, an AFP correspondent said.
Families were sleeping in the gardens of Gaza City's Shifa hospital in the hope they would be safe from the bombing.
Meanwhile, Israeli forces killed more than 10 Gaza militants who had infiltrated southern Israel, the army said, later announcing it had lost four soldiers in that battle.
The "two terrorist squads" had managed to cross the border through tunnels, it said.
The troops lost in that clash were among seven killed in 24 hours, said the Israeli army, adding 30 soldiers were wounded over the same period.
That brought its toll to 25 soldiers killed since the start of the operation, including 13 on Sunday, the bloodiest single day for the Israeli military since the Lebanon war of 2006.
Late Sunday, Hamas's armed wing the Ezzedine al-Qassam Brigades claimed to have captured an Israeli soldier in a report the army said it was checking, but Israel's UN ambassador said was untrue.
Two Israeli civilians, both hit by rocket fire, have been killed during the 14-day campaign.
Hamas on Monday reiterated its insistence on a lifting of Israel's blockade of Gaza and the release of prisoners to halt its rocket fire.
"The conditions for a ceasefire are… a full lifting of the blockade and then the release of those recently detained in the West Bank," its leader in Gaza, Ismail Haniya, said on television.
"We cannot go backwards, to a slow death," he said, referring to the Israeli blockade in force since 2006.
"The conditions of the Palestinian resistance constitute the minimum required for a truce. The resistance and the sons of our people who have made such sacrifices in this mad war cannot accept anything less."
Meanwhile, Hamas leader Khaled Meshaal and Palestinian president Mahmud Abbas held talks in Doha, pledging to work together for a ceasefire and to lift the blockade on Gaza.
But there has been no let-up since the operation began, 84 rockets hitting Israel on Monday, one striking the greater Tel Aviv area, and another 16 shot down, the army said.
AFP Photo/Menahem Kahana