Israeli Lawmakers Clash Over Netanyahu Speech As Democrats Bail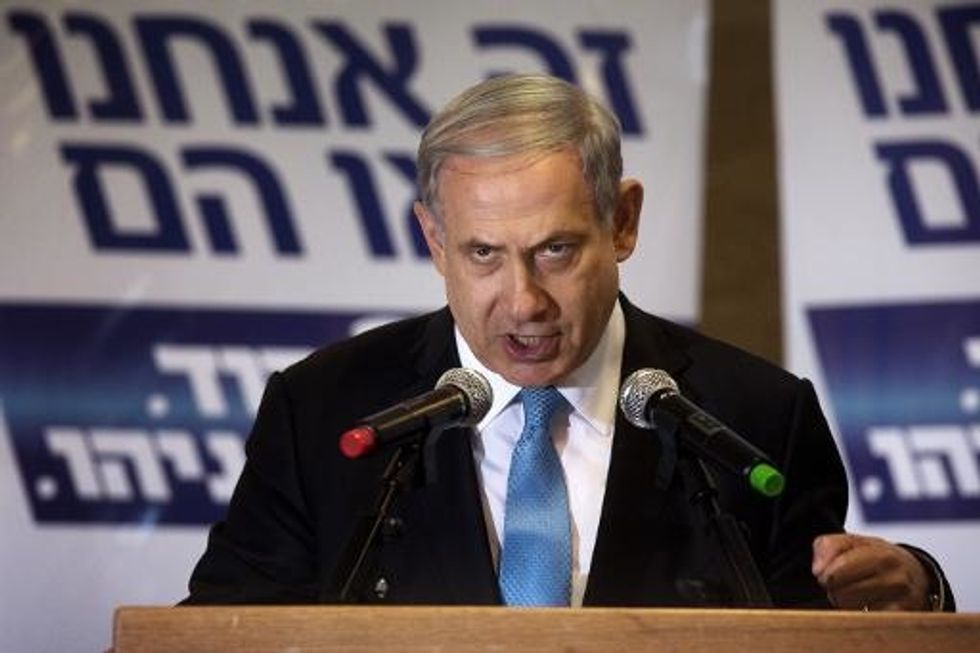 By Calev Ben-David, Bloomberg News (TNS)
JERUSALEM — Israeli politicians, including Prime Minister Benjamin Netanyahu's former envoy to the U.S., are attacking his planned speech to Congress on Iran, as more Democrats express opposition to the March 3 address.
Netanyahu should cancel the speech to avoid hurting Israel's bipartisan relations with the U.S., his former envoy to Washington, Michael Oren, said on Tuesday at an election debate in Jerusalem. Oren, running for parliament with the newly formed Kulanu party, suggested Netanyahu instead use the annual conference of the America-Israel Public Affairs Committee being held in Washington, D.C., that same week to express his concerns over the nuclear deal the U.S. and other world powers are negotiating with Iran.
"While we think about our duty to prevent a bad deal, we have to think about our leeway and response should a bad deal be signed," Oren said.
"If that is the case, we will need a very strong strategic relationship and a diplomatic 'iron dome' from the U.S.," he added, in a reference to the Israeli anti-missile defense system.
Dov Lipman, an American-born parliament member from the Yesh Atid party, called the speech plan "a disaster." He said supporters of Israel in the U.S. were calling him asking, "How could you get yourselves in a situation where you are in the middle of a Democratic and Republican spat in Congress? How did this happen, how did you let this happen?" Lipman said.
President Barack Obama has said he won't meet Netanyahu during his Washington visit as its proximity to voting in the March 17 Israeli election "could be perceived as partisan politics." Vice President Joe Biden has said he will skip the speech, which was arranged by House Speaker John Boehner without approval from the White House.
A petition is being circulated in Congress by Democratic representatives calling for a delay to Netanyahu's speech, after some House members said they would boycott the event. Senator Bernie Sanders, a Vermont independent who caucuses with Democrats, said this week he won't attend.
Obama and Netanyahu have clashed over the terms of a nuclear deal with Iran, with Israel insisting it end all uranium enrichment by the Islamic Republic, and the U.S. prepared to be more flexible on the terms. While Iran says its nuclear facilities are intended for peaceful purposes, Netanyahu has said its ultimate intent is to build weapons that would pose an existential threat to Israel.
Netanyahu on Monday reiterated his intention to go speak before Congress and again warned against the Iran deal being formulated.
"From the day Israel was established to this day, there have been essential differences between Israel and the U.S., and relations remained sound; this will be the case this time as well," he told a meeting of Likud members.
Tzachi Hanegbi, a Likud lawmaker, defended the proposed address and said the timing was dictated by the current late-March deadline set for the nuclear negotiations with Iran.
"The prime minister was invited by the Congress, the most influential body in this context of the agreement with Iran, to appear and to try and help the Congress make its own decisions," Hanegbi said. "It's a critical junction, and we must make the effort."
Election polls show Likud running about even with the main opposition Zionist Camp party, though they also indicate Netanyahu will have the best chance of forming a new ruling coalition and securing another four-year term.
According to a poll published Monday by Army Radio, 47 percent of Israelis believe Netanyahu should cancel the speech, 34 percent say he should proceed, and 19 percent haven't reached an opinion. Sixty-three percent said their vote in the general election would not be influenced by the issue. The poll by Shiluv Millward Brown surveyed a sample of 509 Israelis and had a 4.5 percentage-point margin of error.
Photo: Israeli Prime Minister and Likud party leader Benjamin Netanyahu delivers a speech to his supporters during an election campaign meeting at a Jerusalem hotel on February 8, 2015 (AFP/Menahem Kahana)