Israeli Ministers Harangue Kerry Over Boycott Remark
@AFP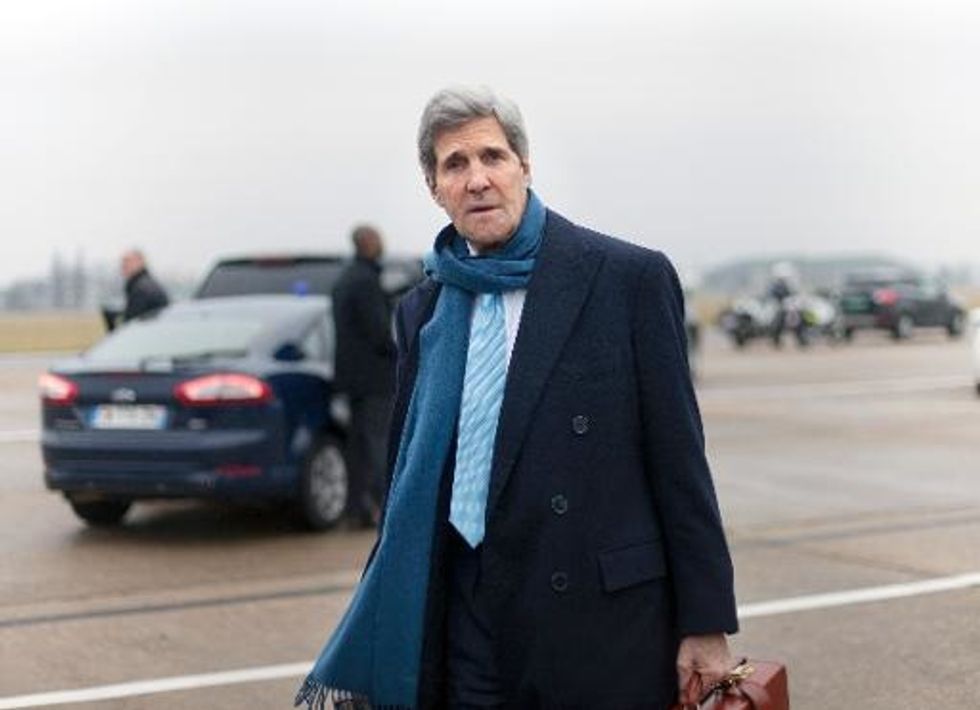 Jerusalem (AFP) – U.S. Secretary of State John Kerry came under further attack Monday by Israeli hawks who accuse him of manipulating the threat of an economic boycott to pressure Israel into peace concessions.
The latest war of words between the two allies erupted Saturday after Kerry warned that Israel was facing a growing campaign of delegitimization which would likely worsen if peace talks with the Palestinians collapsed.
Washington's top diplomat also referred to "talk of boycotts" of Israel.
A growing number of governments and businesses have said they will not trade with Israeli firms with ties to Jewish settlements, highlighting the creeping success of a Palestinian-led boycott campaign.
The so-called BDS movement — boycott, divestment and sanctions — works to convince governments, businesses and celebrities to cut ties with Israeli companies active in the occupied Palestinian territories, in a bid to repeat the success of the boycott which ended apartheid in South Africa.
Hardliners in the government of Prime Minister Benjamin Netanyahu were quick to lash out at Kerry.
One described his remarks as "offensive" and another accused him of working "to amplify" the boycott threat, prompting a terse statement from Washington urging Kerry's critics to get their facts straight.
Cabinet ministers continued their tirade on Monday, but Netanyahu appealed for calm later in the day.
"It is sad to see that the U.S. administration does not understand the reality of the Middle East and exerts pressure on the wrong side in the Israeli-Palestinian conflict," said Gilad Erdan, the minister for Home Front Defence and a close associate of Netanyahu.
"I would have liked John Kerry to explain to [Palestinian president] Mahmud Abbas what is likely to happen if he continues to refuse to make peace," he told public radio.
Housing Minister Uri Ariel of the far-right Jewish Home party, which opposes a two-state solution to the conflict, told army radio that in raising the threat of a boycott, Kerry was not being "an honest broker" in the negotiations.
On Sunday, even Netanyahu took an indirect swipe at Kerry, saying attempts to boycott Israel were "immoral and unjust" and that he would not bow to pressure in the negotiations.
"No pressure will cause me to concede the vital interests of the State of Israel, especially the security of Israel's citizens. For both of these reasons, threats to boycott the State of Israel will not achieve their goal," Netanyahu said.
But the prime minister sought to reduce the tension on Monday, acknowledging Kerry "opposes boycotts against Israel," after speaking with him by telephone the day before.
"There may be periods of misunderstandings and disagreements," Netanyahu said in Israel's parliament, according to a statement from his office. "The best way to clarify misunderstandings or express differences of opinion is by substantively discussing the issues and not by engaging in personal attacks."
U.S. State Department spokeswoman Jen Psaki hit back at the initial criticism, saying Kerry had demonstrated "staunch opposition to boycotts" and his remarks in Munich had merely "described some well-known and previously stated facts about what is at stake for both sides if this process fails."
"His only reference to a boycott was a description of actions undertaken by others that he has always opposed," she said, suggesting his critics should try to "accurately portray his record and statements."
On Sunday, Intelligence Minister Yuval Steinitz called Kerry's remarks "offensive, unfair and intolerable," and said Israel would could not be expected "to negotiate with a gun at its head while it discusses issues critical to its diplomatic and security interests."
And on Saturday, Economy Minister and Jewish Home leader Naftali Bennett said Israel would not "give its country up over economic threats" and that it expected its allies "to stand by our side in the face of the anti-Semitic boycott attempts, not amplify them."
AFP Photo/Pablo Martinez Monsivais