Israel's Foreign Minister Calls For Ground Campaign In Gaza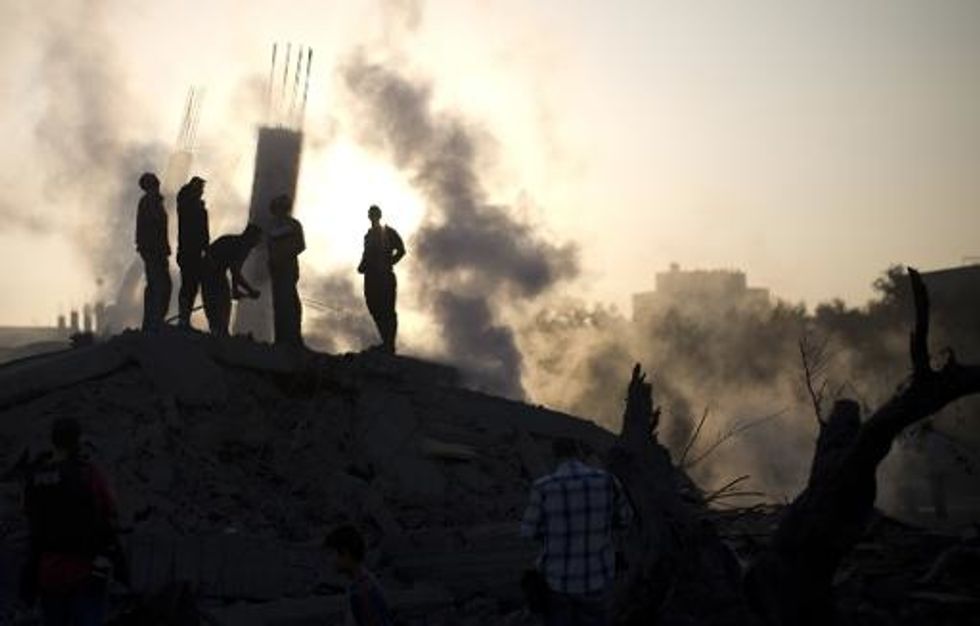 JERUSALEM — Israel's hard-line foreign minister on Wednesday pressed for expanding the nation's offensive in the Gaza Strip to include a ground operation in hopes of ending rocket fire from the coastal enclave into Israel.
Foreign Minister Avigdor Liberman told reporters in the Israeli city of Ashkelon that "terrorists are using civilians in Gaza as human shields to protect their rockets and weapons" and that civilians are sometimes hurt by Israeli attacks. But he insisted: "The rocket threat cannot be addressed thoroughly from the air only."
Referring to Israel's disengagement from Gaza nine years ago, Lieberman said the international community repeatedly demands Israel withdraw to the 1967 borders and remove Israeli settlements from the West Bank.
"Israel did just that in Gaza and withdrew to the last millimeter and evicted 21 communities," he said. "The result of that move was rockets on all Israeli cities."
Now, he said, "we expect the international community to back Israel diplomatically as we act to ensure our citizens will live in peace."
Lieberman, who is known for his outspoken views on Israel's relations with the Palestinians, made the statements as he toured Ashkelon with his Norwegian counterpart. Shortly after that, an incoming rocket sent the diplomats to a nearby shelter, giving Borge Brend a firsthand experience of squeezing into the safe room of Anat Suissa's home. A rocket landed in the area, damaging her mother's clinic, which was empty at the time.
Diplomats continued to converge in the region, as the foreign ministers of Germany, Italy, and Norway were in Israel for talks on resolving the crisis.
In a meeting with Israeli President Shimon Peres, Italian Foreign Minister Federica Mogherini said, "As a mother I understand very well the pressure and the tension there, and at the same time the number of civilian victims in Gaza is extremely worrying. I think it's in the interest of the Israeli and Palestinian people, especially in Gaza, to stop this. All that we can do to support a cease-fire will be done."
Increasingly, Israel eyes the international community for support to demilitarize Gaza, stripping militants in the enclave of the long-range rockets they use to attack Israel. The recent removal of chemical weapons from Syria is cited as a possible model — if such a step could be achieved diplomatically.
For now, Israel continues to target Gaza's arsenal, believed to be reduced to about 55 percent of the estimated 10,000 rockets present had prior to the fighting. "The weapons of the resistance are not subject to any negotiation whatsoever," said Hamas' military branch in a tweet.
Israel's military instructed 100,000 Palestinians to leave their homes and move south ahead of planned aerial strikes Wednesday, as its military offensive that has killed more than 200 Gazans enters its ninth day.
Israel suffered its first casualty of the conflict on Tuesday when a 37-year-old man was struck by a mortar shell near the Erez crossing between Israel and Gaza.
After a failed cease-fire Tuesday negotiated by Egypt but rejected by Hamas, the Israel Defense Forces showered northern Gaza with leaflets from the air warning families to vacate their homes for their own safety by Wednesday morning and to stay south of Jebalya until further notice. "The IDF does not want to harm you," the notice cautioned, adding that those failing to evacuate "endanger their own lives."
Previously, at least 17,000 civilians left their homes following similar warnings and took shelter in United Nations schools and other facilities. On Wednesday, many Gazans did not seem to respond to Israel's warnings, according to media reports.
Meanwhile, talks were underway in Cairo to find ways of salvaging the Egyptian outline for a cease-fire. Hamas officials had rejected Egypt's proposal as offering no horizon for the impoverished strip, isolated and blocked by Israel and Egypt on either side.
On Wednesday, reports emerged Palestinian President Mahmoud Abbas would propose Egypt opens its border to Gaza under supervision of his security forces. Other reports surfaced of a plan drafted by the militant factions of Islamic Jihad and Hamas for a 10-year cease-fire and removal of all blockades on Gaza.
More than 60 rockets were fired at Israel during the initial hours of Wednesday, nearly 40 landing inside Israel and another 23 intercepted before impacting residential centers. Three family members were killed in Gaza while riding in a car in Khan Younis as it was struck from the air.
In the Israeli parliament, Arab Israeli lawmakers stood to observe a moment of silence for the Palestinian victims of the offensive.
Nine days into the military offensive Israel says it launched to halt rocket fire from Gaza into Israel, the current round of fighting — the third in five years — is already longer than the previous one that ended with a cease-fire and informal understandings between the sides in November 2012, after eight days.
Sobelman is a special correspondent.
AFP Photo/Mahmud Hams
Interested in world news? Sign up for our daily email newsletter!