It's Not Over -- It's Never Over -- And We're Not Turning Back
@LucianKTruscott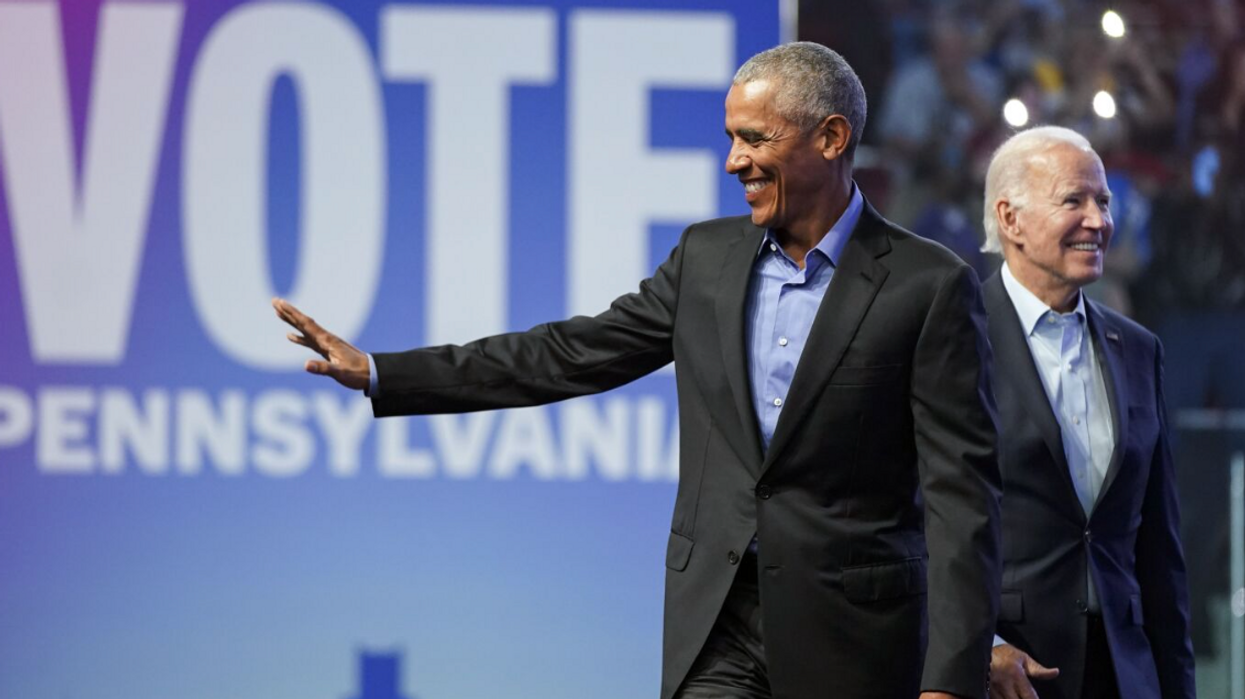 If there is one thing that can be read in the results of Tuesday's elections, it is that we're in this together – all of us. Not just us liberals trying to save democracy from a MAGA wing of the Republican Party that is trying to destroy it. That is part of what's going on, sure. But the mixed results in the elections for the House and the Senate, in which Democrats did much better than expected, show that this struggle over what kind of country we're to have will be with us for a long, long time.
We've gone through a series of periods when many of us thought that the big battles we care about were won. The passage of the Civil Rights Act and Voting Rights Act was one of those times. The two laws which reasserted the rights of Black Americans to vote and went beyond the Brown v Board of Education decision to end segregation, were a watershed moment in this country, the first attempt to give equality between the races the force of law since the 14th and 15th Amendments were passed after the Civil War.
It seemed we had reached a major turning point when in 1973, the Supreme Court issued its decision in Roe v Wade declaring that a woman's right to control her own body and end a pregnancy was a constitutional right. Fifty percent of the American people, whose decisions about their own reproductive health had for more than a century been made for them by state legislatures that were at first completely male and still largely male, could now make that decision for themselves.
The election of Barack Obama to the presidency in 2008 and his reelection four years later seemed like watershed events. That this country had elected the first Black president in its history seemed like more than an electoral victory. It was taken by many of us as a statement of who we are.
The night of June 27-28, 1969, when gay people rose up and said loudly and proudly, we're not going to take it anymore, was yet another breakthrough moment in our history. I know, because I was there. I wrote a front-page story about the Stonewall uprising in the Village Voice. Nobody knew it at the time, not those of us watching nor the participants themselves, but that night was the Rosa Parks moment for gay Americans and would lead over the next half-century to the decriminalization of gay sex, the right of LGBTQ people to serve openly in the military, and the right of people of the same sex to marry.
There were other small "d" democratic victories which could be said to have changed this country for the better, and yet there are forces in this country that have made it their business to chip away at every gain we have made since Brown v Board of Ed. There are people who actually do not want Black people to have the right to vote, who do not want gay people to have the right to marry, who do not want women to have the right to control their own bodies. We have seen them given oxygen by people like Donald Trump and Ron DeSantis and Gregg Abbott and others.
All of it culminated in a backlash with the election of Trump to the presidency in 2016, giving voice to quite a different statement from a large segment of the country that the changes of the last 50 years were not who we are. America was divided into red states and blue states. Elections turned into wars over how far the clock would be turned back in individual states and in the country as a whole.
We had another such election this week. The results were mixed. It is not known at this writing which party will control which house of Congress. Pundits are arguing this over how small the Republican margin will be in the House if they take control and whether the Senate will be flipped, with the outcome possibly again coming down to another nail-biter run-off in Georgia.
It was a good day for women's rights, however. In two states – California and Vermont, a right to abortion was enshrined in their constitutions. In Michigan, a 1931 law outlawing abortion, including in cases of rape and incest, was struck down. In Kentucky, a state constitutional amendment outlawing abortion went down to defeat, leaving the right up to the legislature and the courts. And in Montana, a so-called personhood law, giving every fetus the rights of born children or adults, appears to be headed for defeat, although all the votes have not yet been counted.
Nearly every headline agrees that it wasn't a good day for Donald Trump, who sought to elect Republican candidates around the country on his endorsement alone. He got one with the odious J.D. Vance in Ohio. He lost one when in Pennsylvania Fetterman beat Oz, who conceded the race on Wednesday morning. Other tightly contested races for seats in both the House and the Senate are still to be decided, so we do not know how things will play out in the end.
What we do know, however, is this: Every election from here on out is going to be like this one. Every election will have implications for women's rights, for civil rights, for voting rights, for gay rights, for the right to unionize, even for the right to a public education – not to mention economic inequality and the "right" corporations have asserted to run roughshod over the environment and workers' rights to a decent workplace and a living wage. Every election will be a struggle not to allow gains we have made to be chipped away by a Supreme Court bent on doing just that and by part of the electorate that wants our rights to be controlled by what they think is written in the Bible.
This election, with its mixed outcomes and tight races, should be evidence enough that we cannot live in our bubbles in the years to come. It's not enough to surround ourselves with our friends and like-minded neighbors in blue cities or purple suburbs and wait for the next Election Day to have our say. We cannot think of ourselves as living in blue states or red states or purple states. As President Obama famously put it, we live in the United States, and we must look at ourselves as citizens of the whole country. I'm sick to my stomach of reading headlines about our "divided" country. It's not divided. I've driven across this country many times. If I were to leave Pennsylvania and drive to California, I would pass through nine states. I would not have to show a passport at a single state border. My driver's license would be good in every state. My credit cards would work in all of them. We are free to drive anywhere in this country, to visit all the states, to live anywhere we want, because this country belongs to us, to all of us.
If it takes all the rest of the elections in my lifetime, if it takes all the elections of my children's lifetimes to ensure our freedoms, so be it. Nobody is going to take our country away from us. It's our clock, and we're not going to allow it to be turned back, even for one second.
Lucian K. Truscott IV, a graduate of West Point, has had a 50-year career as a journalist, novelist, and screenwriter. He has covered Watergate, the Stonewall riots, and wars in Lebanon, Iraq, and Afghanistan. He is also the author of five bestselling novels. You can subscribe to his daily columns at luciantruscott.substack.com and follow him on Twitter @LucianKTruscott and on Facebook at Lucian K. Truscott IV.
Reprinted with permission from Lucian Truscott Newsletter