Italy Cruise Ship Wreck To Be Raised On September 16
@AFP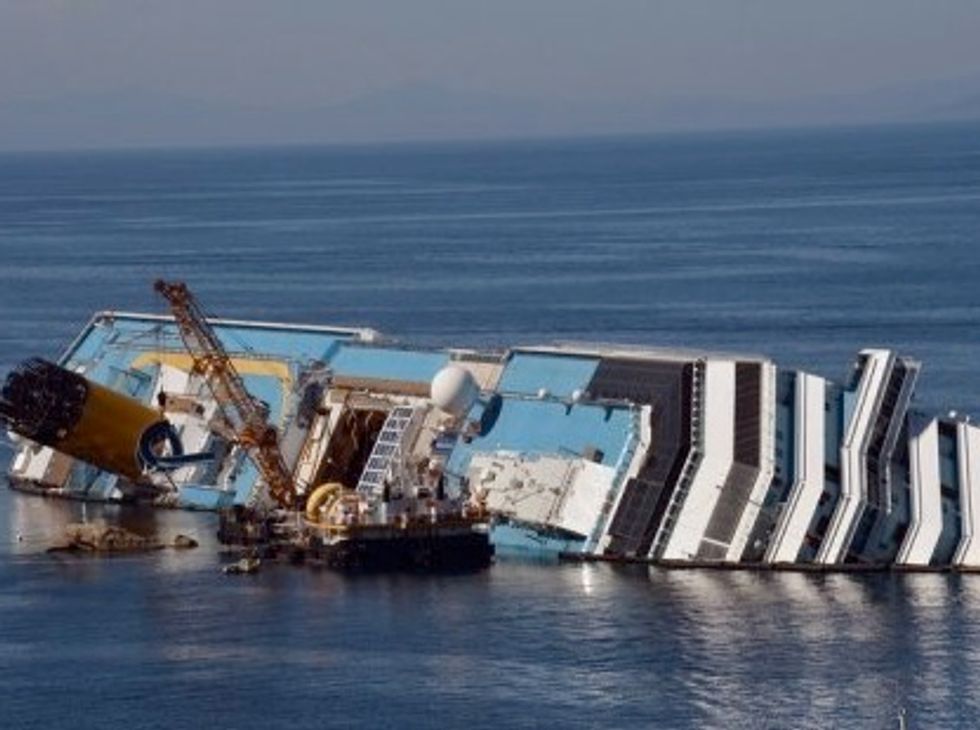 ROME (AFP) – Salvage workers will attempt to raise Italy's Costa Concordia cruise ship on Monday, weather permitting, in an unprecedented operation costing more than 600 million euros ($798 million), officials said.
"If weather conditions allow, the operation will start at 6:00 am (0400 GMT) on September 16," Franco Gabrielli, head of the civil protection agency, which is overseeing the operation, said on Thursday.
"This is an operation that has never been attempted before," Gabrielli said in a press conference.
Once the wrecked ship, which local residents have complained is an eyesore, is upright, it will be towed away for scrapping.
The 114,500-ton luxury liner has been lying on its side just off the tiny Tuscan island of Giglio ever since it hit rocks and keeled over with 4,229 people from 70 countries on board in January 2012.
The night-time disaster claimed 32 lives.
Using giant cement sacks and a custom-made metal platform, the salvage operation has so far secured the rusting hulk, which was threatening to slip off an underwater rock shelf into deeper waters.
The plan is to drag it up using ropes and pulleys — a complex and delicate operation since the hull of the ship is badly damaged 20 months after the crash.
Italy's civil protection agency said the official go-ahead would be given only on Sunday afternoon.
The operation is expected to be completed in a single day and officials have said they will block all maritime traffic in the area until it is over.
"The size of the ship and its location make this the most challenging operation I've ever been involved in," said Nick Sloane, the chief salvage operator.
Sloane said he was prepared for the hull to buckle as it is being raised but emphasised the operation had to be carried out this month because of its weakened condition and the prospect of winter storms.
Gabrielli ruled out the possibility of the hull splitting in two saying: "I exclude this completely".
Sloane explained the ship will initially be dragged up with ropes for four or five hours before gravity takes over and it begins to right itself on its own, with giant metal tanks fixed on the side currently exposed acting as brakes to prevent it from flipping over.
Salvage workers have already removed the fuel from the ship in order to prevent an environmental disaster in the area, one of Europe's biggest marine sanctuaries.
But environmentalists have warned of the potential danger of toxic chemicals from the ship pouring into the sea as it is rolled over in what is known in shipping terminology as a "parbuckling".
Gabrielli admitted there would be some spillage as it is being raised but said preparations had been made to contain it using floating booms and clean it up.

The island's economy depends hugely on tourism and locals say the presence of the wreck as brought down visitor numbers in the past two summers.
Tanks or "sponsons" have been welded onto one side of the ship and the plan is to fix more onto the side that is now underwater once it has been raised.
The tanks would then act as giant flotation devices to allow the 290-metre (952-foot) vessel to be towed away to be dismantled, probably early next year.
The salvage operation is the biggest ever attempted for a passenger ship and has been delayed repeatedly, mainly because of the difficulty of drilling holes in the granite seabed to install the platform intended to keep the ship upright before it is towed away.
The project is being financed by insurance for ship owner Costa Crociere, Europe's biggest cruise operator and a part of U.S. giant Carnival.
Insurance companies have said the total cost of the salvage could be $1.1 billion but officials on Thursday said it was "600 million euros and rising".
Four crew members and the head of Costa Crociere's crisis unit were handed short prison sentences after negotiating plea bargains over their role in the crash.
The ship's captain, Francesco Schettino, is currently on trial accused of manslaughter and abandoning the ship before all its passengers had been evacuated.
Costa earlier admitted limited responsibility as Schettino's employer and was ordered to pay one million euros ($1.3 million) in a controversial ruling that has excluded it from criminal proceedings.
Photo Credit: AFP/Vincenzo Pinto